One Royal Review – What's it like to trade with this broker?

Are you sure you've chosen the right broker to trade with? Do you think your trading counterparty is focused on providing the best platform for you to be the most profitable?
You should always think about these questions and evaluate Forex brokers as scrupulously as possible. Because if you don't, you're going to end up being scammed and not treated the way you deserve.
A scam broker, regardless of how slick and seamless its trading offerings look like, will always have a shady area that spills the beans right away. When it comes to the One Royal Forex broker, our team at Forex News Now tried to just that and it's highly likely that it has found something interesting.
So, let's not waste any more time and get right to the review.
First impressions do matter
Before we jump into the in-depth review of the broker, let's take all of the important aspects that we'll talk about in this article. One Royal is a Forex broker that was established in 2006 and it claims to be the "ONE BROKER TO RULE THEM ALL" (we sense some copyright infringement here).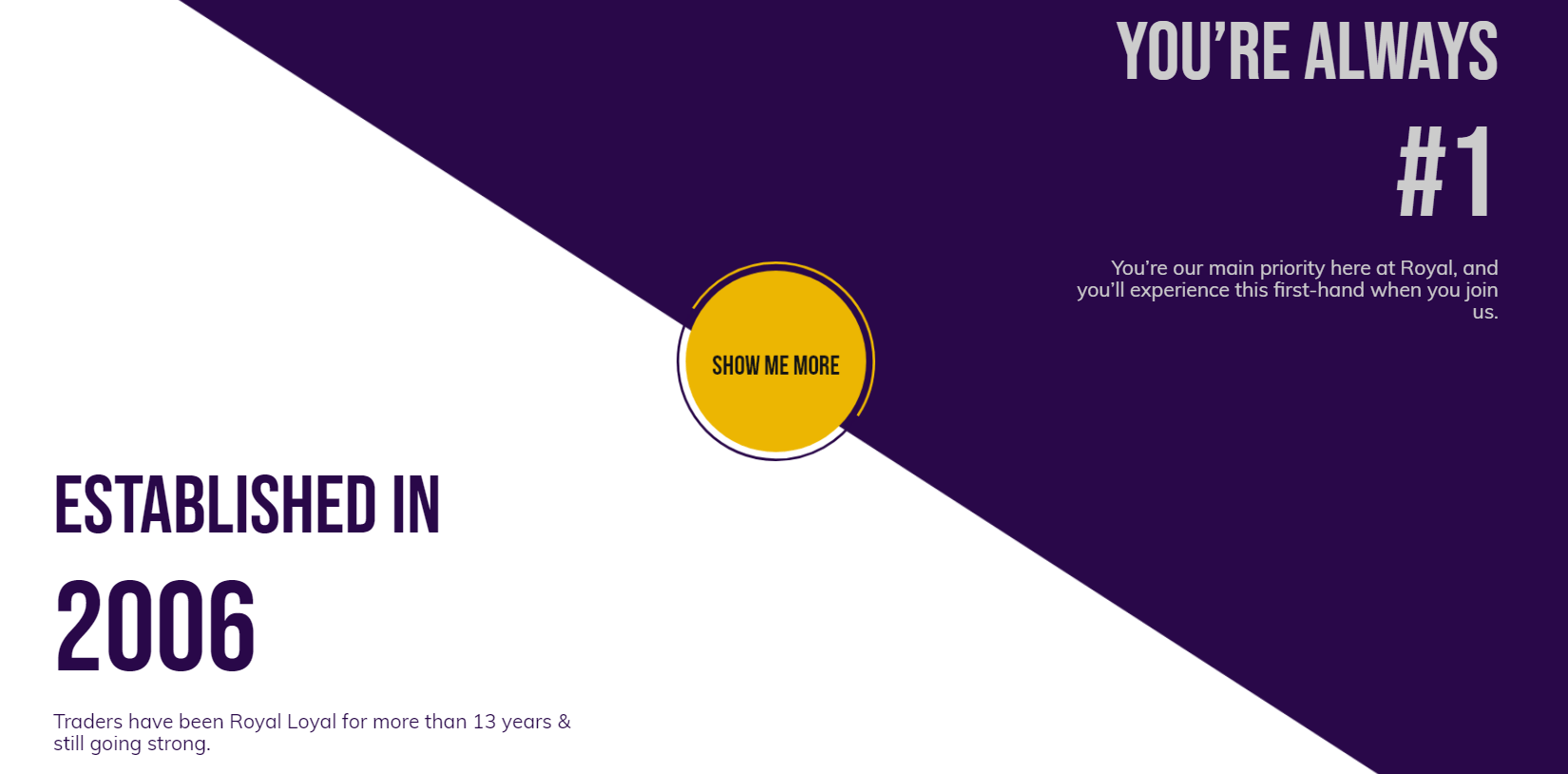 The first important aspect that we're going to tackle is the broker's license. As One Royal puts it, three separate institutions have issued licenses to the company, including the one of Cyprus and Australia. But as we'll see further down in our One Royal review, that claim doesn't seem to be true at all.
Then we'll examine the broker's website, which, right off the bat, looks too fancy and cinematic. As for the account types, One Royal offers two categories with three packages each. It also offers MetaTrader 4, which definitely isn't a flawed software but when it comes to trading cryptocurrencies, indices, and other assets, it's not the most effective one either.
Finally, we'll have a look at One Royal's trading terms and conditions. As we'll see further down in this review, the broker offers conditions that are too bloated and overzealous. The leverage is way above the regulatory requirements of  CySEC, whereas the spread quotes are suspiciously low. But there is one condition that seems to be down-to-earth: the minimum deposit requirement. Yet even that isn't enough to dissuade our One Royal fraud suspicions.
What should we make of the broker's license?
First and foremost, let's take a look at the license that One Royal claims it has and evaluate its credibility.
In the Regulations section of the website, we found that One Royal seemingly features three licensing materials from three separate countries – Australia, Cyprus, and Lebanon. The actual financial organs that have issued the licenses are:
Australian Securities and Investments Commission (ASIC)
Cyprus Securities and Exchange Commission (CySEC)
Capital Markets Authority (CMA) of Lebanon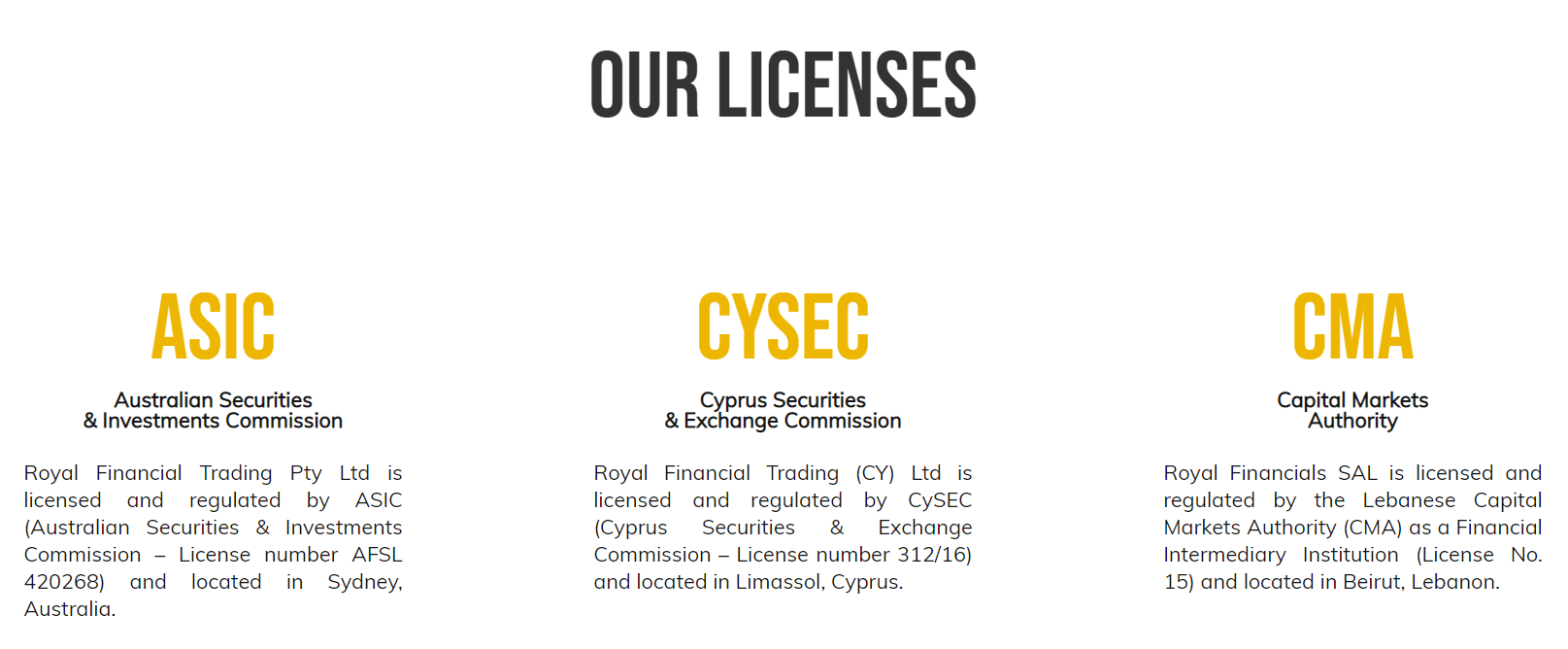 Now, if we were convinced that all of these licenses were actually in place and the broker was abiding by all of their rules, there would be no room for One Royal scam suspicions. The ASIC and CySEC licenses are just too prestigious to have doubts about their prowess.
However, as we dug deeper into the platform, we found out that the actual full-fledged license that governs the broker's activities is the last one from CMA. And we have to say it's not the most impressive licensing pieces we've seen. In fact, Lebanon is one of the worst countries you should entrust your funds to right now.
Therefore, the question of whether One Royal is a properly-regulated broker or not has a tad ambiguous but still a straightforward answer: it features one legit license but it doesn't enforce high financial standards under its jurisdiction.
The Oneroyal.com review
Next up, let's take a look at the website itself and see how it manages to convey information about trading conditions at One Royal. Now, the very first thing that jumps to our eyes is the overwhelming interface design that looks more like the movie opening credits than the visual decoration of the broker's website. And a rich yellow is, to say mildly, not the best color choice for a background.
This over-complicated design directly impacts the customer experience at the One Royal FX brokerage. While we didn't actually have problems with the informative aspect of the website, it was incredibly difficult to distinguish texts in light of the rich background.
When it comes to trading accounts, One Royal features two categories: Zero Commission and Raw Spread. Each of these contains three separate account types:
Classic – $50 minimum deposit
Premium – $20,000 minimum deposit
VIP – $100,000 minimum deposit
Now, while these accounts are certainly different from one another in terms of the features they offer, we're still not convinced that such a steep transition from one account to another in terms of their minimum deposit requirements is justified. We're just curious, what feature is worth $19,950 more to get the next Premium account?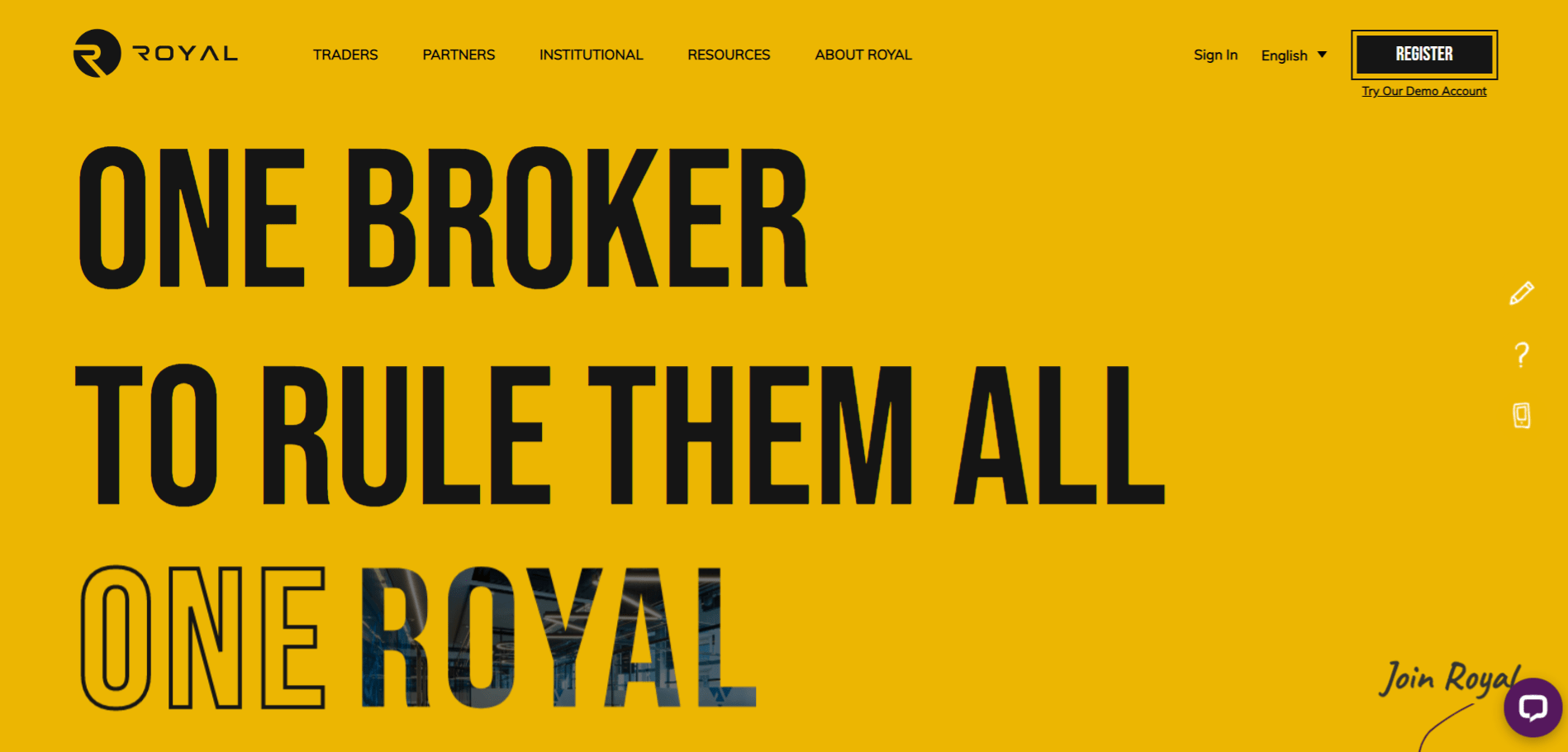 The last part of our website and software review is a trading platform. As our reviewing team has discovered, traders can only use the One Royal MetaTrader 4 to trade various instruments available on the platform. Now, while MT4 isn't an inferior software by any stretch of the imagination, it's still not a perfect platform to trade symbols other than Forex pairs. Besides, it doesn't contain an awful lot of charting tools and indicators, which are so prevalent in MetaTrader 5 or cTrader.
Are trading terms and conditions at One Royal legit?
Finally, let's dive deeper into the trading platform itself and find out what benefits you get from One Royal. First things first, we have discovered that the broker offers more than one asset class to trade, which is definitely an advantage of One Royal. More specifically, One Royal features:
Forex pairs
Metals
Oil
Indices
Cryptocurrencies
Shares
Regardless of this level of diversity in trading instruments, we were not entirely impressed by the trading terms and conditions that accompany them. For instance, the leverage at 1:400 is a bit too much for a seemingly CySEC-regulated broker. It is a well-established fact that in the EU area, Forex brokers can offer the maximum leverage at 1:30, not more, yet One Royal promotions don't heed this limitation.

The same can be said about spreads. There are two options you can take: either choose a Raw Spread account and be charged zero spread or choose a Zero Commission account and still get a low 0.7 pip spread. Sure, having to pay lower fees is great but what about the sources of income for the broker? Even the commissions at One Royal are very low and suspicious in the same way as spreads are.
Then comes the minimum deposit requirement, which is at $50 and doesn't seem to be that odd, when compared to other trading conditions at One Royal. But what is definitely odd is the transition from Classic account with a $50 deposit requirement into Premium account with required $20,000 deposit. The features of a Premium account don't justify such a steep rise in minimum deposit, in our opinion.
Speaking of deposits, you can use credit cards, bank wire, and a couple of e-wallets to transfer money to your account at One Royal. The same goes for One Royal withdrawal. In our experience, the lack of PayPal and other sophisticated financial platforms is quite a disadvantage for both the broker and a client, and One Royal seems to take that hit directly.
Our ultimate One Royal rating
So, now that we've reviewed One Royal and its offerings, what can we say about its credibility? Is it a trustworthy broker that you can invest your money in? Well, let's rewind a little bit, shall we?
When we began our review, we saw a very fancy website that is more fit for a western movie than a Forex broker website. This, in turn, diminishes the informative side of the website.
Then we checked out One Royal's license. Even though the broker claims to have licenses from CySEC, ASIC, and CMA, we have found out that the only properly-working license is the CMA from Lebanon – the least credible one out of three.
Finally, we reviewed various trading terms and conditions and had the impression that One Royal suspiciously expands its offerings for the leverage and spreads. As for financial platforms, the existing methods are quite dull and not very sophisticated.
So, can One Royal be trusted? We think not. You would rather find a more well-established broker that evokes professionalism, not fanciness.