Palo Traders Review – Can You Trust Them?

Nowadays, trading CFDs on Forex, commodities, and other assets is becoming more popular, however, more dangerous too. Bitcoin-based broker companies which are registered in unregulated territories and do not have any international authority licenses are quite well-masked and still successfully create a fake reputation. That is why most inexperienced investors are making investments in such kinds of firms and then lose their deposits. We believe that everyone should review all the important features of brokerage companies in order to avoid the risks of losing money.
Today, during this review, we will try to introduce you to Palo Traders company in detail, with a description of its services, reviews, and offers. After reading this, you will see if it's worth investing in.
Palo Traders has 250 assets available on the website including stocks precious metals, and Forex. According to their public information, they are operating in England and Netherlands and have the official offices in Amsterdam and London. Unfortunately, this information is not confirmed so with the high probability, Palo Traders tries to mask itself by lying to customers.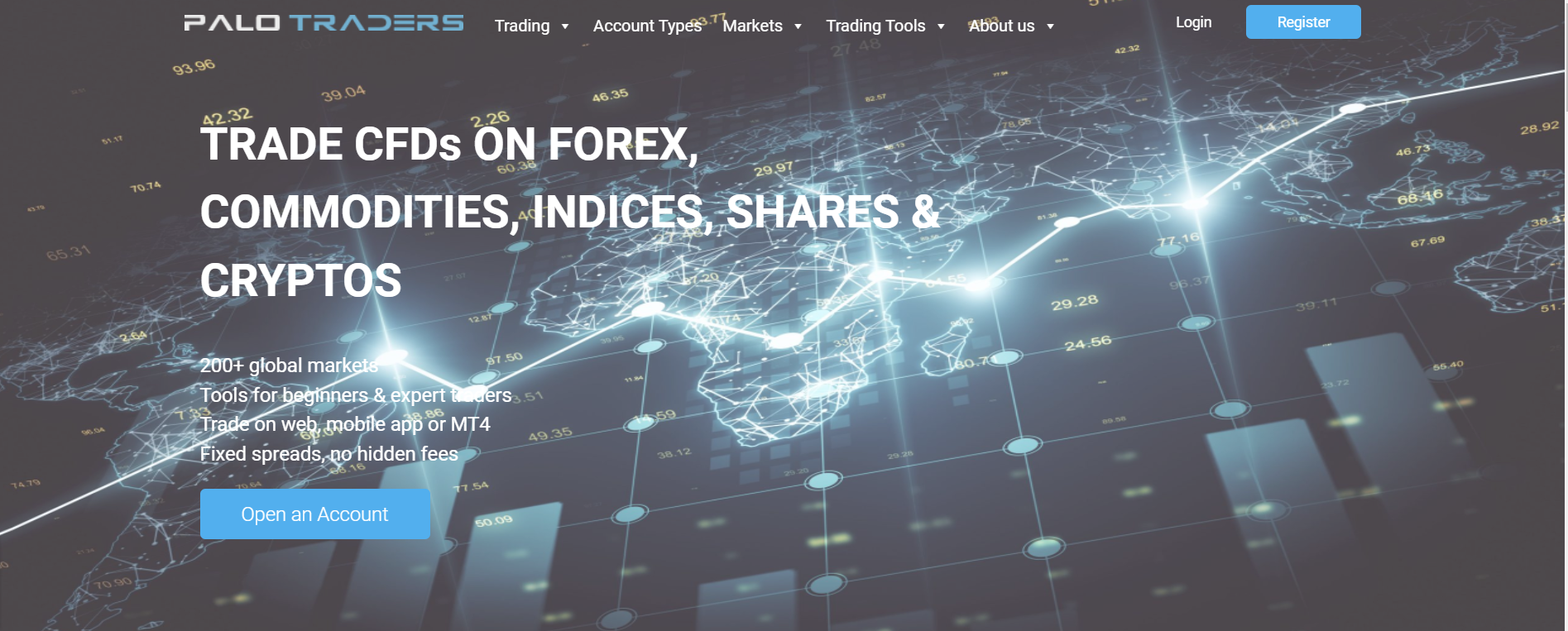 From the official website, everything seems very trustworthy and impressive. But on the other hand, the public data they show is very general and does not include specific information about owners, regulations, and other important features. With that being said, let's start our Palo Traders review.
The Safety of Funds – Palo Traders Regulations
The real owner of the Palo Traders is anonymous, and most importantly, the company is not licensed by any international authority commission. To provide legit services, they should be regulated by at least Financial Conduct Authority but according to the search, they do not have any license or legislation certificate from FCA or other international commissions. To invest in a company that is operating illegally is already a big red flag.
We have to mention that Palo Traders is not included in the list of trusted broker companies bu the UK regulation commission. As they say, they are based in England and have an office in London. Besides Great Britain, they are operating in the Netherlands and have an official office in Amsterdam. As we have said before, this information is not true because if they were registered in the UK, they would be on the UK-regulated broker list for sure.
That means that the company tries to be anonymous and there is also the probability that they are operating behind a non-existed company name. No registration data and having no international license make us sure that investing in Palo Traders is very dangerous.
What Does Palo Traders Have To Offer?
Palo Traders is a simple trading website that claims that you will earn big amounts of money after investing in it. The firm suggests four different types of trading accounts where the minimum amount of deposit starts from 500 USD. This is way above the average considering the fact that with most reputable Forex brokers, you won't have to deposit more than 100 USD as a starting point. That is another reason why we don't believe that Palo Traders is a trustworthy broker.

To outline Palo Traders' offers more clearly, down below we will describe each account type.
Classic account – Here the minimum deposit is 500 USD  and the leverage is more than 1:100. The account includes 24/7 active customer support service with the basic spreads and swaps.
Silver account – The deposit range starts from 10 000 USD and the service with the dedicated account manager and active customer support service includes leverage with 1:200, weekly trading signals, access to the secret groups, and a 10% discount on specific offers.
Gold account – With the 50 000 USD minimum amount of deposit and 1:400 leverage. Different from others, it includes trading signals five times a week, access to secret groups and company live webinars. Also, access to educational sessions, cashback, 25% discount, and gold spreads.
VIP account – The minimum amount is quite high and equals 250 000 USD with the 1:600 leverage. This account includes all services the other type of accounts have and, it offers risk management consulting sessions, the direct line of the company's trading room, a 50% discount, and VIP spreads.
On the other hand, the detailed information about terms and conditions is not included which creates less transparency and makes lying to the customer easier. As for leverage, we have to mention that 1:600 is over the standard ratio which is suspicious and quite risky for beginner traders. From the first view, such kind of high leverage seems impressive and attractive because means bigger profits but on the other hand, it also means increased risks of losses. If the company is regulated by international agencies or EU regulators, the maximum leverage it can afford is 1:300 or 1:400.
Also, we have to mention their bonus offers which are way different from licensed companies. More specifically, Palo Traders allow withdrawing the bonus if the total traded volume is met 30 times the deposit and bonus amount. This is a very well-known and frequently used tactic from scam companies to make the withdrawal process harder for traders.
The Customer Support team of Palo Traders Reviewed
For every interested person in investment, it is very significant to have high-quality customer support from the company that you are interested in. Especially for those who are new in this market and have less experience to make a successful investment.
Palo Traders' customer support is general and includes contacting them via email and phone. They do not provide online chat or office support. That is another suspicious feature because this is a great way to avoid instant answers. We belive this is not something you are looking for when you need a quick help with something.

The Website of Palo Traders
When you are entering the official website of the Palo Traders, you see normal and simply structured pages with minimal information on them. The main focus is to outline the best and most attractive offers to simply interest the visitors. They are not showing you detailed information about them, their history, founders, and others. The detailed information about conditions and terms is also not included.
With the website, we have to mention the available trading platforms. More specifically Palo Traders uses MetaTrader4 which is the standard platform in this market. So, nothing too special or impressive about it.
Should You Use Palo Traders?
All in all, we believe that Palo Traders is a scam company, and to trust them with creating the investment, means to be scammed and lose all your deposit without any chance of being charged back. First of all, there is no information about the registration of the company with such kind of name. The fact that they have offices in Europe is not true and they are not regulated by international commission authorities. The lack of information on the official website and unrealistic offers let us say that you should stay away from Palo Traders.