PatForex Review – Can you trade safely with this broker?

Being the most lucrative trading market in the world, Forex attracts lots of traders and financial companies alike. On the corporate side of the spectrum, there is a huge selection of Forex brokers that come in all shapes and sizes.
One observable trend that can be easily noticed is that scam brokers are increasingly becoming more alike trustworthy brokerages with their trading platforms. So, it's getting quite difficult to actually distinguish trustworthy brokers from scammers.
Lucky for you, there are lots of online materials out there that offer you their honest reviews on certain brokers. And this PatForex review is exactly that. In it, we'll take a look at everything from the website, license, and trading terms and conditions.
The Patforex.com review
We'll start off our review with the examination of the broker's website. As we fired off Patforex.com, we were greeted by an interface that looks moderately decent in terms of its design. Granted, there are some unnecessary visual effects like one giant background video and whatnot, we still think that the interface as a whole delivers a seamless user experience.
Having said that, it's important to point out that one doesn't need to be a professional HTML developer to create a decent-looking website. There are lots of platforms that offer pre-existing templates for really good-looking websites. For that reason, it's not the biggest achievement for the PatForex FX brokerage.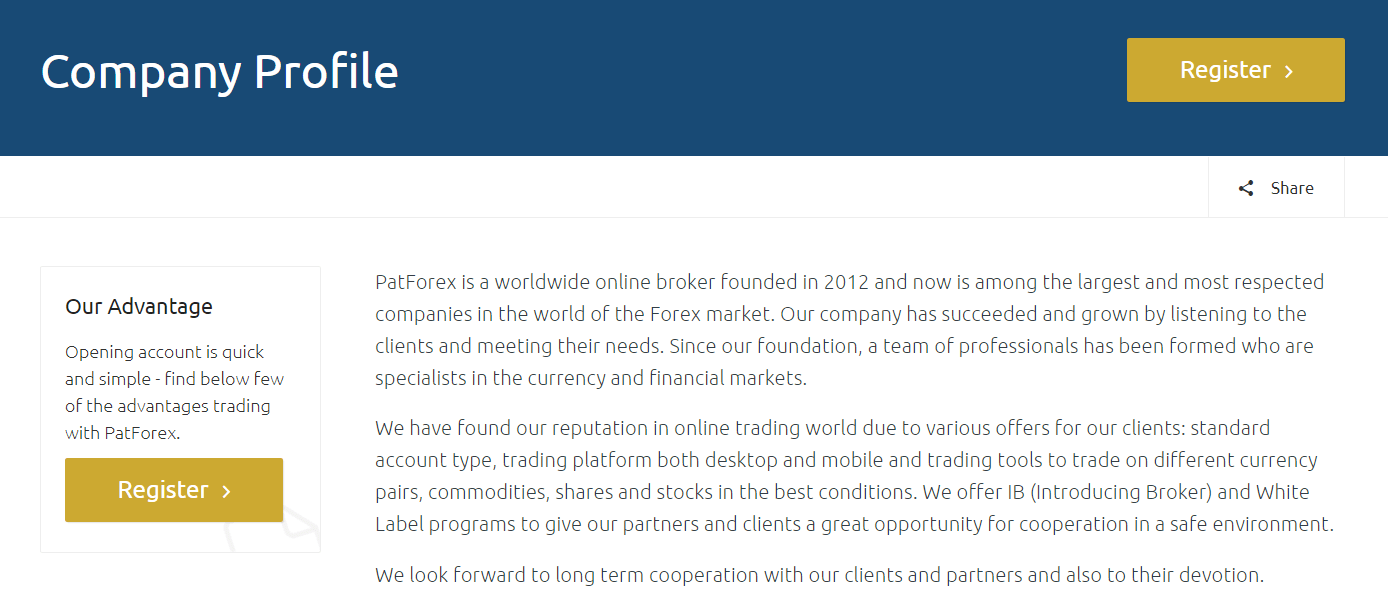 This gets even more interesting when we point out that the information this website conveys is controversial at best. On many occasions, we weren't even able to find details about the license, for instance. And a broker that doesn't say anything about its regulatory materials is as good as a scam for us.
Next up, let's take a look at various trading accounts available at PatForex. According to the website, there are five different account types with different deposit requirements:
Basic – $250
Bronze – $2,500
Silver – $5,000
Gold – $10,000
Managed – $50,000
These account packages come with different bonus promotions, spreads, and other conditions, yet we don't think the transition from the Basic account to the next ones is worth spending extra thousands of dollars. Honestly, you can get fundamental trading features by choosing this account for $250.
Finally, we need to take a look at the trading platform. As we found out, there's only the PatForex Desktop platform available for traders to use. Granted, there are many advantages listed by the broker but when it comes to reliability, we're sure MT4/MT5 would do a much better job at restricting the broker's capacity to include scams in the platform.
Can PatForex be trusted for its license?
Moving on, let's take a look at the regulation at PatForex. Now, even though the broker claims it is a properly regulated broker with high financial standards and all that, we couldn't find any specific information that would prove or disprove that notice.
Having absolutely nothing specific to hold on to, we're left with nothing else but to assume that the PatForex Forex broker is unregulated and trading with it can expose you to high financial risks. The reason for that is quite simple:
Unregulated brokers aren't monitored by any legit financial institution. This means that the company can engage in any type of financial activity, which mostly turns out to be illegal, and designed to steal people's money. Besides, this way the broker can avoid paying taxes to governments. So, a pretty advantageous situation for a broker that is also very disadvantageous for the broker's customers.
What do the PatForex trading terms and conditions look like?
As a final piece of this puzzle, let's review the trading conditions at PatForex. First off, we'll start with the leverage and spreads. As we found out during our review, the broker offers a 1:500 leverage ratio to its clients. In our reviewing experience, the brokers that offer this much leverage often turn out to be scammers because they don't really care how damaging this feature can be to their clients' accounts. That's because the leverage is like a double-edged sword: it increases both profits and losses. And for choosing such a high multiplication rate, our PatForex rating is beaten down even more.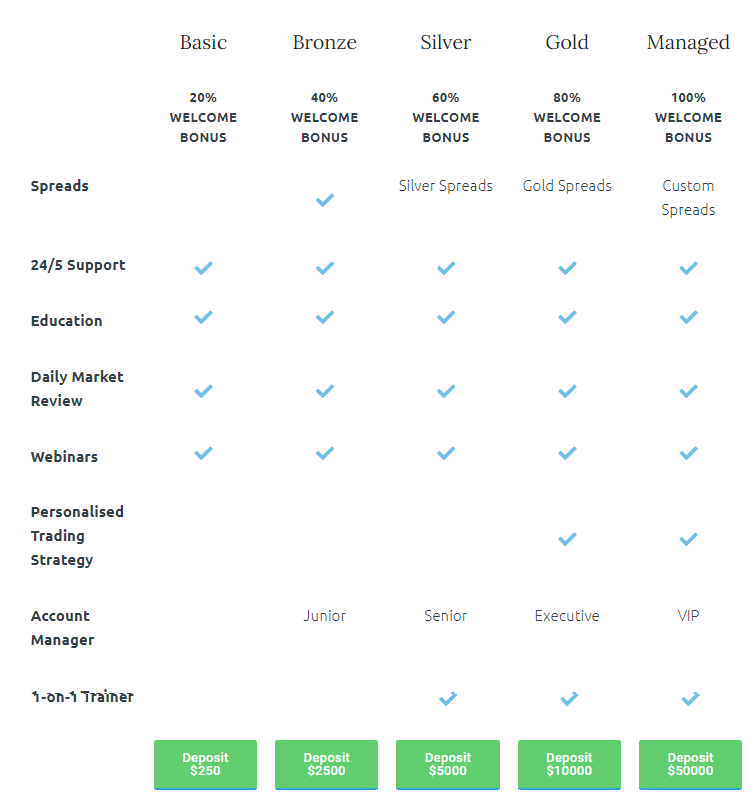 As for spreads, PatForex claims to have a minimum of 0 pips for bid-ask price differences. Yet when we checked other segments of the website, that number changed to 0.1 pips for ECN traders. This leads us to believe that the regular trading platform doesn't charge any commissions at all, whereas the one that's supposed to have this sole feature (ECN) is lagging behind – another suspicious detail in our opinion.
Next up, let's discuss the minimum deposit requirement at PatForex. As we noted earlier, the Basic trading account comes with a deposit requirement of $250. Now, while experienced traders won't find this sum very high or whatnot, it's also important to note that professionals won't be using the Basic account. It's more likely that beginners will want to create this account and charging them $250 isn't something that they'll gladly do.
Lastly, we should examine financial platforms that power PatForex withdrawals and deposits. But before we discuss the actual platforms, we should note that there's no separate section where you can find these platforms. You have to read a very big terms and conditions page and find those in there. So, which platforms can you use for deposits and withdrawals? The broker supports bank wire, credit cards, and some e-wallets for its payments, yet it doesn't specify what limitations and fees apply to them – it only notes that there will be some restrictions in individual cases.
What to we make of PatForex?
In conclusion, should you make financial commitments to PatForex given the level of trustworthiness it has?
Based on what we've discovered during this PatForex review, it would be a very big leap of faith to do so. The broker doesn't have a proper license, it doesn't rock the most sophisticated website, and it certainly overdoes its trading promotions.
Therefore, it would be very irresponsible of us to actually recommend you PatForex.