Platin FX – Our unabridged review

The importance of a trustworthy Forex broker can hardly be overestimated. The internet is full of fraudulent brokers that straight-on rob their clients by dragging them into heir Ponzi schemes while credible brokerages are having their reputation abused.
This is why it is important to have a universal distinction mechanism between legit and fraudulent brokers. And this is why our team at Forex News Now is regularly offering Forex broker reviews to you, our readers.
Today, we'll take a look at yet another broker, the Platin FX Forex broker, and try to determine whether it's credible or not.
What are the trading offerings at Platin FX?
First things first, we will start with trading terms and conditions at Platin FX because this is what the majority of Forex traders are usually interested in. So, at Platin FX, you can choose more than one asset class to trade: Forex pairs, commodities, indices, and shares. Although, you can only choose the last three in Standard and ECN accounts.
Weird ECN platform
Speaking of the ECN account, there are some important details we have to mention before moving on to the leverage and spreads. ECN stands for the Electronic Communications Network and it allows traders to directly connect with liquidity providers. This way, they can have the lowest spreads on their assets, as well as live price quotes, and maximized profits.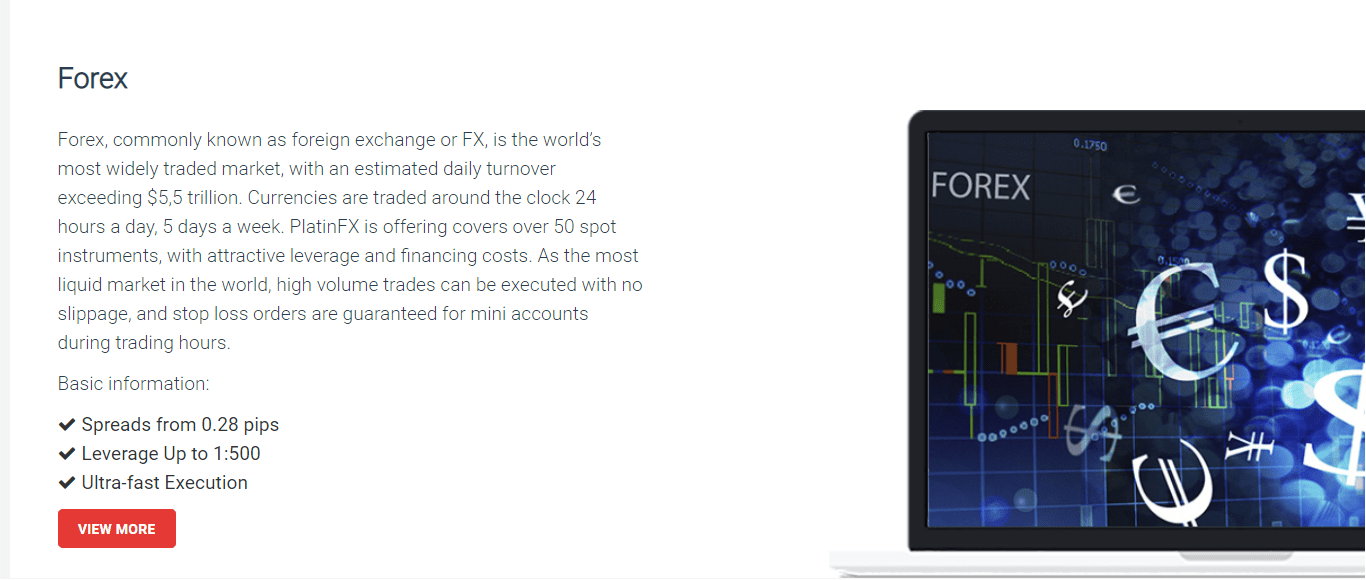 However, ECN is a very high-tier platform that requires a lot of knowledge and experience in trading. That's why Forex brokers only offer it to the most elite traders. It automatically means high commissions and high deposit requirements.
Yet, that's not exactly what we see with the Platin FX brokerage: sure, there are commissions on traded lots but these are mere $4 per round lot, which is nothing compared to what other brokers charge. And higher commission usually isn't a bad thing for the ECN platform because it indicates the broker takes it very seriously – something that isn't entirely felt at Platin FX. On top of that, the minimum deposit is even more ridiculous than commissions: just $300 for opening the ECN account. We really don't know where the broker finds these numbers but we certainly aren't convinced that there are no hidden fees behind them.
Trading numbers
Now, let's move on to the leverage and spreads. At Platin FX, you can choose the maximum leverage of 1:500, which you may already know is way higher than what credible brokers offer. While many traders find this feature appealing because, well, it increases profits, it's important to keep in mind that the leverage also increases losses with the same multiplication rate. And going with a 1:500 can possibly ruin your whole trading account.
As for spreads, Platin FX features a minimum of 0.28 pips on its Forex pairs. And traders have the ability to choose from fixed to variable spreads. For this feature, there's not much to say except it's quite decent and allows traders to maintain their profits to nearly the same size as they've received them.
The next segment is Platin FX promotions. On the website, we found four different bonuses that cover regular deposits, first deposits, etc. However, all of them have expired four years ago… Did Platin FX forget to update them or at least remove them from the website? We're not entirely sure, but it doesn't matter; what matters is that the broker showcases bonuses that aren't really there.
Payments
Finally, let's talk about all the financial platforms that power deposits and withdrawals. So, at Platin FX, you can use a bank wire, Visa/MasterCard/Maestro credit cards, and lots of e-wallets (Skrill, Neteller, Perfect Money, etc) to fund your account and take out the money you've earned.
While this level of diversity is definitely a plus, here's where it gets very disadvantageous: the broker charges commissions on not only withdrawals but even on deposits. Here's how it works:
For Skrill deposits, you're charged a flat 3.9% rate plus 0.29 Eur on top
For Neteller deposits, you're charged a flat 2.5% rate plus 0.29 Eur on top
For Okpay deposits, you're charged a flat 0.5%
For credit card deposits, you're charged a 2.5% flat rate plus 0.29 Eur on top
And that's despite the broker's claim that there are no hidden costs or commissions for deposits and withdrawals. This certainly deteriorates our Platin FX opinion.
The license overview – Is Platin FX legit?
The second important segment of our review is licensing. As the broker claims, the company was registered at Vantu House, 133 Santina Parade, Elluk, Port Vila, Efate, Vanuatu with the registration number 14599.

The license was issued by the country's Financial Services Commission (VFSC). Now, what does this mean? Is the license powerful enough to ensure quality financial service at Platin FX?
Unfortunately, we don't think that's the case. You see, the countries like Vanuatu, St. Vincent and the Grenadines, etc. are popular destinations for financial companies for a number of reasons: they can avoid being monitored by strong financial institutions and pay no taxes.
Therefore, it's safe to assume that the Platin FX Forex broker has no regulation at all and its actions aren't restricted by any legit guideline.
The website teardown
Finally, let's take a look at the broker's website and software aspect of it. First things first, we're not entirely thrilled by the design choice for the interface; it looks dull and uninspiring with its random layout and unmatching color scheme.
The informative aspect is moderately decent. You can find information about pretty much everything, yet some details are quite outdated (in the case of bonuses) or very suspicious (ECN conditions).

Next, we need to check out trading accounts available at Platin FX. In the Account Information section, you'll find three separate packages: Mini, Standard, and ECN. The first two accounts have both fixed and variable spreads, whereas the ECN account only comes with the tightest market spreads. As for tradable instruments, only the Mini account is limited to Forex pairs; the rest support Forex, stocks, indices, and commodities.
The broker also offers its clients a demo account, which is pretty useful for beginner traders who want to hone their trading skills without spending a buck for it.
Finally, we explored trading platforms and found that the main trading software is the Platin FX MT4, as well as the mobile trading platform. Now, MetaTrader 4 is a very simplistic and easy-to-use platform that will leave the majority of trader happy, however, when it comes to the ECN platform, you need a much more sophisticated software than that. Yet Platin FX still offers MT4 for that, which is very disadvantageous for immediate trade executions and other benefits that the ECN platform is accompanied with. MetaTrader 5 would be a much better choice here.
Can you trust Platin FX?
So, we've come to the conclusion of our review and it's time to answer the question: should you trade with Platin FX?
Well, let's take a brief look at what we've found during our review: Platin FX is an STP/ECN trading broker that offers impressive, yet very suspicious and sometimes weird trading conditions. Its license is pretty much non-existent and leaves the room for more grounded Platin FX fraud suspicions. The website looks very amateurish and trading software is not suited for a more demanding platform that ECN is.
Based on all that, we cannot recommend Platin FX to our readers.