RevenuTrade Review

Every Forex trader wants to deal with a credible broker of good repute. With the rise in the use of the internet, there are more rogue FX brokers than there are good ones. This means that you must take your time to identify the right broker that will meet your needs. RevenuTrade is a relatively new Forex broker that seeks to recruit clients from all over the world. In this RevenuTrade review, we are going to look into the firm's features which will then help you determine how credible the firm is.

RevenuTrade Forex broker
RevenuTrade is incorporated in the United Kingdom and is duly registered by the Registrar of Companies of that country. The business number allocated to the firm is 11213029 and the registered offices are found along Acacia Avenue, Wembley, Middlesex, U.K. The broker offers its customers Forex, CFD, commodities, equities, indices, and futures and binary options to trade in.
It is important to note that RevenuTrade is a registered company in the U.K but it does not carry any U.K Forex trading license. It is, therefore, a curious case where such a firm which should be regulated by the Financial Conduct Authority (FCA) operates a business right inside Middlesex. Many RevenuTrade reviews point out the fact that the firm offers FX trading services to traders from around the world and not necessarily from inside the U.K. The good thing about opening an account with a regulated broker by FCA is that you will get your money back in case something goes wrong. If you happen to deposit such money with a non-licensed broker, chances of losing all your money increase exponentially.

Trading at RevenuTrade
One of the good things about RevenuTrade is that it provides the MT4 trading platform. MT4 is ideal for the FX trader because it comes with charting and analysis tools. There are, however, some RevenuTrade scam traits which might make you not want to open an account with the broker. The standard spread offered by the broker stands at 2 pips which is too high for a standard account trader who prefers 1.5 pips. Moreover, the leverage offered by the broker goes up to 1:1000 which is extraordinarily high. In Europe, regulators nowadays insist on a leverage of 1:30 while Japan prefers 1:25. Very high leverage like that offered by RevenuTrade means that the chance of traders losing all their money even more than their initial investment is very high.
Accounts at RevenuTrade Forex broker
There are five different types of accounts which you can choose from. There is Micro account whose initial minimum deposit is $100. The other features of this account include spreads of 2 pips and a leverage of 1:1000. The Premium account which requires a minimum deposit of $1,000 comes with a leverage of 1:500. There is the VIP account whose maximum leverage is 1:400 and whose initial minimum deposit is $5000. The Zero and the Islamic accounts require a deposit of $2000 and the leverage to be enjoyed by a trader is no more than 1:400 and !:500 respectively.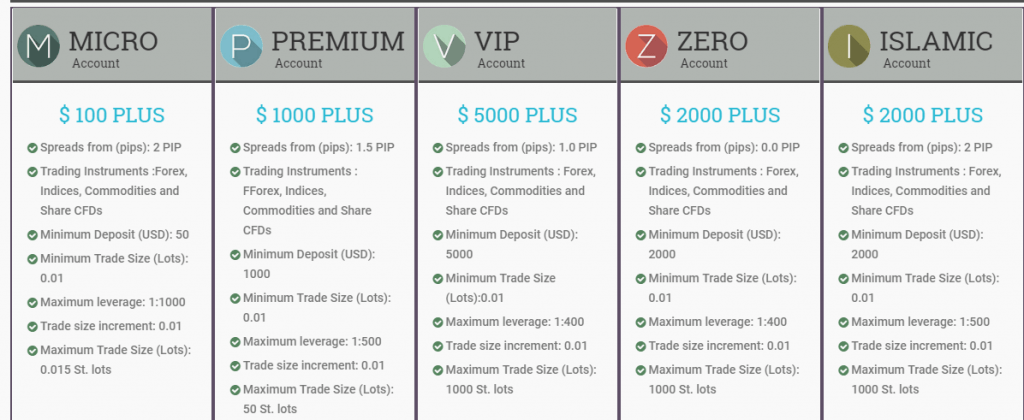 Is RevenuTrade legit?
This is a question which is not hard to answer after reading this www.revenutrade.com scam review. Without a trading license especially given the fact that the firm is in the U.K, FCA's territory, a trader should avoid dealing with them. Moreover, the leverage offered is extremely high and the spreads way too high which means a newbie trader has little chance of making money here.