RoboForex review – Trade more than 12,000 instruments with this broker
RoboForex is a famous broker, established in 2009. The Forex broker offers more than 12,000 trading instruments, across 8 different asset types. Over the years, the company has earned a very good reputation with more than 3 million live accounts since its establishment.
It has received numerous awards and has partnered with world championships in a wide variety of sports fields. Most recently, the company secured a sponsorship deal with Muay Thai Fighter and world kickboxing champion, Andrei Kulebin.
Thanks to the wide range of trading platforms available at RoboForex, everyone can find something that they like. As our review of RoboForex shows, the company is based in Belize, which means that it is regulated by the Internationa Financial Services Commission of Belize. It also is part of the Financial Commission and Compensation Fund, which means that your funds will be safe with this Forex broker.
So, let's dive deep into the offerings of RoboForex broker and learn everything that there is to know about this well-known Forex broker.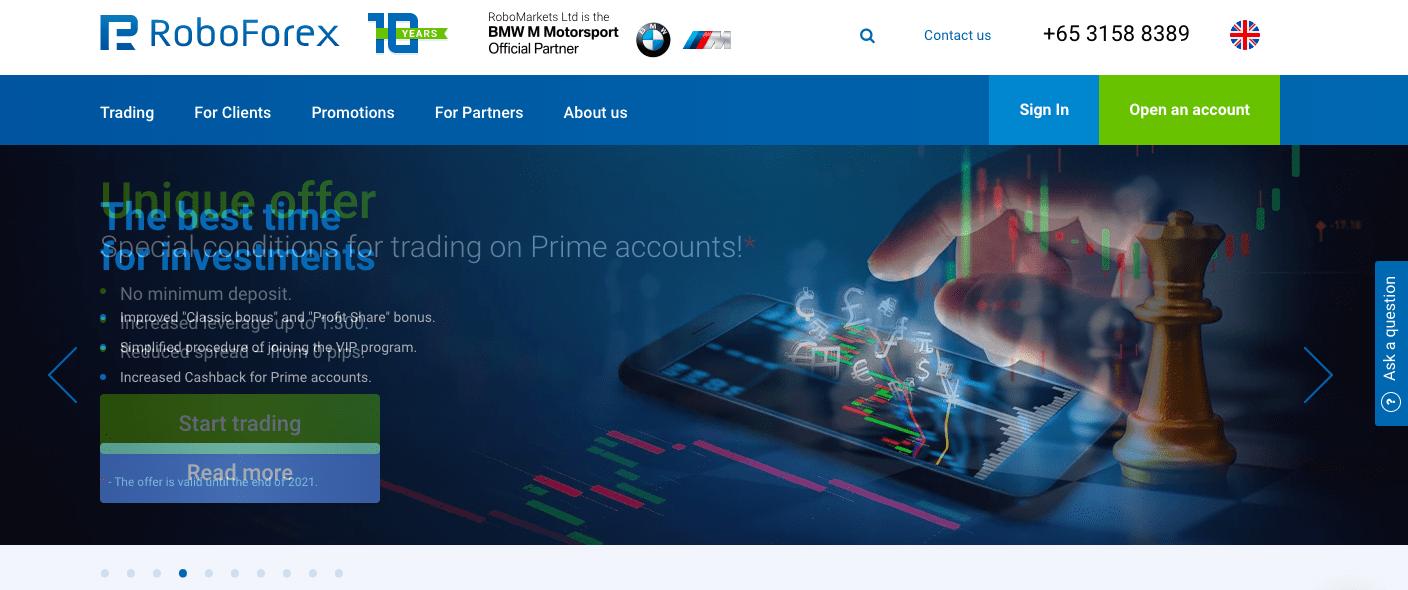 Review of RoboForex – A quick background
Established 12 years ago, RoboForex has earned a reputation as a trustworthy and safe Forex broker. The Forex broker offers traders access to eight different asset classes, which include Forex, Stocks, Indices, ETFs, Soft Commodities, Energies, Metals, and cryptocurrencies. Because of such a wide range of selections, the broker has something for every type of trader. No matter what you want to trade, you can find it among the 12,000 trading instruments available for traders at RoboForex.
RoboForex is a rapidly expanding and growing company. In 2010, the broker had only about 1700 users. As of 2019, the number of users has reached 3.5 million, and it still continues to increase at a swift pace. It's not only the number of users increasing, however. As our RoboForex review shows, the company is constantly developing and changing.
As of today, the number of available trading instruments is at 12,000. In the beginning, the broker offered just a few hundreds of trading assets to traders. Over the last decade, the broker has received as much as 20 awards from industry-leading companies and was named as one of the best operators many times.
Although the broker has a very long history, there has not been any scandal about the broker. It has managed to remain its reputation as a safe and secure Forex broker. After 12 years, RoboForex remains to be a legit and trustworthy Forex broker.
What can you trade with RoboForex?
As our review of RoboForex FX broker shows, there are more than 12,000 trading instruments available for traders. It probably is one of the biggest advantages of RoboForex. No matter what you are looking for in Forex trading, you are most likely to find it at this Forex broker.
Thanks to such a wide range of trading instruments, you will be able to diversify your portfolio while also enjoying safe and secure services. Among the trading assets available at RoboForex, you can find:
Currency Pairs
Stocks
Indices
ETFs
Commodities
Energies
Metals
Cryptocurrencies
Let's go through them one-by-one and see what RoboForex has to offer.
Forex trading at RoboForex
Forex trading is the biggest financial market globally. Our RoboForex review shows that you can trade Forex at this broker with unmatchable execution speed. There are more than 40 currency pairs available at RoboForex, including EUR/USD, USD/JPY, GBP/USD, EUR/GBP, and others.
Depending on your location, you can get access to high leverage, which can go up to 1:2000. However, keep in mind that if you are trading Forex in Europe, you will have some limitations. According to local laws, Forex brokers regulated in Europe are not able to offer local retail traders leverage more than 1:30.
Also, trading with high leverage might get very risky for beginners. Don't forget that leverage not only increases the potential of high income, but it increases risks as well.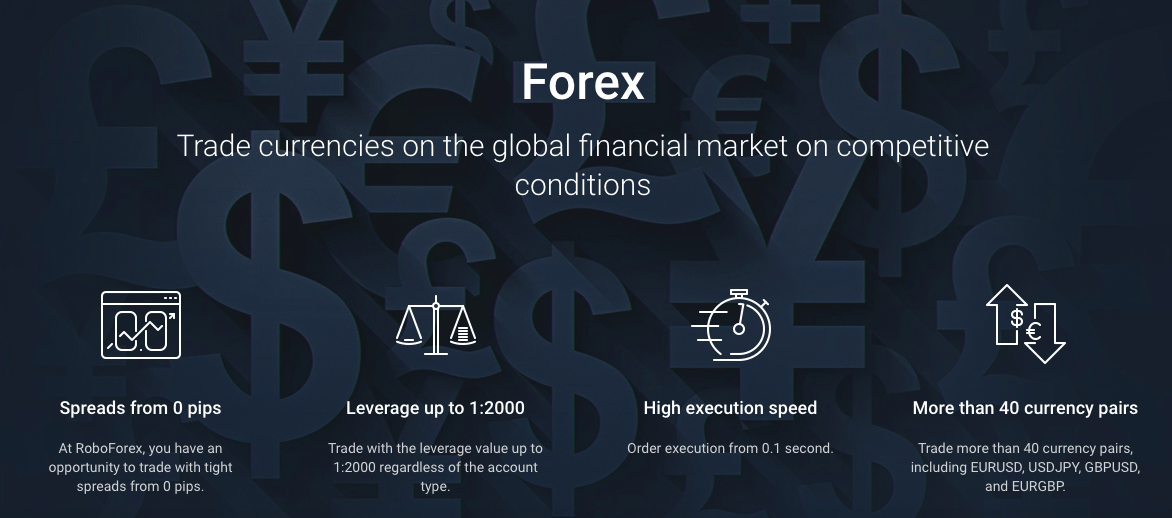 Trade stocks of leading companies with RoboForex
Stock trading is very popular around the world. There are millions of people who trade stocks every day. With RoboForex, you can trade CFDs on stocks of leading companies, such as Amazon, Facebook, Siemens, and others. CFDs trading gives you the opportunity to earn profits by trading without owning the assets themselves.
This way, you are speculating about the future movements of the prices and don't have to own underlying assets. You can trade stocks with RoboForex with up to 1:20 leverage to increase your profits. You can also automate your trading operations with a special, free robots builder. The most popular stocks on RoboForex are Apple, Amazon, Facebook, Google, and Netflix.
Trade 100 EFTs on commodities with RoboForex
According to our review of RoboForex, this broker offers traders access to more than 100 EFTs on soft commodity markets. The leverage for commodities trading at this broker is as much as 1:20, and the minimum deposit for commodities trading is $100. You can invest in everything from cocoa, coffee, corn, wheat, to sugar and fruit.
There are two major types of commodities available, they are hard and soft commodities. Soft commodities are those that are a result of agricultural activities, such as wheat and flour. On the other hand, there are hard commodities. These include everything from gold and silver to crude oil and energies.
RoboForex review – Cryptocurrencies trading
You can start investing in CFDs on more than 25 cryptocurrencies. It includes Bitcoin, Dash, EOS, Ethereum, Litecoin, Ripple, and others. You can trade cryptocurrencies 24/7, with a minimum deposit of just $10. You can trade cryptocurrencies against fiat currencies, such as BTC/USD (Bitcoin against US Dollar) and ETH/USD (Ethereum against US Dollar) among others.
You can also trade indices, ETFs, Energies, and Metals with RoboForex. All of them are very popular with this Forex broker, and you get access to some of the most amazing trading platforms in the market.
Review of RoboForex – Regulatory status
RoboForex owns a license of two regulatory agencies. For the international market, the Forex broker is regulated by the Internationa Financial Services Commission of Belize. This is a very well-known regulatory agency, but while it gives the broker the ability to offer services globally, it is not enough for Europe.
To offer its services to European retail Forex traders, the Forex broker also owns a license from the European regulatory agency, CySEC. Cyprus Securities and Exchange Commission is a very well-known regulatory body. Thanks to the local laws in Europe, if a Forex broker is licensed by any regulatory body of the EEA area, it has the right to offer services to the whole region.
RoboForex very strictly follows the requirements of both regulatory agencies. Thanks to this, the Forex broker is one of the safest and secure FX brokers in the market. Still, there are some people who as if FoboForex is a legit Forex broker or not. To that, we can very proudly say that RoboForex is a legit broker.

Keeping traders safe
In addition to these two regulatory agencies, there also are other commissions that RoboForex is registered with. This Forex broker is an official participant of the FInancial Commission, which is an international organization. It focuses on resolving disputes between its participants and their clients.
Traders can submit their application to the Financial Commission in Russian, English, Spanish, and Chinese. In case there is any problem, the Commission will get back to you in a maximum of 7 days. It has an amazing compensation fund and was created by experts in the market.
The Forex broker also is a part of the Compensation Fund. This service is included in the FInancial Commission membership and it provides protection up to 20,000 Euros per case if the member refuses to follow the judgment from the Financial Commission. It is a type of insurance coverage for the traders. It is a special fund that was organized and created by Commission members to provide traders with additional financial security.
RoboForex reviewed – Rules that this broker follows
As we have already said, RoboForex is authorized by two regulatory agencies, depending on the location of the trader. Both of these regulatory frameworks are dedicated to making the market safer for traders. No matter where you are, you can be sure that the broker keeps your funds safe on segregated bank accounts.
Accounts segregation is a huge step towards safety and security. It means that no matter what goes wrong, you can be sure that your funds are kept safe. Another great practice that this broker follows is negative balance protection. This is especially important for those who want to trade with high leverage.
When you are using high leverage, if something goes wrong and your position is not successful, you are in great danger of losing a lot of money. In some cases, people have lost more money than they even had on their trading accounts. To safeguard their clients. RoboForex review shows that this broker offers negative balance protection.
Thanks to negative balance protection, you are safe from losing more money than you have on your account. Once your funds go near zero, all of your positions will be closed automatically. This will prevent your funds from going below zero. This way, you can never lose more money than you can afford.
RoboForex is also required to always maintain a certain amount of minimum capital. The broker also very frequently prepares special reports that it presents to the regulatory agencies.
RoboForex broker review – How to start trading?
There are several steps that you should take to start trading at RoboForex. First of all, you have to choose which account you want to use and create one. After that, you will be able to make your first deposits, open trading platform, and start trading. There are several account types at RoboForex. Let's discuss RoboForex's account types so that you can choose which one is best for you.

RoboForex account types
There are several types of accounts that you can create at RoboForex. This includes regular trading account, Cent account, ECN account, Prime account, Demo account, and Islamic account. This Forex broker has something for every type of trader.
If you are a beginner in Forex trading, it might be a better choice to go with either a demo account or a cent account. A demo account is a perfect choice for absolute beginners who do not really have any experience in Forex trading. With a demo account, you will get a certain amount of virtual cash.
With this virtual many, you can trade Forex without putting your real-life funds under any risks. If you run out of money, you can always contact the broker and as for more virtual cash. This account can also be used by experienced traders to test out different types of strategies and even come up with their own trading tactics.
Another great option for beginner traders is the cent account. A cent account was first created in 2006 in Forex. Our review of RoboForex shows that this FX broker offers this account to its traders. A cent account gives you the ability to trade Forex with the smallest amount of money.
Unlike demo account, cent account users are trading with their actual money. This lets you get used to the feeling of real-life trading much better than the demo account. You can also learn how to deal with your emotions while putting a very little amount of money at risk.
Accounts for experienced traders
ECN accounts are mostly intended for professional traders, who prefer the best trading conditions. It offers traders the tightest spreads and high execution speed. Most importantly, access to higher leverage and more than 35 currency pairs. Prime Account is also a very good choice for experienced traders. Advanced traders will enjoy this one very much. It offers access to 28 currency pairs.
The most popular account type that a majority of traders are using is the pro-Standard account. This is a very popular and optimal choice for traders. It is suitable for both beginner and experienced traders. The maximum leverage is 1:2000, however, remember that it depends on your location as well.
RoboForex review – Islamic account
As we have already noted, RoboForex strives to be an international Forex broker. Because of this, it is vital for the company to access traders of all backgrounds. Islamic account is also referred to as the swap-free account. As you might already know, according to Sharia law of the Quran, those who follow Islamic beliefs are not able to pay or receive any type of interest rate, which includes swaps.
At RoboForex, those using Islamic accounts are free from paying swaps. However, they do have to pay a fixed commission, which depends on the currency pair and number of open lots but not on the issuing banks' interest rates. This account is specifically created for clients of the Muslim belief. Keep in mind that the Swap-Free account at RoboForex is only available for cent and standard MetaTrader4-based accounts, as well as for Pro-Affiliate accounts.
How to create a live account?
Creating a live account at RoboForex should not be hard at all. You will have to provide general information about yourself just like you would have to with any other broker. After doing so, you will have to finish the registration procedure by providing documentation that is required to verify your identity because of the KYC policy.
After that, you will be able to make your first payments and start trading Forex.
RoboForex review – Payment methods
Once you have created a live trading account, you can make your first deposits. As we were able to find out, there are more than 20 payment methods available for traders at RoboForex. The broker also notes that there are no commissions charged by the broker when you make deposits since the broker covers all the costs.
You can use different types of payment methods, such as bank transfers, online payment solutions, and credit/debit cards. This includes Visa, Mastercard, JCB, and China UnionPay, for electronic payments: Skrill, Neteller, Perfect Money, Fasapay, and others. You can also use SEPA, Local Bank Transfers, and dozens of others.
Traders can use the payment methods for withdrawals. You can check out the website of the Forex broker to learn more about the commissions that you might have to pay while withdrawing your funds.

Bonuses & promotions
The Forex broker offers a number of promotions and bonus systems. However, traders should keep in mind that according to the local laws in Europe, brokers are not able to offer their clients any type of promotion. Because of this, if you are a European retail trader, you will not be able to use any of the promotions.
For others, the broker offers bonuses on first deposits, profit share bonuses, welcome bonuses, cashback, special competitions, and many others.
Reviewing RoboForex – Trading Platforms
One of the biggest advantages of this Forex broker is the amazing trading platforms that it offers to retail traders. You can use one of the most popular trading platforms, MetaTrader 4 at RoboForex. This trading platform was released 16 years ago, in 2005, and since then, it has been very popular among traders.
It offers traders 3 types of order execution, 40 ready-to-use indicators for technical analysis, basic tools for graphic analysis, and many other tools created to make trading easier for you. MetaTrader 5 is also available for traders, offering them 6 types of pending orders and multi-currency tester.
cTrader, which is very popular among experienced traders, is also offered by RoboForex. If you prefer order execution speed and unconventional instruments to implement your trading strategies, this platform might be a perfect choice for you. You will get access to 54 technical indicators and 14 timeframes, in addition to the rare types of orders.
If you prefer to trade without having to download anything, you can use the web platform R Trader, which gives you access to all global markets with a single account. This multi-asset terminal combines cutting-edge technologies and a classing design, which takes trading to a completely new level.
There are a total of 6 trading platforms available at RoboForex that you can use right now.

Mobile trading at RoboForex
It should not come as a surprise that this Forex broker offers traders the ability to trade Forex with their smartphones. In recent years, trading with mobile phones has become increasingly popular. One of the main reasons for it is that it offers traders the ability to access the market at any moment, no matter where they are.
Thanks to the trading platforms offered by the broker, you can trade Forex with both iOS and Android devices.
Is RoboForex a legit FX broker?
After reviewing RoboForex and its services, we were able to find out that this Forex broker is a reliable and safe company. We recommended the services that it offers to our clients. Thanks to the regulatory frameworks that RoboForex follows, it is able to offer clients a safe environment.
Among many other things, the Forex broker offers as much as 12,000 trading assets. This way, you can diversify your trading portfolios very easily. The broker also offers phenomenal educational material, which you can use to grow as a Forex trader.