S2Trade broker review

have you ever had a bad experience with a broker? by a bad experience, we mean a lack of communication or the slowness of information delegation. Well, there can be a worse fate when dealing with brokers. That fate is being convinced by a calling sales agent to invest on their platform. Nobody is blaming you, honestly, sometimes they are so convincing even a lie detector can't manage to figure them out. Generally, victims of these kinds of brokers lose all the money they deposit without even making 1 trade. in order for you to avoid such an experience, we have made this S2Trade review. It took some time to analyze this company's operations, but ultimately it was clear that they cannot be relied upon. If you follow these steps, then you will be able to differentiate, in the future, between legitimate brokers and those that are simply out to steal your money.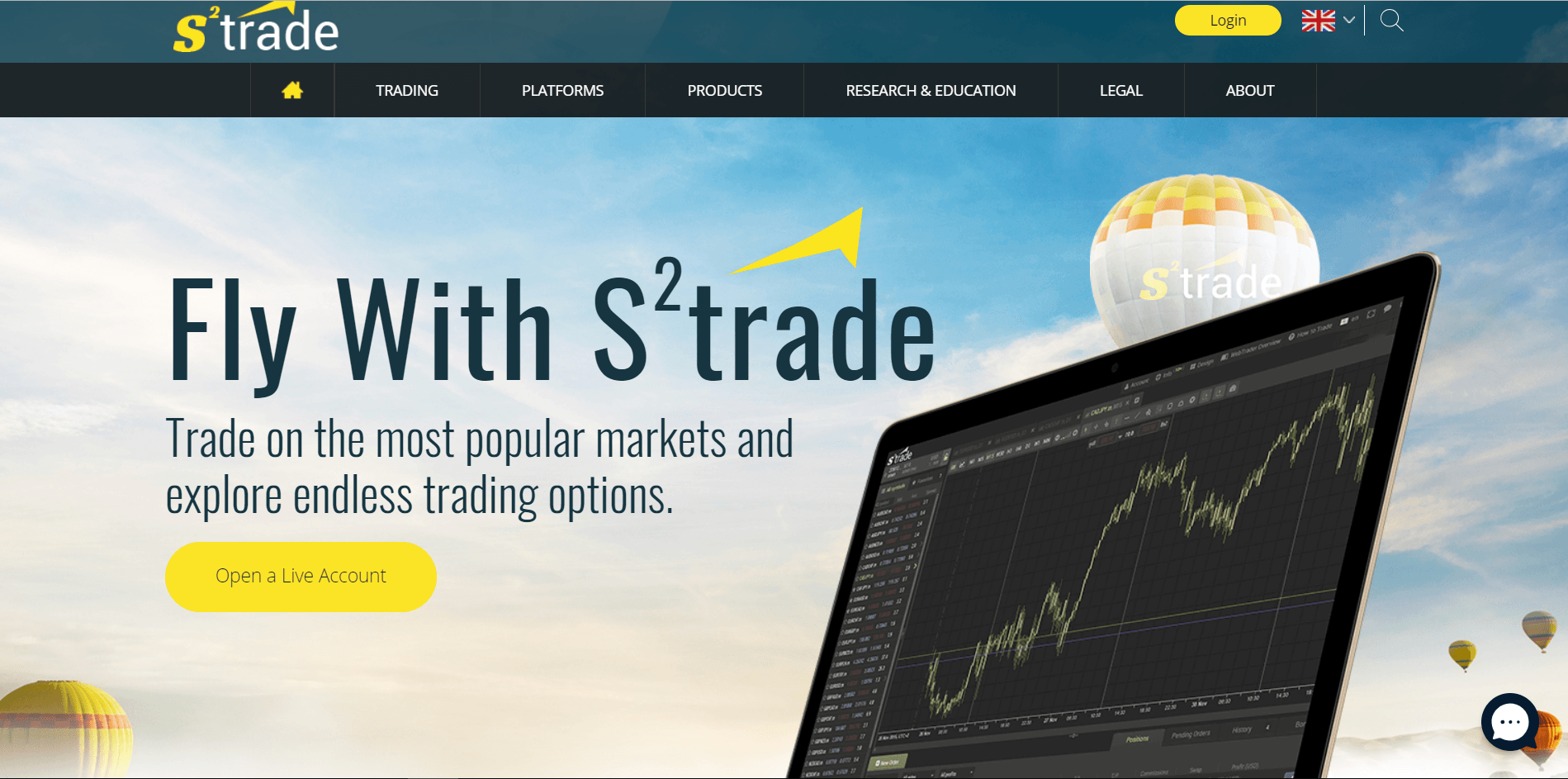 The reality of S2Trade scam!
After searching on Google for S2Trade, the first result is the official company's website. Upon entering, it seems like everything is fine with the S2Trade website review at first until you get to the bottom and take a look at the company information. S2Trade is apparently the tradename for GoldTech Media Services OÜ, a company that is based in Estonia. There was no mention of financial regulation anywhere on the website, which tells us that the broker is not regulated. That right there is something you really ought to avoid whenever you're trading the FX markets.
A license from a reputable financial regulator provides security for your money because the broker could be prosecuted and fined. However, since S2Trade is not regulated at all, you will never be safe once you deposit your money with them. Besides, they are based in Estonia, which makes it even more difficult for authorities to help you recover your money. Already, the S2Trade scam can be seen and red flags should be popping up in your head right now.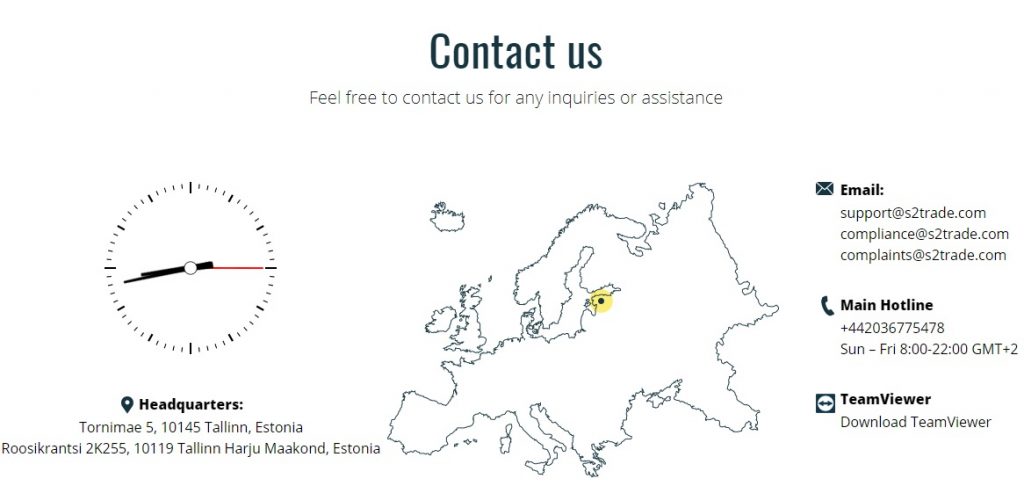 At this point, we decided to look more deeply into the company itself, which led to some interesting findings. Apparently, GoldTech Media Services OÜ does not only run S2Trade but also Glenmore Investments. This is another Forex broker also providing similar services, but their website is extremely junky. The look of it suggests that it was clearly made in a hurry, and by an inexperienced designer. The fact that GoldTech Media Services OÜ runs two separate brokers offering the same service suggests there may be some ill motives. After all, why would one company have two tradenames when both offer the same services?
There was another curious fact, and this one had to do with the company's location. GoldTech Media Services OÜ is based in Estonia, yet their official phone number is based in the UK. For this S2Trader review, we searched for that phone number on Truecaller, and we sew it belonging to a company called We Love Communications Limited. So far, it is clear that there is something fishy going on.
What do other traders have to say about S2Trade?
The S2Trade reviews were even more damning for the company because there were literally no positive reviews anywhere. None! Not even one of their previous clients had a good thing to say about the company, which tells us that this company is operating a straightforward fraud. Not surprisingly, the most often mentioned complaint was that clients would have a difficult time withdrawing their money. This is what these unregulated brokers do – they take your money and deny your withdrawal requests. They know that they are untouchable because no regulator can find them, which is why you should always deal with a regulated broker.

From the responses seen in the S2Trade reviews to the company's own shady background, this S2Trade review has established that the broker cannot be trusted. It is not recommended to work with this broker for any reason since they do not appear to be legitimate. There are plenty of other brokers you can choose from out there, many of whom are more trustworthy. However, be careful not to fall into such a trap as the one laid out by S2Trade.
Account Types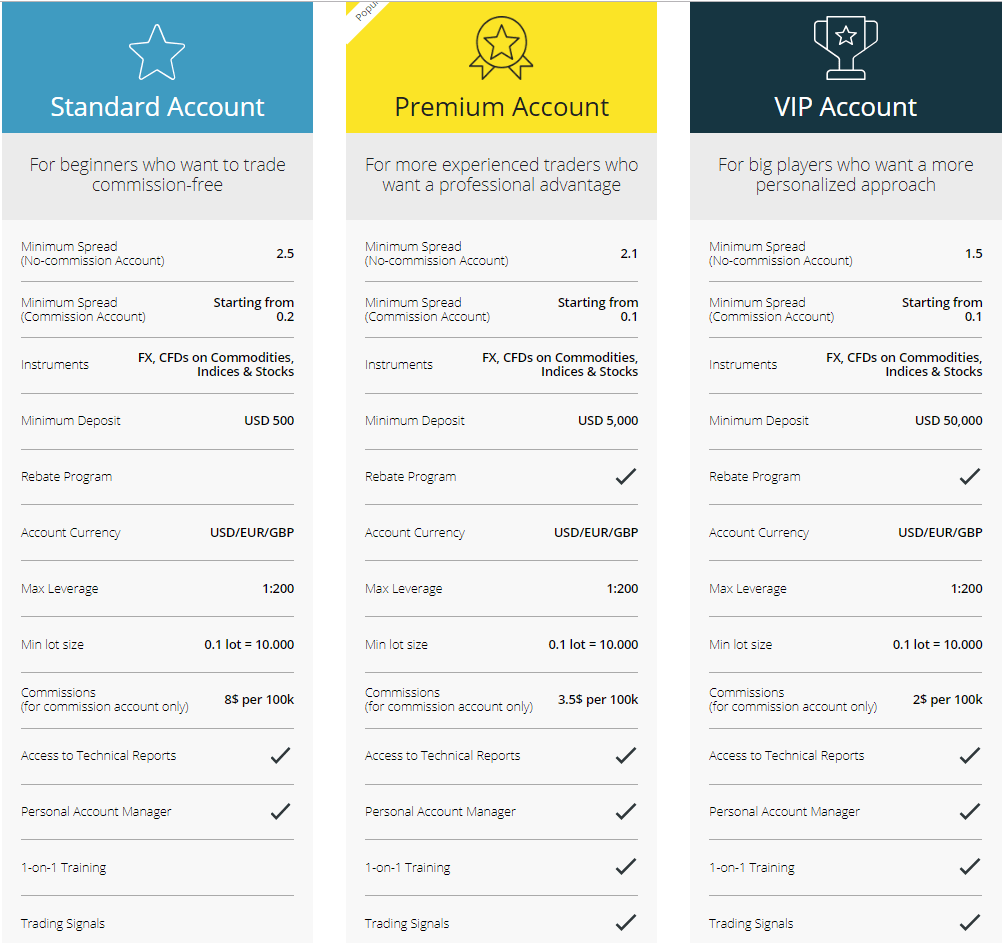 We have also checked out their account variations and were met with the image you are seeing now. At a first glance there is nothing suspicious about the accounts at all, but what we noticed was the "Popular" tag that the Premium Account has.
We believe this to be quite unorthodox, to be treating an account like a product. Popular accounts are not something traders are looking for and it comes off a bit like a scam to make people choose the Premium Account over the Standard Account.
What's the difference?
The difference is that a Standard Account will send you back by $500 and the Premium one by $5,000. Now you get to choose which one you'd rather risk when starting with a new broker.
It also states in the S2Trade texts that the express withdrawal is only limited to VIP accounts making you question if you could withdraw your profits at all. The express withdrawal is stated to be 24 hours. but it's weird because another broker XM offers the same hours for withdrawal but to standard and basic accounts. This makes us question how long it takes for the Standard Accounts to receive their profits on S2Trade withdrawal if they receive them at all.
Tradeable Products
Another big hit to the broker's trustworthiness is its lackluster list of tradeable products. The platform barely lists 5 things you can trade on it. Plus it is restricted to having the minimum amount of every single listed good on it as well. The goods you can trade on S2Trade are:
Currencies (not cryptos)
CFDs
Commodities
Indices
Stocks
This is the sign of an unregulated broker. If it truly is the case that they are a part of GoldTech Media Services OÜ in Estonia than they obviously need to have cryptos on their list, but sadly don't. This is another mark of an unregulated broker because all the regulated brokers, for example, XM all feature Cryptocurrencies and ETFs in their list of tradeable goods.
Summing up S2Trader Review
We believe that it is quite obvious, that our stance with S2Trader is rather negative. We believe that they are just another scam broker, who will just make you deposit their minimum amount and then forget about you completely. It is obvious that they don't care about customer retention or satisfaction. We advise to stay away from this broker and find a more suitable and trustworthy one. And please don't get discouraged by this S2Trade scam, because there are a lot more legit and regulated brokers out there than scammers.
1

out of

5

based on

7

reviews.
Overall rating:
Scammers
★☆☆☆☆
Don't trade with this broker, don't even register, they will drain every penny from you.
"
Another scam
★☆☆☆☆
Take the money and run - that is their policy. Unfortunately, I haven't read enough reviews before I gave them mine.
"
A total scam
★☆☆☆☆
This company is not a bonafide broker and will dupe you with lies and false promises into investing with them. You will never succeed in withdrawing your investment. Avoid any financial dealings with Jason Hunt or John Pierson. Both are confidence tricksters.
"
Stay away of this Scam
★☆☆☆☆
It's not the look what makes the broker legit. Proven Scam broker!
"
100% Scam
★☆☆☆☆
Same scammers that rules the dirtyTitantrade and Toroption. They keep your money and you will not see them again . Yes the y are criminals. Stay away from them.
"
Thanks guys for your warnings
★☆☆☆☆
Yes this company is ruled with a boss in Israel, owner of the scam Toroption and the big scam Titantrade. Scam from start to the end. Their traders can never withdraw their funds , because those scammer will keep it themselves. Don`t join this scam organization!!
"
07482344709
★☆☆☆☆
ZERO RATING!!! I have been called by my "account manager" and harassed on a regular basis!! This is unacceptable behavior. He called to tell me I was in credit on my account and he has promised me on 3 occasions to call me on a Friday (3 weeks in a row now) to assist with my account but has just neglected to call me. He now just said to me he had bigger clients to deal with so that's why he never bothered to call me. Now he is telling me I'm -$500 on my account!! If he had called me 3 weeks ago when promised, and I was in credit, I could have cleared my account, withdrawn the money I had made and paid back my credit card. Now I'm in debt.... He doesn't listen to what I have to say and constantly badgers me to deposit more money, of which I have told him, I do not have. He will not listen to what I have to say, says it's all my fault, and shouts over me when I speak!! I am absolutely blown away that you are supposed to be a professional company and you treat people this way. I have now laid a complaint with the Broker Complaint Registry. Hopefully no one else gets conned like this!! Disgusting behavior!!
"