SotFX Review – Can you trust this Forex broker?

SotFX Forex Broker is an online trading platform, that gives people from around the world easy access to different financial markets. According to them, their main goal is to bring transparency to the trading industry, meeting the needs of today's generation. We decided to evaluate whether they really are what they claim to be – a trustworthy trading platform. In order to do this, we had to check the company's legitimacy – Unfortunately, the website does not have much valuable information about the license. The only thing we were able to discover is that they are registered in Marshall Islands – an offshore location. This is already a bad sign because typically, such places are home to scammers and fraudulent companies.
The leverage offered by the company is up to 1:500 and the amount of it might differ depending on the size of the deposit. The spreads offered by SotFX FX Brokerage is 0.5 pips on EUR/USD, however, it is not fixed and can be changed anytime depending on the conditions of the market. There is an MT5 platform available for the customers, which is quite a good platform, giving you access to 560+ markets. The minimum deposit requirement remains unknown for the clients, as the site does not mention anything about it.
The website is generally poor in providing customers with necessary information. We couldn't find anything about bonuses or promotional offers, there were only terms and conditions which did not give us anything valuable. One can open demo, standard, and agent account. Using these, it is possible to trade Forex, CFD, Crypto, and Metal.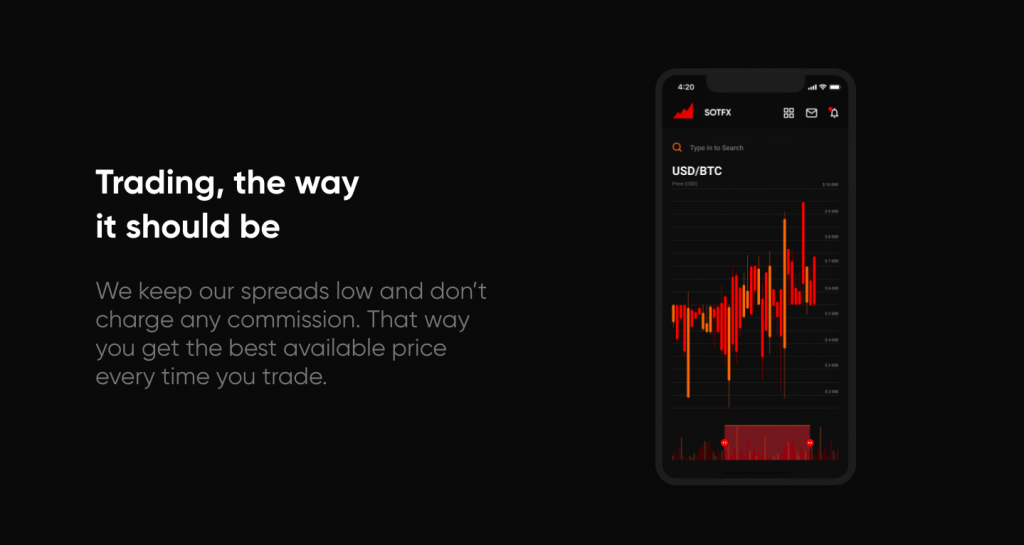 Is sotFX Legit?
No, sotFX is not a legit company and it is possible to discover it just from their website. Safe online trading LTD is incorporated in the Marshall Islands under registration number 104242. As we already mentioned, Marshall Islands is an offshore location, and the country does not have an organization that will legally legitimize brokerage companies. What this means is that sotFX is an unregulated company, which is hard to trust with your financial assets. If something inconvenient happens and you lose your money, there will not be a financial regulatory body that will take necessary actions to protect you as a customer. That's why we advise you to avoid unregulated companies at all costs.
SotFX Review – Trading Features
In order for you to find out if this broker still might deserve your money and attention, we decided to further review its trading features, which might influence your decision-making process. Let's take a look at each of them.
Leverage
The maximum leverage available on the platform is 1:500, which is above the industry's average and involves high risks of losing money. This might look good in the eyes of experienced traders, however, for beginners, it might be hard to make beneficial and right choices with such high leverage. There are a lot of other platforms, where financial regulators even restrict high leverages so you won't easily lose your funds and go into debt.
Spreads
As we already said earlier in this sotFX Review, the spreads on EUR/USD is 0.5 which is quite competitive and generally, a good indicator. However, this alone is not enough for us to recommend this platform as there are a lot of other key factors that one should pay attention to.
Account Types
There is no separate section on the website, where there is additional information available for the account types, which, once again, indicates the negative sides of the sotFX. Seems like they do not care much about the first impression, and this is the main reason why the site lacks some of the most valuable information. What we were able to discover was that there is a standard and agent account, but there is no information about the specifications and requirements for each of them, which makes it impossible for you to find out whether you should sign up for it or not. However, we need to mention that the existence of a demo account is a plus, as it lets customers test services for free, without actually risking any money.

Minimum Deposit
Like most of their features, sotFX decided to keep its minimum deposit requirements as secret as well. Sadly, we were not able to find out how much you have to deposit in order to start trading, which can be caused by two things. Either the minimum deposit amount is very high, or the company simply is a scammer. It is up to you to decide which one is true.
Bonuses
Bonuses are something that the majority of trading platforms use in order to attract new customers into their system. We were surprised to discover that sotFX does not offer any, as bonuses would give the company the ability to increase the number of potential users. The website has a separate bonus agreement document that states the facts about using the promotional offers, however, there is not a specific bonus offer on which these rules would be applicable.
All in all, the lack of information makes it almost impossible for us to evaluate whether the trading factors correlate with the industry's standard or not. From what we know, we can say that SotFX does not offer anything valuable compared to other reputable companies that are available on the market nowadays. Leverage is high, spreads are pretty competitive, but other than that, there is nothing that could deserve our approval.
SotFX – Final Verdict
Finally, we would not recommend SotFX to any of our readers simply for the fact that they are not regulated. Not having a license means that you will always have to worry about money and privacy issues, which makes the whole trading process uncomfortable. Why should you bother dealing with such a company when there are plenty of better ones? The trading industry nowadays has much more to offer.