StormGain Review – is the broker trustworthy?

Every once in a while, you come across a brokerage that seems legit with its trading terms and conditions, as well as its license and the overall feeling of the website. But while there are indeed some entities that prove to be trustworthy with their actions, there are nonetheless those that have hidden flaws behind those flashy offerings.
The state of the current online world allows such entities to freely offer their platform to a vast consumer base. Unfortunately, there are still many zones beyond the governments' reach that attract clients with their faulty offerings and then undermine their financial stability.
This is the reason why traders should always be careful when choosing a brokerage. And this is the reason why our team on Forex News Now is doing everything it can to expose scammers.
In this StormGain review, we'll take a look at the broker's online platform, explore its offerings, and present our conclusions: whether you can trade with it or not. Without further ado, let's get started.
Initial impressions
Established in 2017, StormGain is a cryptocurrency trading brokerage that offers various digital assets for an exchange. At first sight, the broker seems quite legit, as well as generous with its lucrative offerings. However, our extensive experience in this industry has taught us that the impressive numbers can easily deceive even the most experienced traders. But let's not jump ahead of ourselves and follow this review step by step.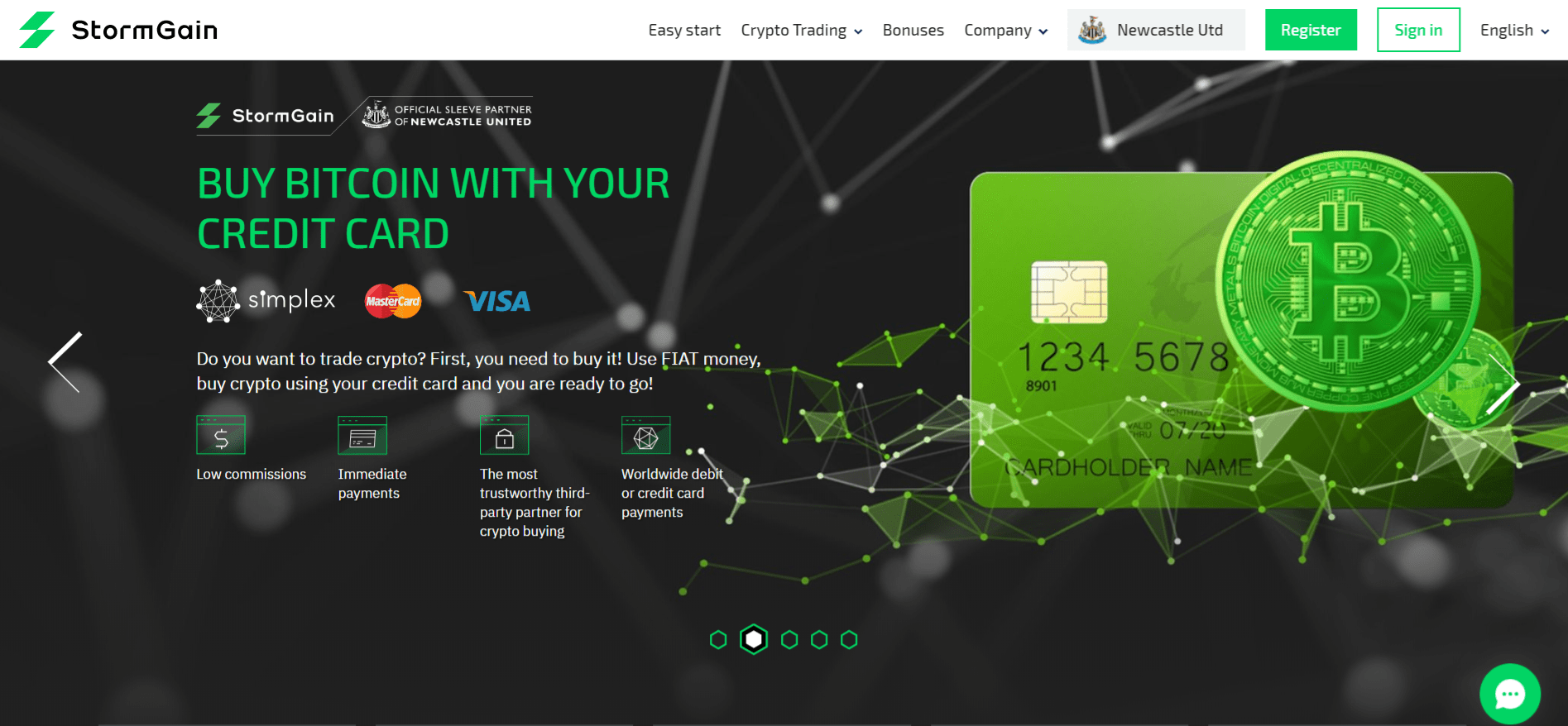 The brief stormgain.com review
When it comes to the website, our initial impressions aren't as positive as is the case for some traders. Sure, the fancy design with high-definition wallpapers is pleasing to the eye, yet we're here for the broker and its trading terms and conditions – not some art exhibition.
The complexity of the design makes it difficult to navigate on the website and gather information about the broker. Speaking of information, we also had mixed feelings about the informative side of the interface.
On the one hand, it offered extensive details about some offerings (leverage, spreads, commissions); yet we found it difficult to learn anything about the broker's licensing material. Besides, the thematic separation of the tabs was a little counterintuitive.
When it comes to creating an account on the StormGain FX brokerage platform, traders are able to choose from five different accounts, ranging from the Standard all the way to the VIP account. These accounts are different in many aspects and we'll take a look at them in the next chapter of this review.
The next part of the online platform is trading software. Unlike other brokerages, StormGain only offers its own WebTrader software. On the one hand, WebTrader is a simple-to-use platform that doesn't require any installation or additional programs for performance. On the other hand, though, there's a lack of diversity in this section, not to mention the risks of being scammed by a proprietary trading platform.
The license
The next part of this review will focus on licensing. This is the part that took us some time and effort to uncover and find out that there's no actual regulatory piece that restricts the broker. Instead, we have a short notice in the About Us section of the website that StormGain is a member of the Blockchain Association.
For some people, this may seem reassuring that the broker actually complies with the financial standards of the association. For us, though, the StormGain opinion stays the same – even deteriorates a little – knowing that the Blockchain Association isn't as credible or has the same prowess as the governmental institutions. More on this later.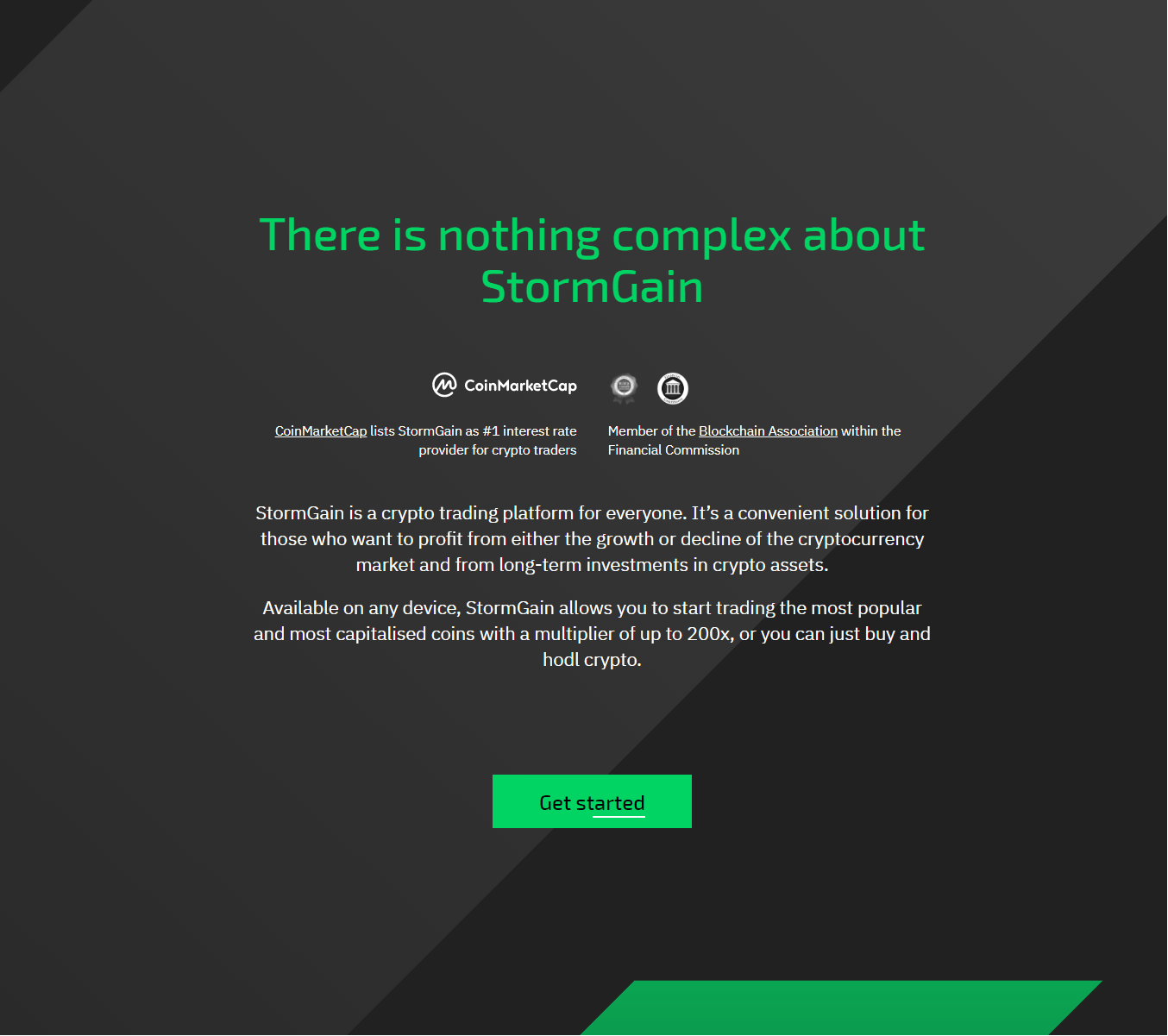 Trading terms and conditions on StormGain
Finally, we'll take a look at the trading terms and conditions – probably the biggest reason why people are reading this review in the first place. One thing we have to admit is that we were also quite impressed when we saw those numbers: the leverage up to 1:200, spreads as low as 0$, and the minimum deposit requirement of just 50 USDT.
We also noticed an extensive bonus system that spans across all the account types, apart from the Standard one. The rest of the four account holders can increase their initial deposits by 5%, 10%, 15%, or 18% depending on which account they choose.
Unfortunately, we were quickly returned to reality when we remembered that when something looks too good to be true, it may as well be. We'll explain everything in the final chapter of the review, but for now, we'll say this: we suspect that the broker uses those impressive numbers in order to trick its clients and involve them in the plausible StormGain scam.
As for actually opening those accounts and making deposits, there are two main ways of doing that: traders can either deposit funds via credit cards or cryptocurrencies. Since StormGain is a crypto trading brokerage, we're not going to praise it too much: a crypto broker should offer cryptocurrencies for payments. The two methods are different in many ways, be it in terms of commissions, deposit/withdrawal limits, etc.
So, what's our initial opinion of the broker? We think that StormGain does a pretty good job of making its offerings attractive and compelling. However, once you dive deeper into the platform, you find out things that aren't so exciting. So, let's dive deeper, shall we?
Can StormGain be trusted for its fancy website?
As noted earlier, we weren't particularly impressed by the overall design of the website, nor its informative side. When we entered the platform, we immediately thought it was created by an amateur website developer who clearly overdid it. The website is stuffed with moody and contrasty wallpapers that take up the whole interface.
We're saying this because one of the main requirements of the financial website is to be as simplistic and navigatable as possible. This completely rules out the possibility of having a complex, overcomplicated interface, which StormGain definitely does. Now, this may not necessarily mean that the StormGain fraud is the real possibility, but it certainly undermines any kind of prestige the broker has.
The next important aspect of any website, whether it serves the financial entity or a photographer, is to be informative. After all, the website is where people find out everything about the owner and its offerings. As we've already mentioned, StormGain's website gave us mixed feelings.
On the one hand, information about leverage, spreads, minimum deposit requirements, and other aspects was laid out in front of us plainly. This gave us the ability to examine those offers more closely and offer our ratings about them.
On the other hand, however, there were some areas that seemed a bit covered or difficult to find. For example, it took us some time to find out what license the broker had. Spoiler alert, there isn't any! We only saw a small notice in the About Us section mentioning that StormGain is a member of the Blockchain Association.
Not only that, but even the thematic separation of tabs seemed a bit counterintuitive to us. In the upper part of the website, you can see four individual sections: Easy start, Crypto Trading, Bonuses, and Company. While the Crypto Trading sub-section contains correct information about trading, transaction fees & limits, etc, the Bonuses section is a bit misleading. Sure, it also talks about the bonuses offered on the platform, the main part of that section contains information about trading accounts.
Five account types
Speaking of the accounts, StormGain offers five different account types to its clients: Standard, Gold, Platinum, Diamond, and VIP. To give the devil its due, these accounts have their own distinctive perks and advantages, such as higher commission discounts, larger bonuses, lower exchange commissions, etc.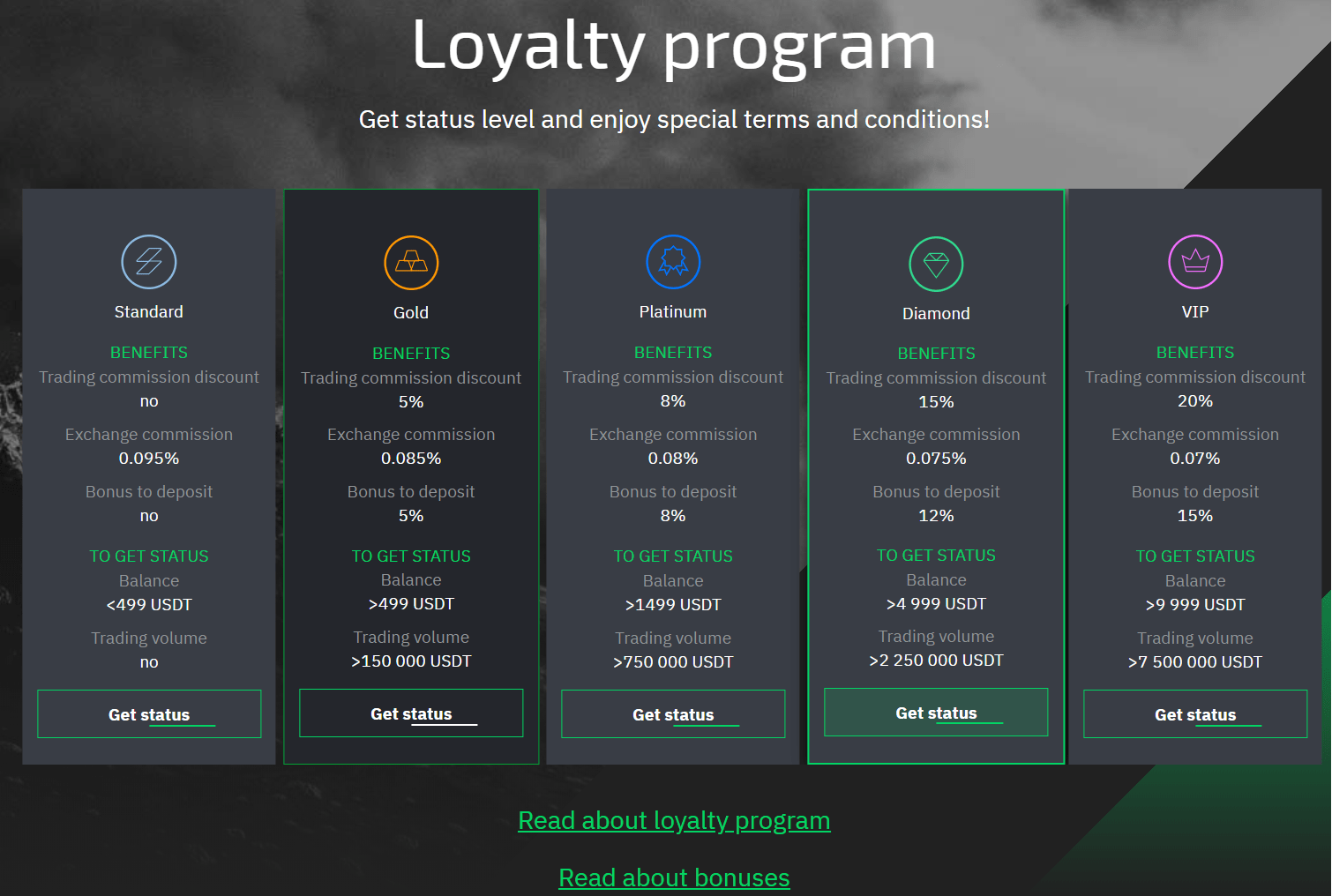 However, these specific perks also come with large deposit requirements. While the Standard account has a 50 USDT minimum deposit requirement, the next step takes you all the way to the 500 USDT minimum deposit requirement, not to mention even larger limits for the more elite accounts, going as far as 10,000 USDT. In our StormGain opinion, these advantages may not be worth that much for the more complicated accounts.
Proprietary trading platform
Next up, let's talk about the trading software. Unlike other, more credible and popular brokers, StormGain doesn't use the most popular pieces of software such as MetaTrader 4/5 or cTrader. Instead, it offers its own proprietary software called WebTrader.
To the broker's credit, the web-based trading software is more simplistic and easier to use. Traders don't need to download any file or install it on their device, everything takes place in the already-installed web browser, whether it's Chrome, Safari, Opera, etc.
However, these advantages aren't enough to counterbalance the drawbacks accompanying the platform. For one thing, the lack of diversity in trading programs limits the number of actual users on StormGain. But that's not the biggest issue here.
You see, other pieces of software like MT4 have a much larger user community that has a closer connection to the program. This means that they actively create and modify various scripts, tools, and indicates for MetaTrader 4. This also means that they can detect anything that is wrong with the system or looks overly suspicious.
In the case of StormGain's WebTrader, that's not the case. The user base is far smaller and even the users cannot enter the depths of the system to examine its internals. This way, StormGain fraud becomes a much higher probability.
Is StormGain legit with its licensing claims?
The next important aspect we need to take a look at is the licensing material. As we have already noted above, it took us some time and effort to actually find the information about the broker's regulatory pieces – if it had any, of course.
After some search and exploration, we finally came across one small section in the About Us sub-menu of the website. In it, StormGain claims that the brokerage is a member of the Blockchain Association within its Financial Commission.
Many people would think that this sounds like a credible licensing material and there's nothing wrong with it. However, when you feel the urge to think like that, try to find out the actual background of the licensing body and determine whether it's credible enough or not.
We did exactly the same thing for the Blockchain Association. Now, we have nothing against the organization itself: it does its job of gathering all the main blockchain market players and increasing the coordination between them. However, when it comes to customer safety, we don't think that its license, or whatever it's called, has enough prowess to prevent any kind of financial scheme.
On the other hand, if the broker were to provide any kind of license from the governmental institution, we would be more content about it. And we'd be right because the governments – at least some of them – are more capable of holding financial actors accountable for their activities.
So, not to go too far with this, the StormGain opinions in our team at Forex News Now is basically unequivocal: StormGain is an unlicensed broker that is trying to trick its prospective clients into believing that it actually has a license from the Blockchain Association.
What about the trading terms and conditions?
Finally, let's talk about the actual numbers and other promotions offered on the platform. Let's first discuss the leverage ratios and spreads.
Leverage and spreads
As you already know, StormGain offers a mind-staggering 1:200 leverage to its clients. What this means is that whenever a trader deposits, say, $1,000 on their account, they'll be able to open a position that'll be two hundred times more – $200,000, to be exact. That's the main idea behind the leverage, to increase the prospective position size and yield more profits.
Unfortunately, leverage acts as a double-edged sword. On the one hand, it brings larger profits to the traders. On the other hand, though, it also increases the prospective losses and leads traders to a more acute financial situation.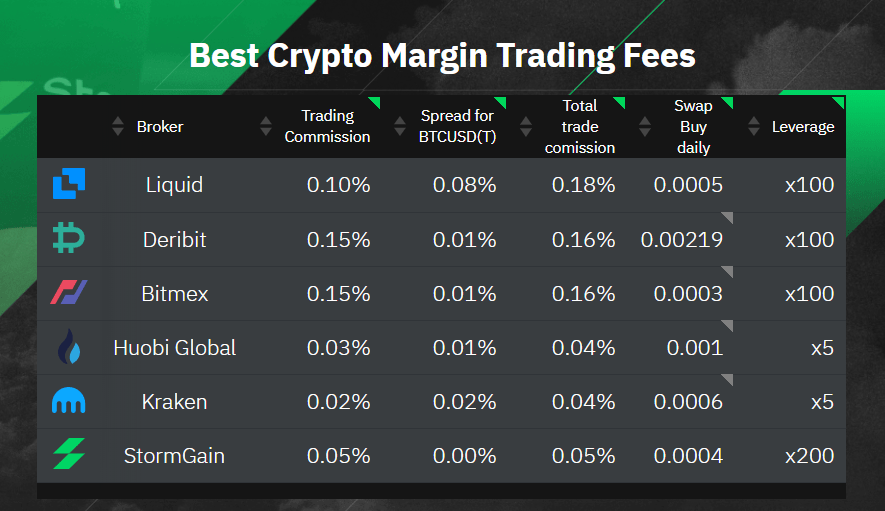 Realizing this double-sidedness, lots of regulators, and even the brokers, have agreed on offering the reasonable leverage ratios to their clients. In the EU, for instance, the FSMA license only allows the brokers to offer a max of 1:30 leverage. This way, the profits can still be increased quite significantly, yet they won't lead you to the financial disaster.
Unfortunately, that's not the main focal point for the StormGain FX brokerage. When we look at the 1:200 leverage offering, we instantly understand the motives of the broker: to offer the leverage as flashy as possible and trick the clients into its platform.
Next up, the leverage. The broker actually offers a little table where it proudly compares its 0% spread offering to its counterparts. And while no difference between the bid and ask prices is a great deal for any kind of trading, we cannot help but be suspicious about the credibility of this offer.
That's because the broker needs to fund its platform from some kind of financial source. Some brokers have spreads, some have commissions, and some both. Sure, StormGain has various commissions on transactions, as well as on opened positions, we still think that they're not enough to sustain the business at this rate.
Therefore, we think that the lack of revealed financial income is compensated with the unofficial, and quite possibly fraudulent, ways of funding the business.
StormGain bonus and minimum deposit requirement
Moving on, let's talk about the promotions offered by the broker. As you move to the Bonuses section of the website, you'll see that there are numerous accounts that have their own bonus offerings – apart from the Standard account.
The least bonus offering you can get is a 5% deposit bonus for the Gold account. What that means is that whenever you make a deposit for that account, the broker will give you an additional 5% on top of that. This, to be fair, is a lucrative condition for every trader whether they're experienced or rookie in this field.
Apart from this 5% bonus, there are three other, even higher, promotions: for the Platinum account, you can get an 8% bonus; for Diamond – 12%; for VIP – 15% bonus. All in all, we have nothing against these StormGain promotions as they're not too overzealous compared to the market average.
Then we have the minimum deposit requirement. Now, this is where we get a bit suspicious – as if we weren't already! The broker claims that just for a 50 USDT, people can open a Standard account and start trading right away. Mind you, the 50 USDT cryptocurrency is equivalent to the 50 USD fiat money.
The main reason why we're suspicious is that the overwhelming majority of credible brokers don't go have such a loose requirement. In fact, they usually demand their clients to deposit no less than, say, 200 USD. And when we see that a crypto trading broker has a 50 USD deposit requirement, we inadvertently think that it's some kind of deception.
In our opinion, the broker is trying to attract as many clients to its platform as possible with these flashy conditions, yet cares not about actually delivering a high-quality service – a typical move of scammers.
How can you deposit/withdraw funds?
Last, but certainly not least, the financial platforms. One of the main requirements of having a successful financial platform is to offer sound and stable means of transaction. If clients' deposits/withdrawals are protected and don't take ages to complete, the firm has one less problem to deal with.
But if the transactions are steeped with security breaches and slow processing times, the firm will have a hard time appealing to its clients. Let's see how StormGain withdrawal and deposit platforms manage to appeal to the broker's clients.
As noted in the initial overview of the article, the broker offers two main financial platforms to its clients: credit cards and cryptocurrencies. While there may definitely be credit card users on the StormGain platform, we still wouldn't recommend using it as it has lots of drawbacks.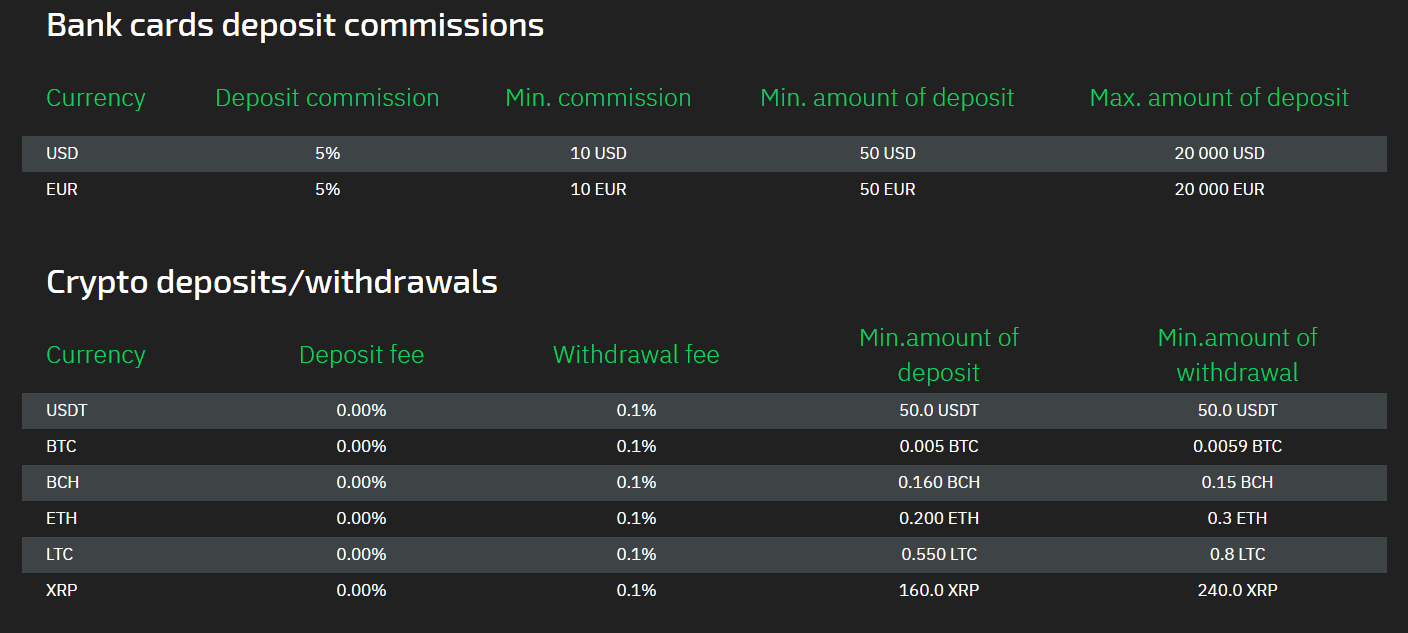 For example, when making a deposit using a Visa or Mastercard credit card, you will be charged a 5% commission with a minimum fee of 10 USD/EUR. And as anyone can agree, 5% for the commission is definitely a lot!
That's why we are more pleased to see cryptocurrencies as an alternative option here. Traders can use USDT, BTC, BCH, ETH, LTC, or XRP for both deposits and withdrawals. When it comes to deposits, there are no commissions whatsoever.
However, crypto withdrawals are still charged with a 0.1% fee – a lot less than in the case of credit cards. That's why our first suggestion is to buy cryptocurrencies first and then deposit them to your account, if you've already decided to make business with StormGain.
The final StormGain rating
So, what is our final verdict about StormGain? Do we think that people should trust its offerings and use them to their advantage?
Well, it's definitely not an easy question to answer. On the one hand, we see some pretty decent offerings such as a diverse account base, sound financial platform, and exciting bonuses.
On the other hand, however, we're very suspicious that the broker may be using false claims to attract as many clients as possible without caring too much about offering something real. Let's cap it all off:
We examined the website and deduced that it looks more like an amateur's work. As far as its informative side goes, there are definitely areas where the information was provided to the full extent. But there were also some sections that were quite foggy.
Then we reviewed the licensing part and concluded that, while the broker claims to be a member of the Blockchain Association, it doesn't mean that StormGain fraud is done with as that membership doesn't count as a legit license.
Finally, we looked at the trading terms and conditions. The leverage and spread offerings seemed quite overzealous to us, whereas the bonus promotions and crypto payment platforms were definitely more decent and appealing.
In conclusion, there are more suspicious aspects of StormGain than credible ones. That's why we wouldn't recommend the platform to any of our readers. It's better to find a more trustworthy crypto trading brokerage.