A detailed TradeEU review
TradeEU is an emerging broker that offers access to various trading instruments. The broker is fairly young but already managed to attract various traders  from Europe. The broker provides intuitive trading platform, rich educational experience and dedicated customer support.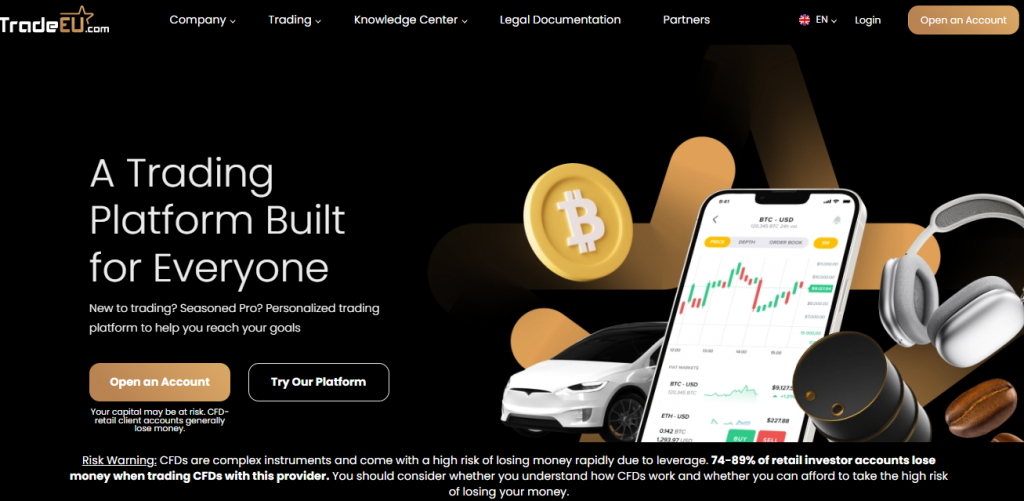 What is TradeEU broker?
TradeEU is a CFD broker that  operates with many EU countries. The broker is authorized and regulated by the Cyprus Securities and Exchange Commission (CySEC). TradeEU acquired its license in 2021. Although the company is relatively new, it has succeeded in this super-competitive market. They focus on knowledge, simplicity, and fairness.
TradeEU is a trade name from the Corporate name  Titanedge Securities Ltd. The important notice: TradeEU operates in many European countries (that provide their prior approval). The EU countries that the TradeEU provides its offers can be seen on the Company's websites.
Forex – there are 250+ trading pairs available on their MetaTrader 5 platform. Forex pairs availability and low spreads are key while trading online. We will discuss account types below in more detail, but for now, there is an option for 0.7 pips spread account. This will help scalpers to trade on TradeEU platform. Maximum leverage is 30:1. This means the main focus should be on long-term trading, with trades open for more than 1 day.
Stock CFDs – stocks are the keystone in online trading, and it is necessary to be able to trade stocks on any forex broker platform. TradeEU as another well-established broker offers various Stock CFDs to trade. Trading stock as CFDs come with numerous benefits (and drawbacks as well) over trading physical stocks. CFDs can be traded in both, bearish and bullish markets. CFDs are more liquid than real stocks and are the preferred option for speculating markets short and medium term.
Commodities – Commodities are resources that can be grown or mined. TradeEU offers access to trading various commodities. Commodity prices depend on global demand and supply. For instance, military conflicts can rise energy prices.
Indices – Indices are a great instrument for not only trading, but also evaluating a bigger picture. They offer a possible profit opportunity and enable traders to see how overall the markets are behaving. TradeEU offers major indices to their clients, which is considered to be a good sign.
Precious metals – Gold, Silver and Platinum trading becomes especially active during high inflation. With TradeEU, you can trade CFDs of precious metals. Precious metals are viewed as a "safe heaven" during hard times and investors drive the demand. High demand increases the price. It's a known fact that precious metals are immune to inflation.
TradeEU Account types
In order to appeal to all types of traders, the broker offers three main account types: silver, gold, and platinum. They got plenty of trading instruments available on their MetaTrader 5 platform including 250+ CFD Forex pairs, Indices, commodities, and many more. Traders can easily select and trade their favorite assets in real-time markets. They offer up to 30:1 leverage.. The spread is different depending on your account choice. For example, the silver account has spreads starting at 2.5 pips, gold at 1.3 pips, and platinum at 0.7 pips. Account choice depends on the trader's style and preference. For long-term traders, silver could be sufficient, while platinum is to go for scalpers mostly. Since scalpers capitalize on many small trades during the day, platinum 0.7 pips should appeal to them more than others. For beginners, the gold account type considered to be a better choice with its relatively low spreads of 1.3 pips.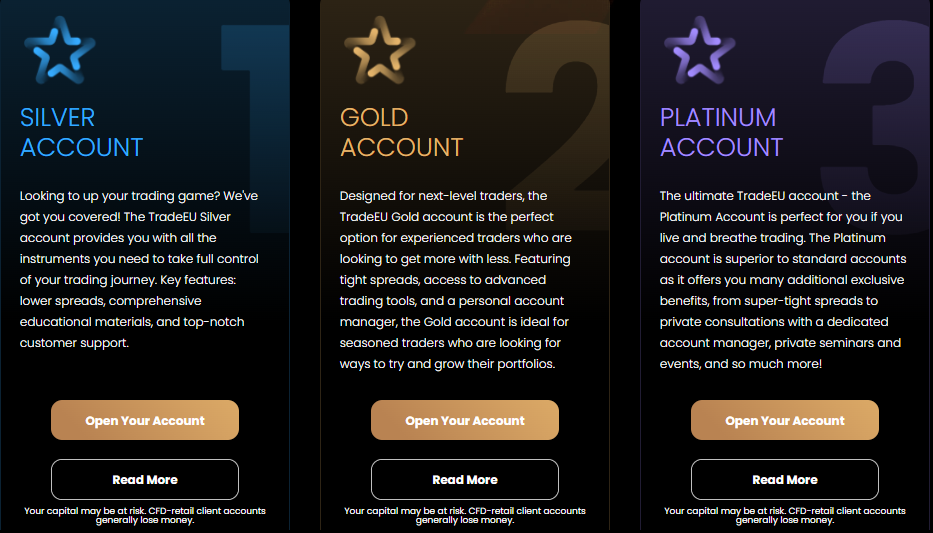 Hedging is important when you trade long-term. And at the same time, want to limit risk exposure to certain upcoming market announcements. Implementing proper hedging strategies requires experience and therefore, not all countries allow hedging. For example, hedging is illegal in the United States (note that TradeEU is not offering its services to non-EU countries), in the case of TradeEU traders are lucky, they can use hedging whenever they want. No need for complicating hedging using highly correlated currency pairs.
Sign up on TradeEU
It is easy and basically one click away to register an account and start trading on TradeEU. You will surely need to upload documents, as with all regulated brokers. Verifying the account will take 24 hours, and you will have all the tools and features to trade without interruptions.
Minimum deposit and methods
It's essential for beginner traders, the minimum initial deposit amount to be low for a number of reasons. It allows new traders to start with smaller amounts at first and test the waters. Some traders on the other hand have limited capital and don't want to open initially with 10 grands in their account. The minimum initialdeposits is 250 Euro. This can be used as a trial and gives traders great flexibility to open an account with their capital. But the leverage will require traders to start with a few hundred Euros.
As for the deposit methods, there are four choices: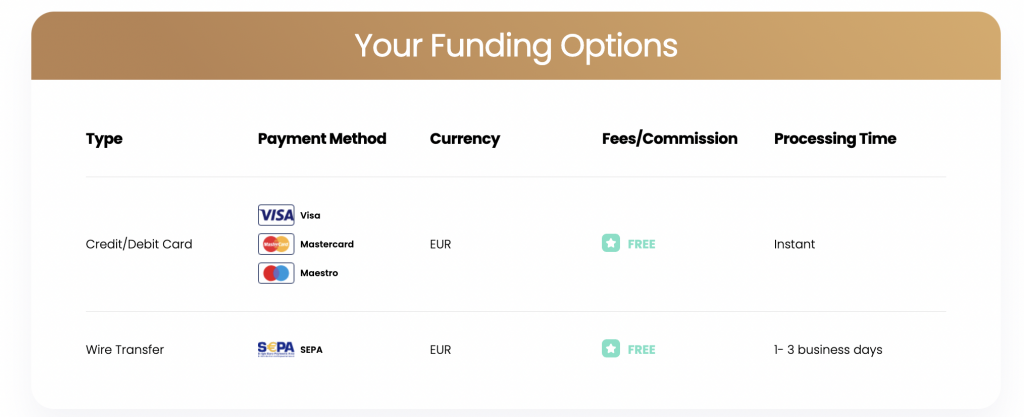 Although the deposit methods are limited, they should be sufficient for beginners. Bank cards are the quickest way to deposit or withdraw money, and also they are the most secure options. Wire transfers sometimes are slower than normal card transfers. There are no withdrawal fees from TradeEU's end.
TradeEU Indicators and tools
Trading indicators are key for possiblesuccessful trading as they offer crucial information about market trends and help catch main price action. There are more than enough indicators in MetaTrader 5 platform, and there are even more custom indicators available online. Also, TradeEU doesn't offer its own indicators, they have a comprehensive economic calendar where traders can track any important macroeconomic data and indicators. Rollover dates allow users to track when futures contracts have expiration dates. This is crucial for futures prices and trading. The fact that TradeEU is offering this information on its website is a huge plus for them.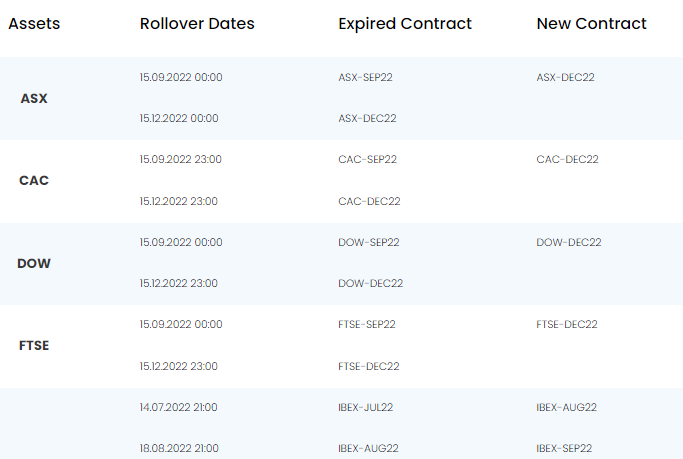 They don't stop here. You can also track trading hours and holidays from their site as well. All these three provide additional information and flexibility for traders to control everything about their trading process. There are not many brokers who provide this detailed information on their web pages.
Additional features of TradeEU
Is TradeEU a reliable broker?
TradeEU is regulated and trustworthy CFD broker that offers negative balance (legal requirement) protection and limited leverage. 30:1 leverage keeps traders from taking oversized trades and blowing up their trading accounts. TradeEU is a reliable CFD broker with solid offerings.
TradeEU Mobile integration
Since they have MetaTrader 5 as their main platform, it means traders can access their TradeEU account from mobile phones as well. MT5 comes with mobile and web trading terminals. Just simply enter the same name and password as on your pc, and you can log in to the same account on your android smartphone. This is different with iOS users because Apple removed support for MetaTrader 4 and 5, they were planning to remove platforms from the app store. This could be a disadvantage for iPhone users since many people nowadays are using smartphones as their main daily driver for all purposes like banking, crypto wallets, social networks, media consumption, etc.
TradeEU Education and Training Resources
Many brokers offer extensive education and training materials, in the case of TradeEU there is only a Glossary available on their website. Now, this may seem like not much, but it offers all the important trading terms, and they are alphabetically ordered. This makes it easy to search and see what any of the terms mean. There are some terms in the Forex market which are not easy to grasp. For beginner traders, this glossary offers great value. There is an FAQ section in the knowledge center as well. Traders should be able to get all the answers to their questions.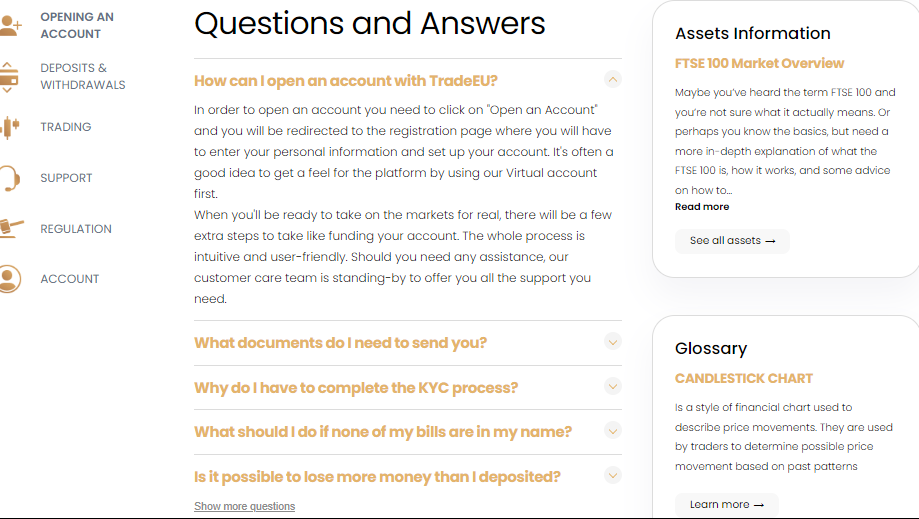 TradeEU partner program
TradeEU offers few partnership programs. They are trying to appeal to both IB and affiliate program participants. They extensively explain why their partnership program is reliable and useful. The main points are
Generous commissions for IB and affiliate partners.
Real-time tracking and analysis tools
Full marketing kit
Fast secure payments
Ability to track performance in real-time
Tech customer support for partners
This is not all, they also provide a knowledgeable, supportive account manager if a partner encounters any issues during working.
It is simple and easy to start a partnership program, as they provide registration forms and full assistance in case of needing one.
Jurisdiction, Languages, and Countries
TradeEU has its main offices in Cyprus. Users can call support or write an email to them. TradeEU is regulated by CySEC and provides its service in Europe at this point. There is no live chat available as of now on their website. The main languages are English, German, and Portuguese. Since they are focused on European traders, these languages are more than enough to appeal to their customers. . Portugal is heavily regulated by the local authorities ("CMVM"), which increases TradeEU's credibility.
Is TradeEU regulated?
Regulation is probably the simple, most important aspect when trading online. The first question to ask when selecting a reliable broker is whether they are regulated. More regulation bodies are better for broker trustworthiness. TradeEU is a regulated CFD broker. They have a CySEC license registered since 2021. This is great news for anyone who wants to test their platform or start trading with TradeEU.
Is TradeEU a scam broker?
From all the information above, it is very unlikely that TradeEU is a scam broker. They are newly established but regulated by authorities and their offices are located in CyprusGenerally, European and US financial markets are among the most regulated and strict environments. The fact that TradeEU is regulated by CySEC and operates in European countries means that they focus to operate in highly regulated environments.
Conclusion
To sum everything up, TradeEU is a new regulated Investment Firm in the Forex brokers scene, they offer amazing trading services and flexible trading fees. The broker provides access to 250+ instruments, including: Forex, Indices, Commodities, Cryptocurrencies and stocks as CFDs. Traders can make use of their 0.7 pips on the Platinum account type. They are focused on excellent services and provide a very well-constructed FAQ and a knowledge center. Although the knowledge center is limited to only Forex and trading terms, it is still very useful for finding the meaning of any trading slang. They offer exceptional trading services and have a well-structured partner program.