TradeFW Review

Sometimes it amazes us how shady brokers can easily hide in plain view and how easy it is to figure them out the moment you start looking into them a lot more thoroughly. That is what happened to us when we were about to conduct this TradeFW review. Most of the times potential scammers always invest a lot in their website design and optimization. Scammers are very aware of the "why" in "how people buy". Imagine a fine dining restaurant. Why do they always have to go through a lot of trouble when serving you the dish? why do they try to look it the best it can? Well, the reason is that we eat with our eyes first. The same goes for Forex brokers, we get impressed by the website, we buy with our eyes and then with our credit cards. When the time comes for them to close the deal on us, we find it hard to refuse.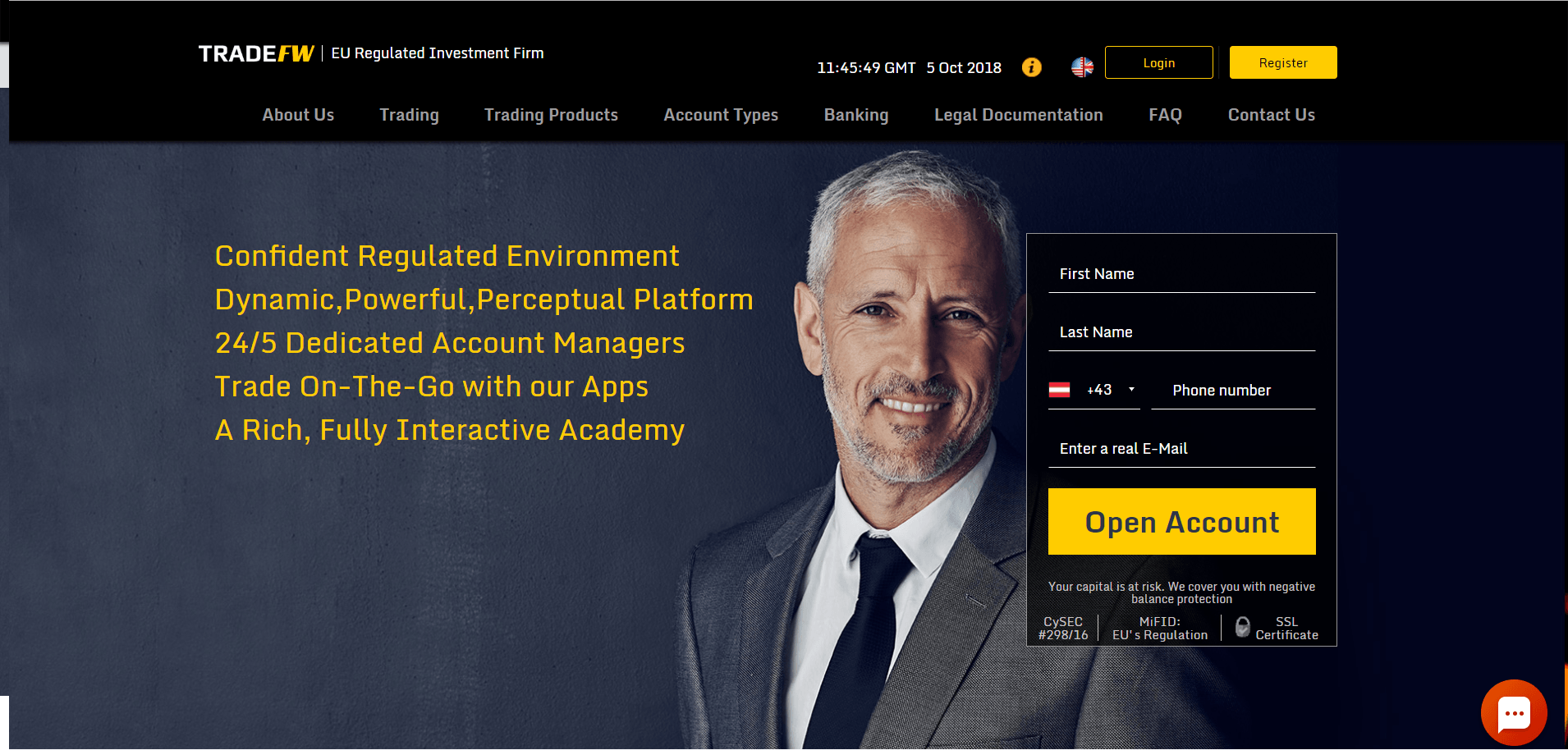 The TradeFW scam was actually pretty well structured because they were able to tick pretty much all of our boxes when we visited their website. They were very forward about the information about their regulator, that even some of the most trustworthy brokers don't do. This show of transparency is always appreciated by brokers, but only when they are to be trusted.
Where we got suspicious
When you look at the picture above, it's seemingly nothing too weird about it. However the fact that no matter how much we tried it always displayed the Austrian dialing code, made us more and more suspicious with the company. The TradeFW fraud case became more prevalent because of the fact that it did not change no matter how much we tried. We thought it indicated that this company is based in Austria and not Cyprus who's regulation they claim to have, but in the end, it turned out that their website is not fined tuned enough to suggest your location's dialing code.
TradeFW Forex broker Contact difficulties
Have you ever trusted a company who has absolutely no footing in the marketing business? by marketing business, we mean their marketing campaigns of course. In this day and age, if a company is not campaigning and trying to develop its brand, it is always regarded as a company doomed to fail in the long run. Most of the times brokers who avoid marketing campaigns or restrict them only to ads and lead generation are the most likely to be scammers. The reason behind it is that TradeFW scam can work as easily without having to spend a lot of money on marketing, besides scammer rebrand almost twice a year to avoid angry customers, therefore making marketing and branding for them irrelevant.
We found it very disappointing that TradeFW featured no social media pages to speak of and only restricted it's access to their Email and phone number, which are quite outdated sources of contacts you can have for a company. Especially for a company taking care of your investments.
Trading details on the platform
Please note that all the essential information will be briefly included in the small chart near the article's title. here we will just list the fact that needed to be highlighted about the company
TradeFW withdrawal system
The withdrawal system is quite lackluster, unfortunately. Your withdrawals take about 24 hours to process. The bad thing about this is that there are not that many users on the platform, they are certainly not hitting the millions, where a reputable broker can be hitting about 3-4 million withdrawal requests a day an finish them within 24 hours. Why withdrawals take so long on this small platform we don't know and the info is not disclosed. Also, your Credit/Debit card withdrawal requests can take 5-7 days to process which is a lot slower than many other brokers.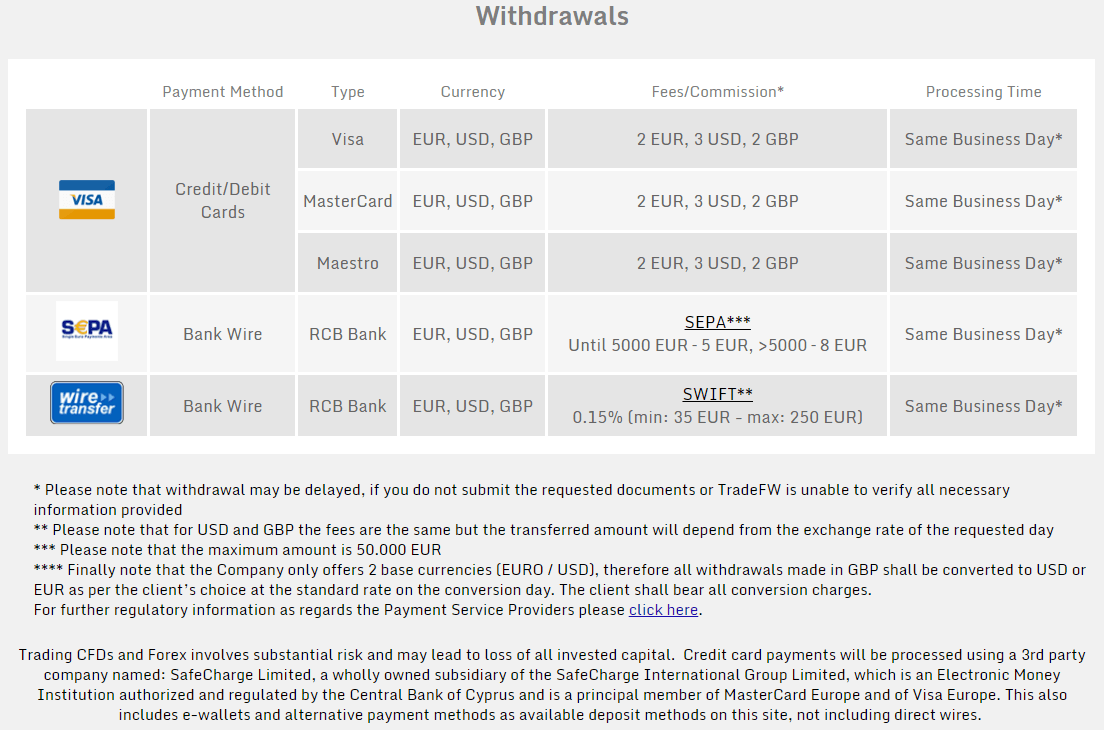 TradeFW FX brokerage features a fixed withdrawal commision. The reason this is bad is that if someone were to trade with them, they would most likely be a beginner, therefore making their profits minimal. Now tell us honestly would you withdraw 10 EUR of winnings if the commission was 5 EUR? no, you'd just wait until you had more winnings and withdraw them all together, but by then you may have even lost everything.
Trading assets and platforms
Trading assets are quite lackluster on TradeFW. unfortunately, the broker only features Forex and CFD trading. It is very weird for us to find a broker that is so focused on only 2 assets. The best brokers should feature at least 6 assets in order to help you keep your portfolio diversified, but with TradeFW it looks like they don't care.
TradeFW MT4 platform & WebTrader
In regards to variation, TradeFW has at least tried to give you more than 1 option. But it would have been better for them to invest in a proper application, because of the fact how rapidly MT4 is losing popularity with the new traders. However, we need to commend them that they at least tried to give you some kind of choice for your trading needs.
Quick last words
The research for this TradeFW review proved to be quite fast. Even though the broker is sure to be a scam and is very untrustworthy, they disclose a lot of their information. Unfortunately for them, however, they disclose it in a way that made it easy to see through the cracks and come to a conclusion about them being a scam. We once again urge you to always have another look at brokers when searching for a new one. Once you've had your share of research you can always come to this review and revise your findings. Please make sure to always double-check and even triple-check on your findings. Happy hunting.