Trader.Online Forex Broker Review
Trader.Online has been established in the early 2018 and is managed by a company called Zolarex Ltd. The holding company is based in the Republic of the Marshall Island and their registered address is at the Trust Company Complex, Ajeltake Road, Ajeltake Island, Majuro, Marshall Islands. Being relatively new in the Forex industry, Trader.Online was able to reach over 20, 000 traders so far and is growing continuously. Let's discover more about this Forex/CFDs broker to find out what makes Trader.Online what it is today.
Trader.Online in a nutshell:
Trader.Online provides two different types of platform to traders enabling them to trade up to 200 instruments. The two platform provided are easy to use and provide a lot of interesting features such as charting tools and live news. This broker goes all out when it comes to security of its traders and they also claim to be available 24/7. In terms of accounts, traders have the choice between 3 different accounts.
Trader.Online Regulations:
As a financial services provider that is based in the Marshall Islands, Trader.online is not regulated by any financial regulatory agency.
Trader.Online Trading Platform:
As mentioned, Trader.Online provides two types of platform to its traders: Forex and Simplex. This Forex broker aims at making Forex trading easier and enable traders to invest in Forex, Stocks, Commodities, Indices as well as Cryptocurrencies.
Trader.Online Forex Platform: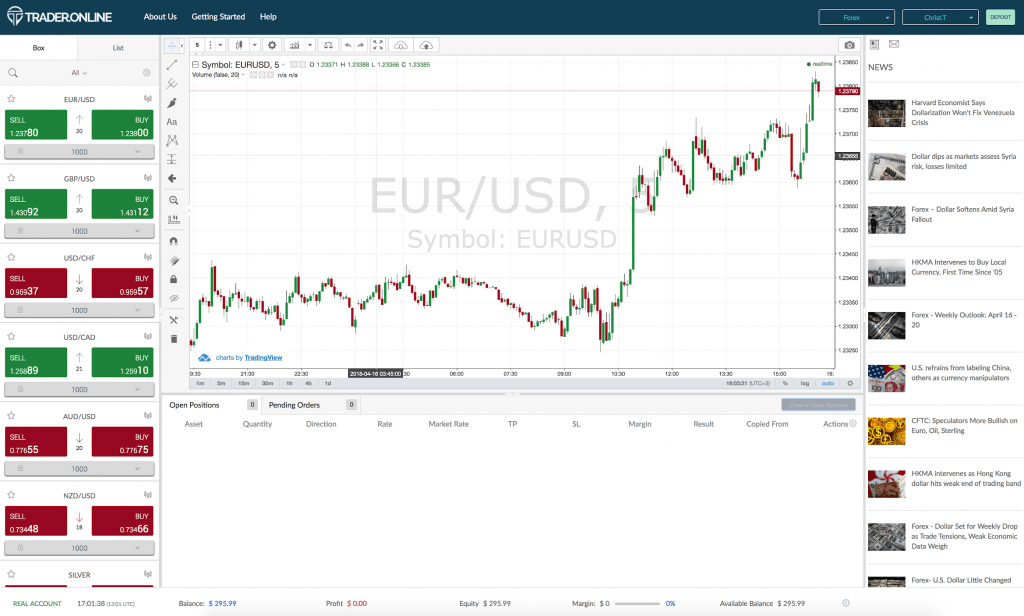 This platform was mainly built for traders already having an experience in Forex trading. However with its interface it is very easy for traders of any level to start trading. Here are some of the features:
Beginner-friendly:
The provided platform is pretty straightforward, providing quick access to standard features or commands. Even with little experience, anyone can operate the trading platform.
Charts:
The platform provides interesting charts allowing traders to analyse the markets in more details. The charts are easy to read and customise.
Indicators:
The platform also includes the ability to add indicators. Some of the indicators available on the platform are:
Bollinger bands
Chande Kroll Stop
Chaikin Oscillator
Average True Range
Volume Oscillator
There are over 50 more indicators for traders to discover on this platform.
Trader.Online Simplex Platform: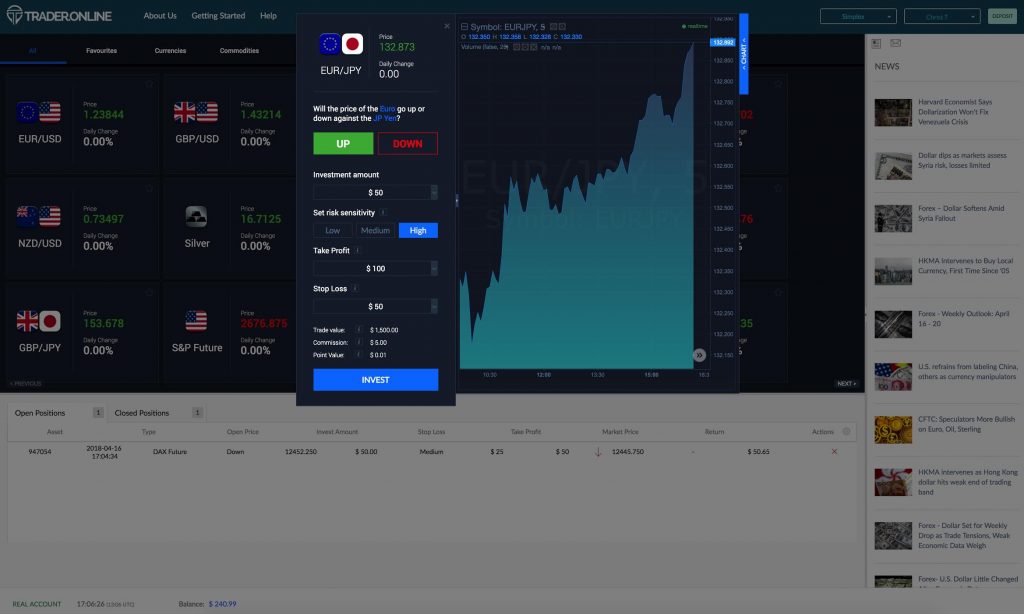 If the Forex trading platform was not easy enough, Trader.Online further simplifies everything via its Simplex platform. Built for the absolute beginner, this Forex broker has everything figured out for traders of any level.
Security at Trader.Online:
Trader.Online has security embedded at the heart of everything they do. Using the latest SSL encryptions, this broker is able to protect all the private information of its traders. The funds of traders are also stored in a segregated account, which means that in case the business goes bankrupt, the money of traders won't be at risk.
Types of accounts provided by Trader.Online: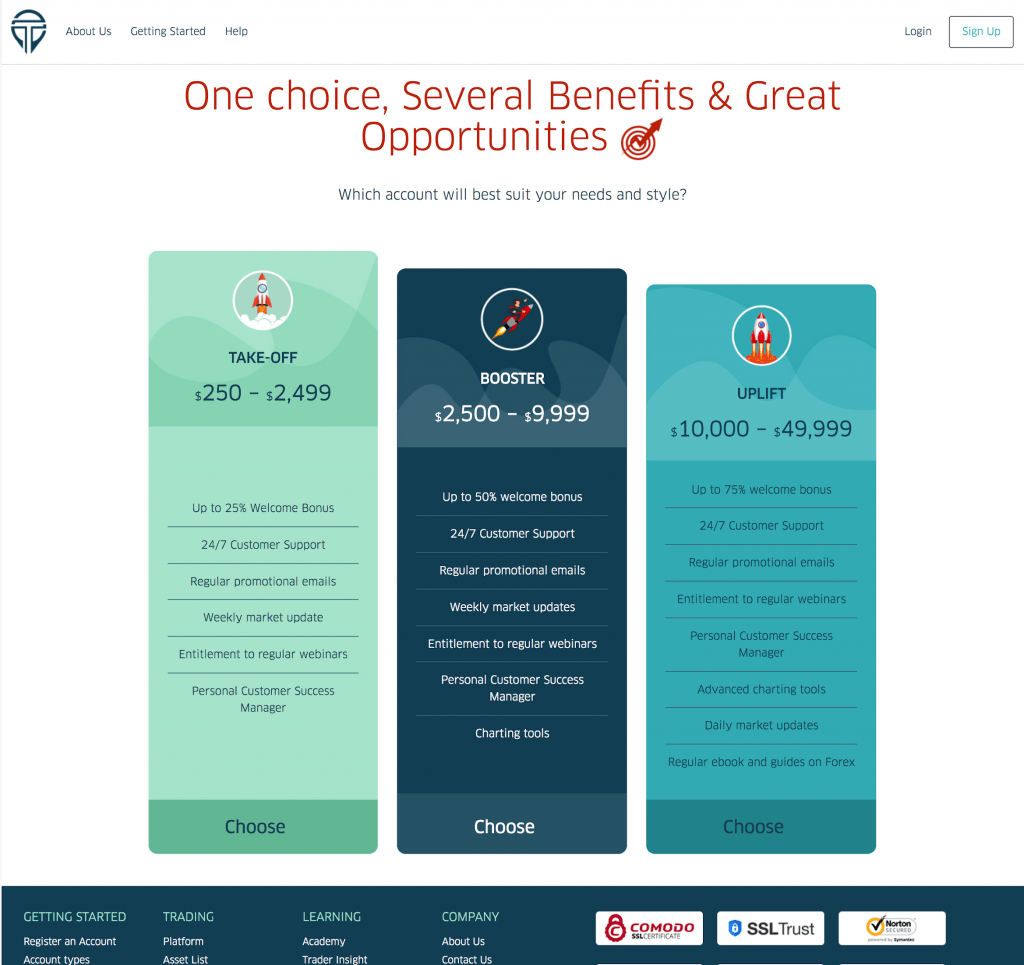 Trader.Online understands that not everyone has the same need and therefore provides three different account types to traders: Take-off, Booster and Uplift. You can read more on the benefits of the different account here.
Trader.Online Support:
If there's one point we can all agree on is that support plays an important role in Forex trading. The newly born broker fully understands that and claims to be available 24/7. Which means you can always find someone to help you in case of problems. They can be contacted via phone on +44 203 455 4606 or via email on support@trader.online.
Deposits and Withdrawals:
Trader.Online provides 2 types of deposits methods: Card deposits and Wire transfers. A minimum deposit of $250 is required and the broker does not charge any commission on deposits.
Withdrawals on the other are quite similar to deposits methods since the same method used in during the deposit has to be used when withdrawing money. The broker needs up to 5 working days to process your withdrawals and also charge a commission which varies based on the method used to withdraw.
Trader.Online Final Words:
Traders looking for a new broker should definitely consider Trader.Online. The level of service can be considered good but the broker definitely has a lot more to improve. For those who are just getting started, we will highly recommend this broker since they are among the few brokers that still has a learning academy dedicated to its traders and deliver a highly customer-centric service.