TraderNovo Review

TraderNovo is the Forex broker that was established in 2015. Since that year TraderNovo has increased its customer base by offering various promotions and satisfactory trading conditions. This is what you will mostly read at TraderNovo reviews. Unfortunately, TraderNovo has not passed our quality test and we are going to explain this further.
Trading at TraderNovo: What are the major disadvantages?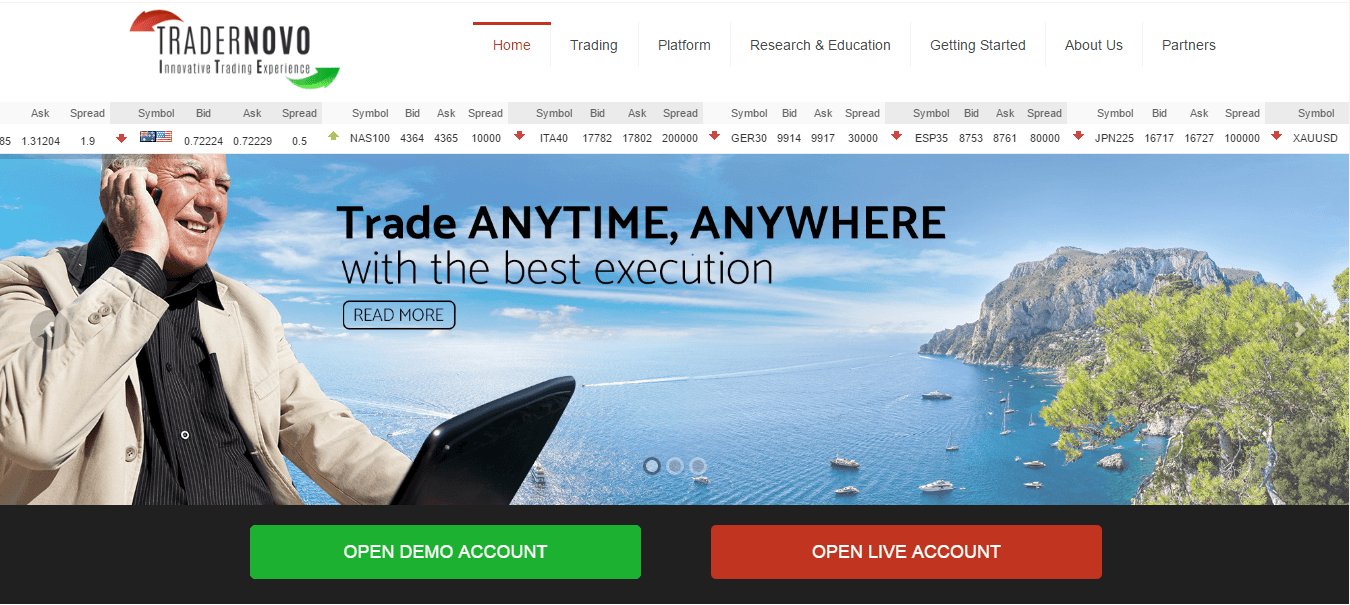 In our opinion, the first major drawback of TraderNovo is a pretty limited choice of trading accounts. There are only 4 of them, including demo account as well. Others are: Novo ECN, Novo ECN Pro and Novo ECN VIP. The packages openly repeat each other in terms of features offered. It is quite disappointing that TraderNovo does not offer Islamic accounts to give flexible trading conditions to Muslim clients. In addition, you would also not find here a segregated account feature as well as any accounts for institutional investors, although TraderNovo outlines the importance of developing partnership programs.
We have also encountered the MAM account, although we would not recommend you to use this feature at TraderNovo. Since TraderNovo is unregulated brokerage, you risk your capital a lot when entrusting the unknown managers to control your account activity and use of leverage. It is a common practice for scam brokers to wipe out the clients' accounts and TraderNovo is not an exception.

As for the financial instruments offered, TraderNovo Forex broker is more or less okay. You are enabled to trade Forex, CFDs, commodities, indices and stocks. However, there is still nothing unusual. If TraderNovo aims to be a really proficient broker, it must satisfy all possible investment portfolios. Unfortunately, there are no ETFs or binary options available to trade.
The last major downside is that TraderNovo quality of ECN services is below average level. For instance, spreads are not as tight as they should be and order execution is not always instant. Furthermore, there is no confirmation that Bank of America, CitiBank, Barclays and Deutsche Bank are official liquidity providers of TraderNovo, as they are said to be on the website.
What things need to be improved at TraderNovo?
Except for supplying lacking trading features that were mentioned above, TraderNovo Forex has still a lot of work to do. As an example, TraderNovo has a substandard educational section on its website. You will not find any trading articles, reviews, video tutorials – only webinars.
TraderNovo should also provide more information about the company, which is quite scarce at the moment.
The only good thing at TraderNovo is the choice of trading platforms: you are offered MetaTrader 4, Webplatform and Mobile trading platform.
Is it safe to trade at TraderNovo?
No, right now this broker is not safe. Is TraderNovo scam? Yes, it is. Until there are significant upgrades made, we would advise you to keep away from this FX broker.