TradeVest Brokerage Company Review

If you decide that you want to become a trader in the financial market, what is the first thing you are looking for? Of course, this should be the best Forex broker to work with. We all know that the market offers a wide range of brokers and trading platforms, so the main thing concerning you may be the validity of the company you are going to work with. This review is about one of the newly established brokers, which is called TradeVest Forex Broker. It is a recently-launched company, which offers the cTrader as its forex trading top platform. It is providing trading on 5 currency pairs, commodities, CFDs, cryptocurrencies and indices. As a newly launched company, it has the fundamental and globally accepted deposit methods available.

What is TradeVest providing to individuals?
TradeVest reviews show that it is offering a number of incentives to help acquire new clients in this competitive market, for example, it is offering a high leverage up to 1:1000, which is going to be a welcome characteristic to many traders, regarding the fact that ESMA introduced new rules to cut leverage which influences whole Europe.
Besides the situation that regulators believe that forex promotions lure investors into trading, During this TradeVest review we found out that it is able to offer a variety of bonuses and promotions, like $100 no-deposit bonus. Promotions like this have been declared to be illegal by all regulators, however, the company thinks that such kind of offers is a competitive advantage. The only condition tied to this is that you must trade 15 Lots to be able to withdraw some or all of the bonus. The idea is to allow traders to test live conditions with real money. It can easily be thought that promoting something claimed to be illegal may be the sign of a scam company.
The company provides eyecatching services for traders, for example, for registered users, TradeVest offers live trading rooms, signals, and analysis from their in-house trading team, webinars and a traders toolkit.
Another offer available is Balance Boost option, which is additionally credited to the customer's account and it increases the buying power and the same time reduces the risk by deducting 50 % of the losses from this bonus until the full amount is used up.
Together with all of these promotions, it presents managed accounts for the individuals who do not have time to trade themselves. One of the disadvantages is that you are not able to look through the process of trading on your account and I think that the company may benefit from you in a negative way. As a result, you may find out yourself a loser in the financial market.
TradeVest Withdrawal & Deposit Systems
There are a lot of brokerage companies, which set the high limit of the first investment, like $10 000,$20 000,  even $50 000, so most of the clients are looking for the ones which are offering very low limit for the first investment. Actually, TradeVest scam is one of them. As a just-launched company, it has not developed the long list of deposit methods, but what has already been provided is that Tradevest's minimum deposit the individual can make is $100, as for transaction options, one can use Wire Transfer, Visa, Mastercard, Bitcoin, and the currencies available for the investment are USD, EUR, GBP, JPY, BTC. As for withdrawal fees, they are free. So everything looks acceptable and desirable when you are beginning from the fresh page in this field, but you should be thoughtful. Most of the brokerage companies setting a low limit of the minimum investment are the scam, so be careful and do not make a quick decision.
Why TradeVest Forex Broker offers cTrader Platform?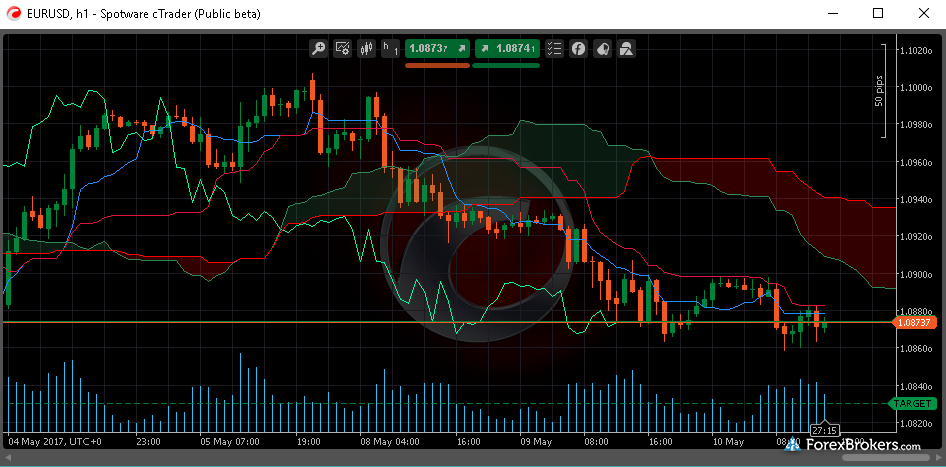 There are a lot of trading platforms in the market providing a wide range of tools and features and it is also difficult to make choice. Many brokerage companies tend to focus on MetaTrader4 and MetaTrader5 trading platforms. Unlike them, TradeVest is cTrader first broker and their full range of instruments is available on this trading platform. From its 138 trading pairs, TradeVest trading pairs are of the widest range on this platform.
What are the advantages of cTrader and why should broker choose it?  The cTrader suite includes related trading applications from the developer such as the cAlgo and "cMirror" platforms, where cAlgo is used for automated trading and "cMirror" is a social copy-trading platform. cTrader is represented as a web-based and desktop version for Windows. Online forex brokers license cTrader for Spotware and offer it as a third-party platform for manual and algorithmic traders.
Spotware agrees to the fact that brokers are connected with at least one recognized Liquidity Provider (LP). Once it is done, the trade process is verified against prices streamed from LPs into the platform and dealers cannot modify the prices themselves.
All in all, the cTrader platform is designed to fulfill two functions: firstly, execution of trades, and secondly, charting.
Choosing cTrader by Tradevest Forex Broker is considered to be the smart step, but it does not make us sure that we can fully trust this brokerage company since it is the beginner and all of the services it has provided may just be for attracting people to be able to scam them later.
Tradevest Broker Review Summary
We can say that TradeVest has started from the fresh page since 2018 and everything it offers to the individuals interested in this field is quite attractive, because as we mentioned above, the company provides educational services, high leverage up to 1:1000, no commissions, managed accounts, low limit for the first investment ($100) and cTrader platform, which makes them stood out. One important thing is that this new broker is unregulated which allows them to offer extra services that these kinds of brokers simply would not be able to do.
Since Tradevest is a newly launched company, you will not be able to come across with a lot of reviews about it, so keep the information we provided in mind, be thoughtful before you make the decision and try to look through your trading process to avoid any risk and disappointment in the financial market.