Tradeview Markets Review

Every once in a while, you come across a brokerage that looks decent, offers decent trading conditions, and feels like it has a decent license. In such cases, you're seduced to pick them and start your financial endeavors using their platforms.
But, more often than not, these dreamy brokers turn out to be financial scammers who're trying to trick new customers into their schemes and then, undermine their financial stability. That's why you should be careful when looking for trading assistants.
The Tradeview Markets Forex broker is yet another online broker that, even though it has some serious trading offerings under the sleeve, looks nonetheless suspicious to us. So, without further ado, let's dive into this review and determine, whether they're true to their words or not.
Brief assessment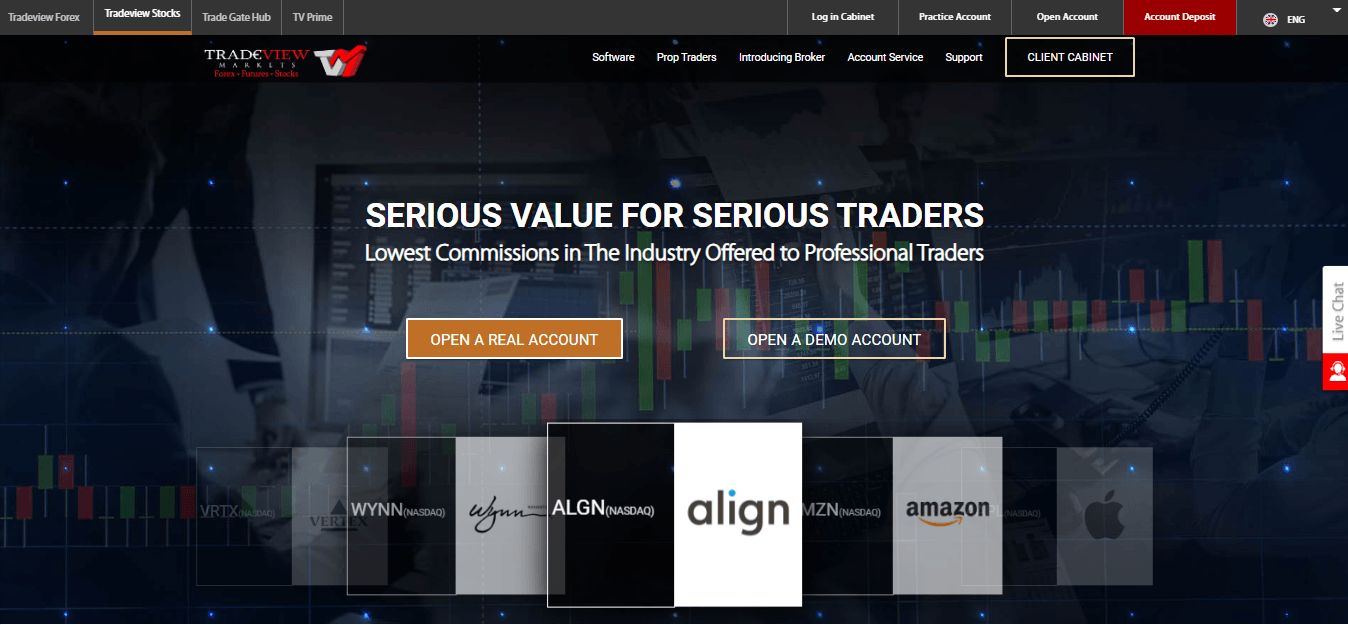 The Tradeview Markets is an online broker that operates in the Forex, as well as stocks, indices, commodities, and other markets. It has been established in 2008 under the regulatory control of the Cayman Islands Monetary Authority (CIMA). The broker operates all around the world with 8 offices and representatives worldwide. We'll be reviewing the licensing issue more closely down below but for now, let's just say the CIMA license doesn't look legit to us.
The website, at first glance, looks alright. It is divided into five sections while containing some basic information about the broker on the first page. However, when it comes to the most essential details, you have to make a really comprehensive research to find what you're looking for.
Not only that, the interface looks overloaded to us. The slide-through effects on NASDAQ conditions, contrasty backgrounds, and fancy abbreviations might be appealing to some customers, but for the majority, they are distracting.
When it comes to the trading terms and conditions, as we said, you have to make a research to know what Tradeview Markets is offering. After a thorough search, we found out that the company offers some of the most competitive numbers on the market. For example, the maximum leverage goes up to 1:400, spreads start from 0 pips, and the minimum deposit requirements start at $100. These numbers too enforce the Tradeview Markets fraud suspicions because they look a bit unrealistic to us.
As for the trading accounts, the broker has three types of accounts that feature single, joint, and corporate traders. These accounts are a bit unconventional, considering what other brokers use to categorize their trading accounts – the amount of experience.
Now, let's head over to more detailed analysis and take a look at the trading terms and conditions.
Are Tradeview Markets promotions real?
We mentioned above, that the Traderview Markets' trading conditions are some of the best on the market – or at least, that's how they look. Let's review them one-by-one and check their credibility ourselves.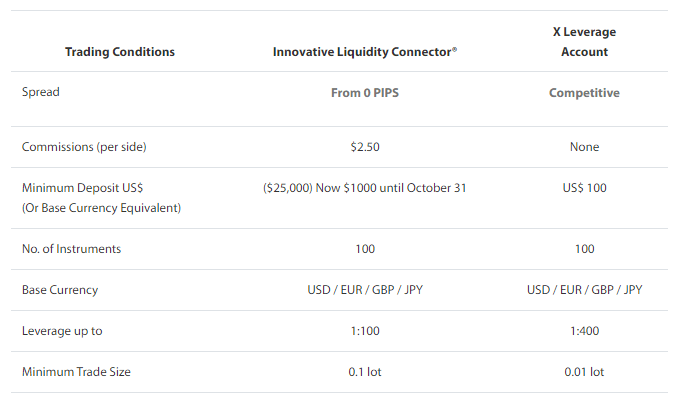 The broker offers the maximum leverage up to 1:400. This is a great opportunity for those traders, who start trading with the least amount of money and still want to get a decent profit. With 1:400 leverage, every $100 is multiplied by 400 to reach 40,000. This way, traders can use greater amounts of money and earn much larger amounts of revenue.
As for the spreads, the difference between certain pairs can start from 0 pips which is really an impressive indicator. Last, but not least, there's a minimum deposit requirement. The broker requires traders to deposit at least $100 at the beginning of the trading process. However, if the user wants to trade with the least amount of money at stake, Tradeview Markets FX brokerage offers them to make a minimum lot of just 10 cents.
These numbers themselves certainly look tempting and offer lucrative prospects to the traders. However, when combined together, they look like they're too good to be true. What we suspect here is that the broker is trying to manipulate potential new customers into their financial schemes with these flashy numbers. And when they have made their financial commitments, the broker swiftly steals the customers' money.
Another aspect that strengthens our TV Markets scam suspicion is the counterintuitive categorization of trading accounts. Instead of separating the accounts on the premise of trading experience, the broker categorizes them based on how many individuals are trading on the platform.
Based on this category, there are Individual, Joint, and Corporate accounts. All of them require customers to fully disclose their personal credentials. This is yet another factor that enforces our hypothesis of the broker's fraudulence. The explicit focus on personal information in various places reveals just how badly the TV Markets broker wants to get hold of their customers' private details.
The website overview
Now, let's talk about the website. We said earlier, that at a first glance, it looks alright with its thematic sections and basic information on the first page. However, when the user dives deeper, they notice that the website isn't actually that simplistic.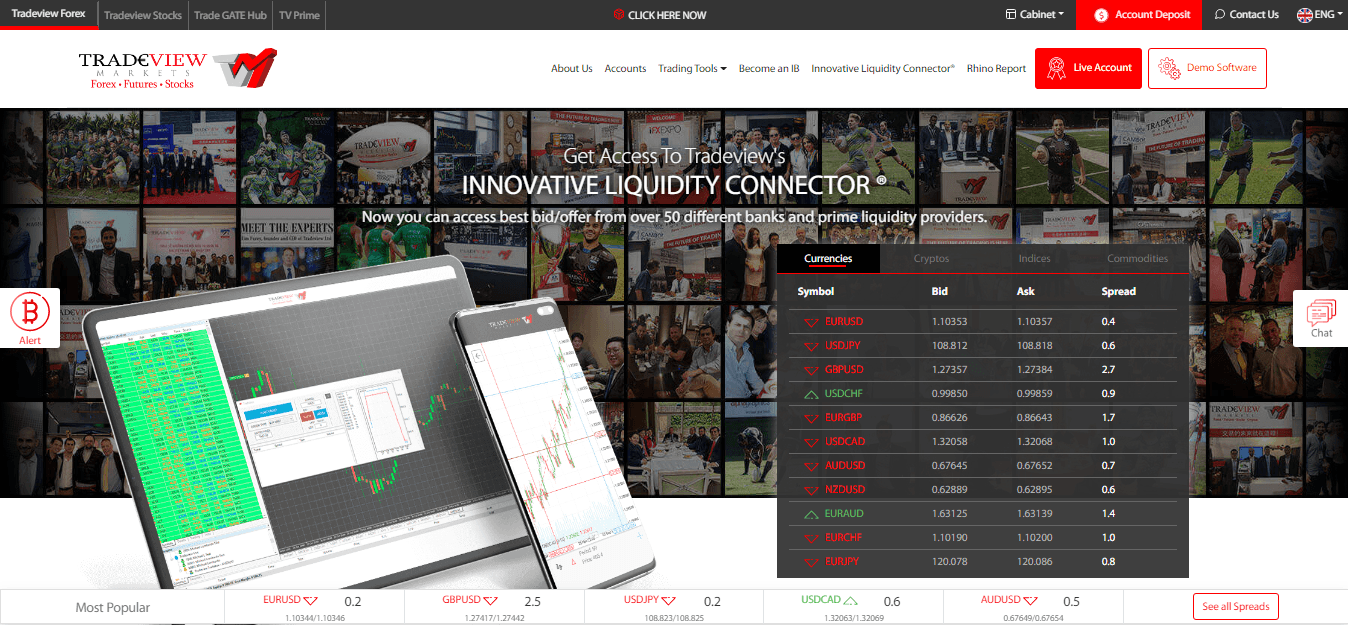 One thing to mention here is that the Tradeview Markets' website contains two separate websites of its own: the stock trading and Forex trading websites. The former one is distinctive with its black-and-white interface and rich, contrasty images. It also features a slide-over containing the NASDAQ market conditions.
On the other hand, the Forex website has a deep red design. The interface is filled with the color to the extent that it actually hurts the eyes just looking at it.
Overall, the design might be appealing to some visitors, but for most of us who prefer simplistic and easy-to-use websites, this tvmarkets.com review doesn't really produce a positive result.
Besides, when it comes to finding the right information about trading conditions or account types, you have to search really diligently and don't leave any stone unturned.
As for the trading platforms, the broker features the most up-to-date MetaTrader 5, along with some other fancy platforms like Sterling Trader Pro, Rhino Trader, etc., however, we suspect these platforms are here just to take a blank space – they don't come close to the MetaTrader.
One thing to keep in mind, though, is that even though the MT5 is the most recent version of the program, it's actually very complicated and takes a lot of experience to handle it. If it were on us, we'd suggest you use the MetaTrader 4 which might be a bit older but still, it's much easier to comprehend.
The withdrawal platforms should also be mentioned here. The TV Markets broker lists some fancy platforms such as Neteller, Skrill, Uphold, etc., along with the wired transfer and credit cards. What we suspect here is that, by mentioning these unknown platforms alongside the last two, the broker is trying to cover the fact that the wired transfer and credit cards are very slow and susceptible to security breaches.
Here, again, do we find the shady characteristic of TV Markets.
Can TV Markets be trusted with CIMA licensing?
As we mentioned in the first chapter, the broker has been established in 2008 under the regulatory oversight of the Cayman Islands Monetary Authority (CIMA). Now, we don't know who might believe that this is a legit license; for us, it's outright deception.

The Cayman Islands is a small island in the Western Carribean with the least amount of population and no political or economic prowess whatsoever. In other words, it serves as a perfect destination for the so-called 'safe havens'.
When companies like TV Markets register or transfer their businesses to countries like Cayman, their sole goal is to hide their earnings and illegal activities from their own countries. TV Markets, knowing – or at least, suspecting – that it is involved in some sort of a financial Ponzi scheme, has found a perfect place for its business.
Besides, the broker doesn't provide service to the US citizens which further undermines the idea that TV Markets is legit.
Overall, the CIMA licensing doesn't really mean anything except for the fact that the broker is free to do whatever it wants without any legal implication.
Should you trade with TV Markets?
In this TV Markets review, we examined every detail that is important to determine, whether the broker is the real deal or not.
With its flashy trading conditions, that might seem to promise lucrative profit possibilities; counterintuitive website construction with unnecessary visual effects and lots of contrasty images; and the CIMA licensing that has a sole purpose of covering any misconducts associated with the broker, we don't think that it is a good idea to associate yourselves with TV Markets.
We give the broker a rating of 2/5.