TradInvestor Review

When it comes to choosing a legitimate trading assistant, you need to be very careful. You have to be sure that there's no fraud going on.
TradInvestor is a Forex broker that might be appealing to some traders but nonetheless, needs a thorough review from us.
In this TradInvestor review, we're going to take a look at the brokers' offerings, as well as its licensing measures and see, whether it's worthy of its title.
Are TradInvestor promotions real?
First, let's start with the trading terms and conditions. The broker offers an underwhelming 1:100 leverage ratio which, to be honest, isn't that small but still is lower than the market average.
The spreads are probably the only indicator with some appeal: the difference between buying and selling currency pairs can go as low as 0.1 pips.
As for the minimum trading requirements, the broker demands a staggering 2,500 EUR minimum deposit from its customers. For a broker that has just been established, this requirement seems a little too demanding. What we suspect here is that the TradInvestor FX brokerage is trying to reap as many funds from its customers as it can without promising too much in return.
The withdrawal platforms are even less promising, to say the least. Not only does the broker feature some of the most outdated platforms like bank wire and credit cards, but it also limits the minimum withdrawal amounts to at least $100. This goes to show that the broker doesn't want you to get the earned money whenever you want.
On top of that, there are some noticeable commissions on withdrawals that range anywhere from 10 USD to 50 USD.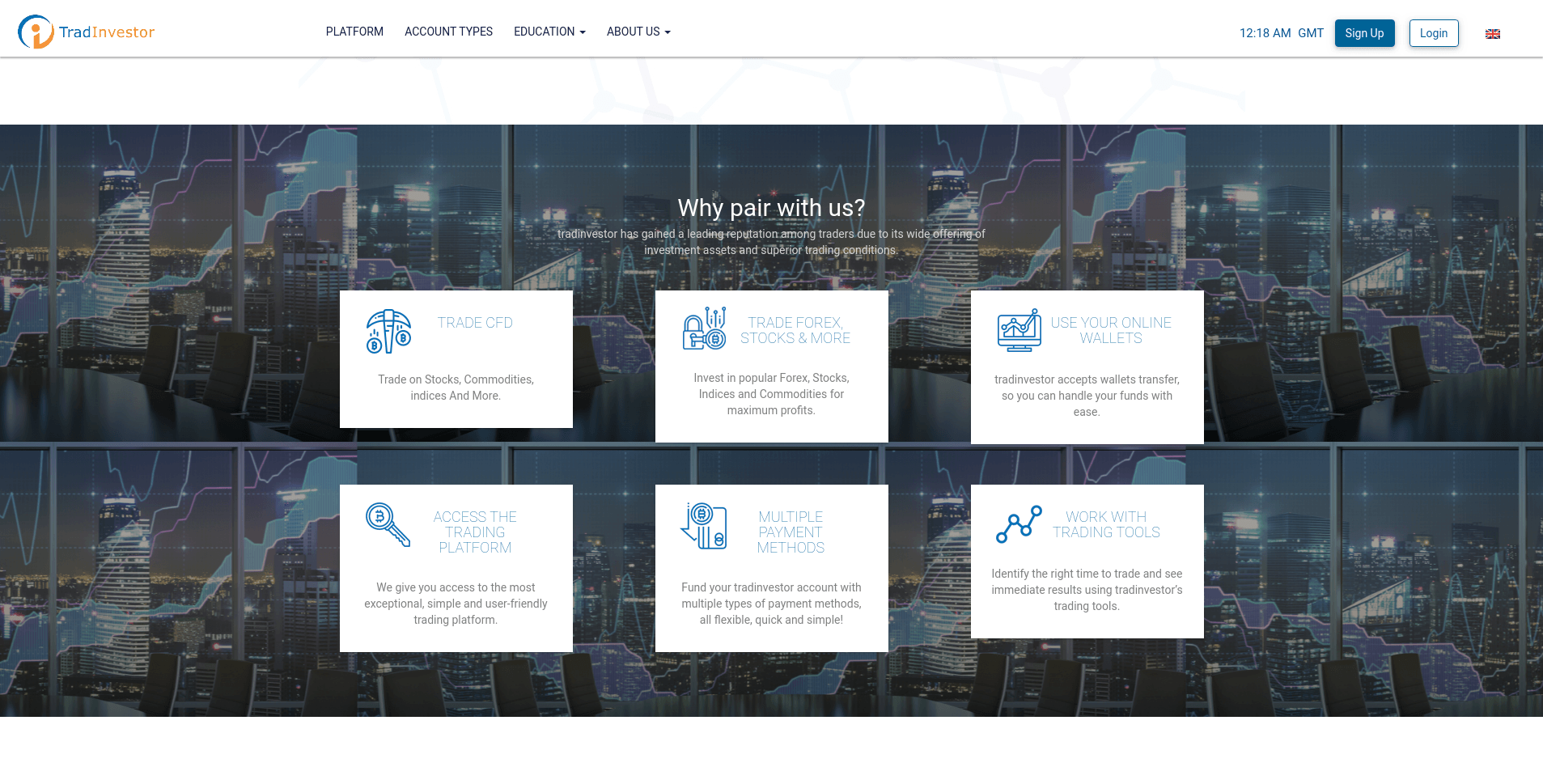 What are the legal measures?
Now, let's move to probably the most important aspect of this review – regulation.
With the hype about its anti-money-laundering policy and proof-checking, along with many positive reviews from various financial analysts, there's actually no mention of the licensing whatsoever. The broker doesn't say a single word about where it was registered or which institution issued a license.
The only conclusion from here is that the TradInvestor scam is actually happening and endangering many traders in the field. The reason we say this is fairly obvious: with no legal oversight of any sort, the broker is allowed to do whatever it wants without being held accountable for its actions.
Plus, the broker isn't allowed to provide service to US citizens. This is another proof that there's something inherently wrong with TradInvestor and the United States clearly doesn't want the broker on its soil.
Should you trade with the TradInvestor Forex broker?
All in all, you should be extremely careful when choosing a Forex broker. Especially, when it comes to TradInvestor.
The broker clearly has no license from any regulatory body whatsoever. This enables it to do all sorts of financial scams without legal implications.
In addition to that, the trading conditions are also pretty lackluster with below-average 1:100 leverages and overblown 2,500 EUR deposit requirements. And even though the 0.1 spreads actually look good, it still isn't enough to overweigh other major shortcomings.
In conclusion, we would suggest against trading with TradInvestor for the sake of your own financial security and stability!