A detailed Trust Capital TC review discussing the broker's features

Trust Capital TC Forex broker has appeared on European trading market in 2018. It is relatively a new brokerage that markets itself as a financial intermediary specializing in online trading of various investment products such as Forex, OTC Futures, and CFDs. The broker holds the license from the Cyprus Securities and Exchange Commission. However, as you might already know the fact that the broker is regulated does not mean that it provides good service.  Let's have an overview of the broker's features and offerings.
Trust Capital TC offers currency pairs, OTC spots precious metals, and CFDs on energy, index, commodities, and precious metals futures. Since the broker is regulated by the European regulator it has to be in compliance with the ESMA restrictions, hence the maximum leverage available with Trust Capital is 1:30. The minimum deposit with the broker is higher than average and is 250 USD. Trust Capital TC spreads are higher than average as well and start from 1.6 pips. This Trust Capital TC review provides detailed information about the broker's features. Make sure to read it first if you are considering to open an account with this broker.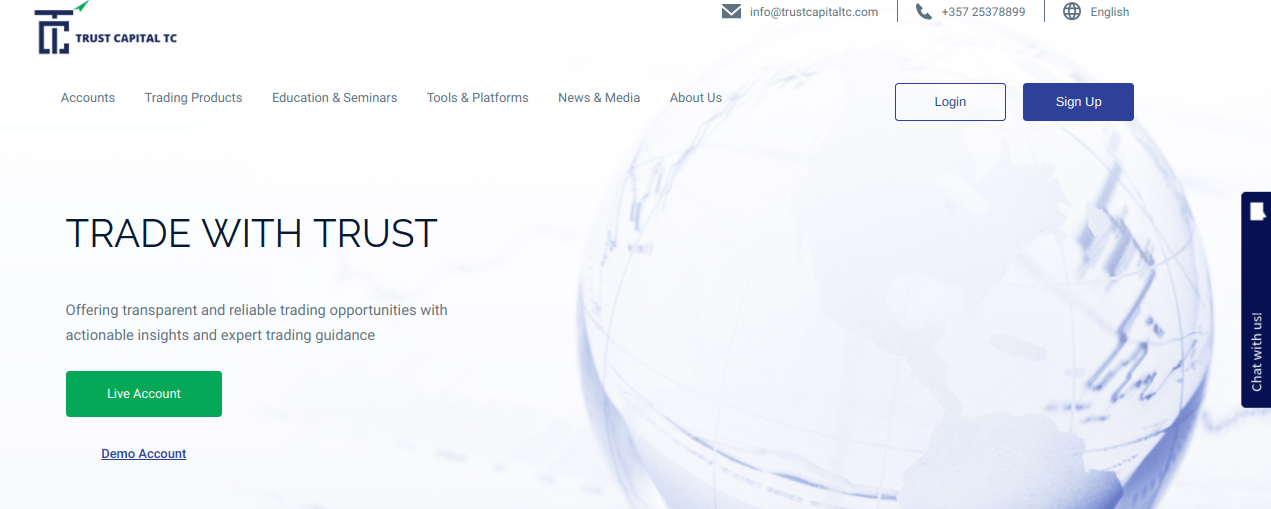 Is Trust Capital TC legit?
Trust Capital is operated by the company Trust Capital TC LTD which is registered as a Cyprus Investment Firm and is regulated and authorized by the CySEC. The broker is also compliant with the leverage restrictions and does not provide higher leverage than allowed to the customers that do not have a status of professional clients. /
The broker provides company registration number on the website. The number, alongside with the license can be checked on the website of the regulator as well. As you can see below the license is real and active, which reduces Trust Capital TC scam possibility a lot.
Trading conditions with Trust Capital TC
When it comes to the trading conditions with trust Capital TC, regulations might be the only bright side of the brokerage. While the broker offers several different trading assets for trading, the number of trading instruments is not satisfactory.
Trust Capital TC offers 28 currency pairs that include the following currencies: USD, EUR, GBP, AUD, JPY, CHF, CAD, and NZD.
It has only two precious metals available – Gold and Silver
Three energy futures SL, NATGAS, and BRENT
Five index futures such as NASDAQ, S&P, DOW, DAX, AUS
Three commodities Cocoa, Coffee, and Soybean.
As you can see Trust Capital TC FX brokerage does not provide a big variety of the trading instruments compared to the international brokerages that offer their trading services to the European residents.
Minimum deposit, leverage, spreads
The broker has relatively high minimum deposit requirements, traders have to deposit 250 USD to open a standard account and start trading. As mentioned the maximum leverage available is 1:30, however, each trading assets have different leverages available. Most of the currency pairs can be traded with the leverage of 1:30 and 1:20. For other trading assets, leverage can be up to 1:20 or 1:10.
One of the biggest disadvantages of Trust Capital TC is high spreads. While many international brokerages have spread from 0 pip, the broker offers spreads from 1.6 for standard accounts which is considerably high and reduces Trust Capital TC rating a lot.
Account types and related fees
The way Trust Capital TC has designed its trading accounts is not impressing as well. The broker offers three types of trading accounts Classic, Prime, and VIP. The accounts do not have much of an added features, especially the Classic one, considering that it has a higher minimum deposit than what most of the brokers require.

Classic account – one needs to deposit 250 USD to open the classic account. The spreads for this account start from 1.6 pips. There is a commission for trading CFDs (other than FX) which is 10 USD per lot. There is an overnight charge as well which is 6 USD per lot.
Prime account – the minimum deposit for the prime account is 500 USD. The spreads start from 1.6 pip for this account as well. The traders have to pay 20 USD per lot for every trading instruments. There are no fees for overnight charges. Compared to the classic account, the Prime one has a dedicated account manager and access to educational materials and pro webinars. It creates a very negative Trust Capital TC opinion since most of the brokers give access to educational materials and webinars to each and every of their customer.
VIP accounts are for professional traders and require 50,000 USD minimum deposit. As the broker claims spread for this account starts from 0.4 pip. There is a commission for every trading instrument which is 10 USD per lot. This account has the same features as the Prime account and the only difference between them is the size of spreads.
Should you trade with Trust Capital TC?
Let us sum up Trustcapitaltc.com review. The only advantage of the broker is that it is regulated by CySEC. However, the regulation only is not enough to attract traders who are searching for the new broker to trade with. Trust Capital TC offers a limited number of trading instruments. The minimum deposit requirement, as well as the spreads that are showcased on the website, are considerably higher than what the other brokers are offering on average. In addition to that, there are commissions per lot traded. Usually, when the broker is having high spreads it means that the broker is taking money through the spreads and should not be charging commissions, however as it seems Trust Capital TC is taking money via spreads, as well as commissions. As the broker is regulated, one might not be under the risk of Trust Capital TC fraud, however, trading with the broker is too expensive, especially for the low budget traders. Hence, it is not advisable for traders to open an account with Trust Capital TC, when there are a lot of regulated brokers that offer better spreads, have lower minimum deposit and does not charge commissions.