UproFX review

UproFX is a CFD brokerage that is operating through Estonia. It is also important to mention that they are a child company of Yield Enterprise Currency Software. Having a parent company always adds a bit more trust to a Forex brokerage as we know that should the UproFX Forex broker be involved in something shady, their reputation will not be the only one at stake, which gives us a safe space to hold.
The company is quite remarkable, being able to offer features that are contradictory to the new ESMA regulations, hence their popularity. With UproFX it is possible to utilize their high leverage of 1:100, miles above the restrictions to 1:30 on currency CFDs. Not only is the leverage high, but the minimum deposit is also quite acceptable. It is currently at EUR 250, which is sort of like a standard for a Forex brokerage in the 21st century.
But does all of this information excuse the UproFX scam rumors? Not necessarily, we still deem the company untrustworthy due to the lack of a legitimate license.
UproFX review: first impressions
When we entered the website it immediately seemed quite welcoming. We always make a point of trying to find some sort of problems with the company's website, but thanks to the immaculate state they managed to tick all of our boxes. This UproFX review could have gone a completely different route if the broker wasn't transparent enough, however, all of the navigation involved in the website was up to date and fluid. The most important information about the spreads, leverage and withdrawals were laid bare in front of us. Always a good sign.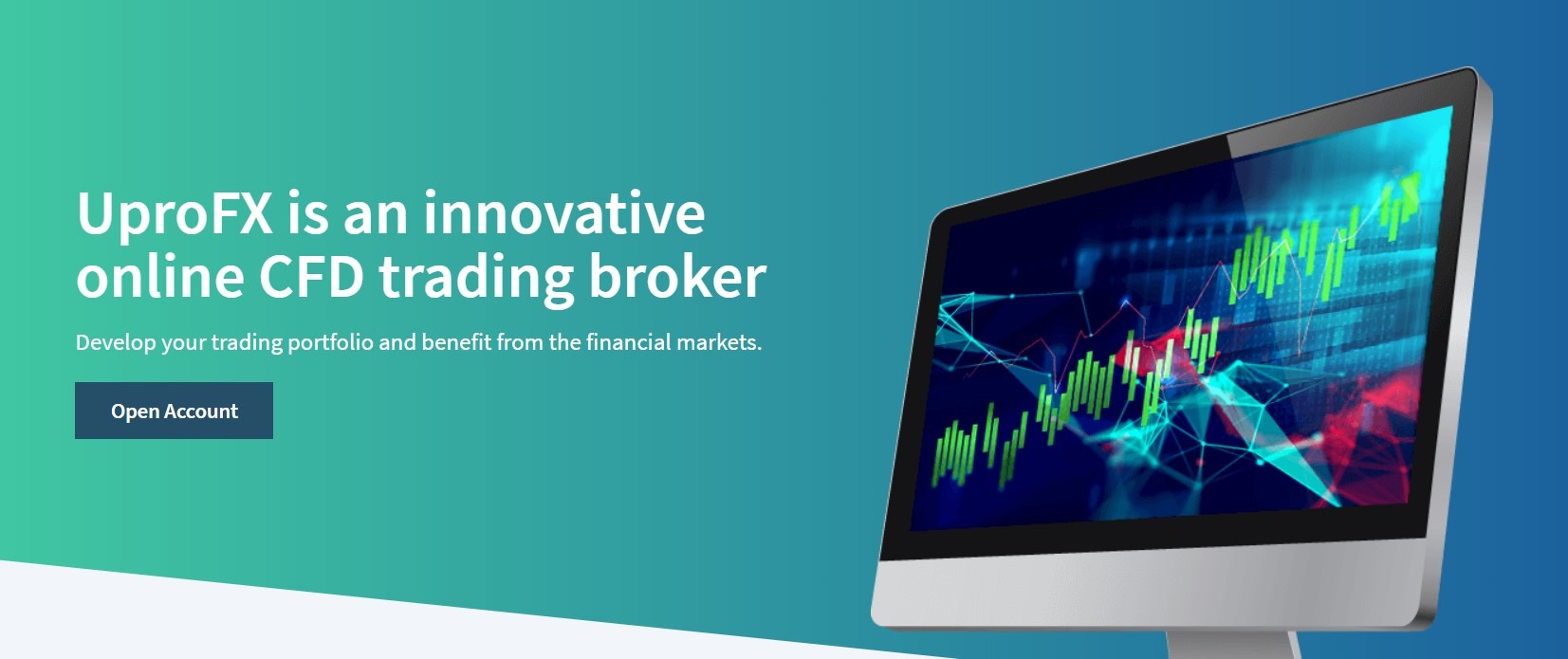 However, the value of the UproFX Forex broker is not in its transparency in terms of information, but the fact that it is able to offer the terms that it has. Not too many EU based brokers have the ability to bypass ESMA regulations and still be in the green, and in this case UproFX is no exception. We appreciate the honesty and transparency of the company, but that is no excuse for not having a regulation.
Leverage & Spreads
The leverage is quite a delicate topic these days as more and more Forex brokers in the EU keep reducing them, trying to either stretch the ESMA regulations or just completely be subdued by them. Nearly all of the best FX brokerages you will find in countries like the UK and Germany have already succumbed to the restricted leverage and trade benefits. The fact that UproFX broker is still able to offer leverage of 1:100 is what birthed all of the conspiracy theories of an UproFX scam. However, it's easy to reassure traders that the brokerage honors its promises by providing exactly what it offers. You can utilize the 1:100 leverage on any CFD currency pairs.
In terms of spreads, the company offers you a choice. On some accounts they have fixed spreads, some may come in as floating. This means that according to the market situation you can choose which account would be more profitable in the long run and always have a reassurance that the spread will remain the same no matter what.
UproFX reviews of account types
Although it is common to see about 3 types of accounts on a given website, in our process of the UproFX review, we found out that the company offers 4. Although it's not recommended to burden your customers with too much choice, we believe that the amount is still acceptable.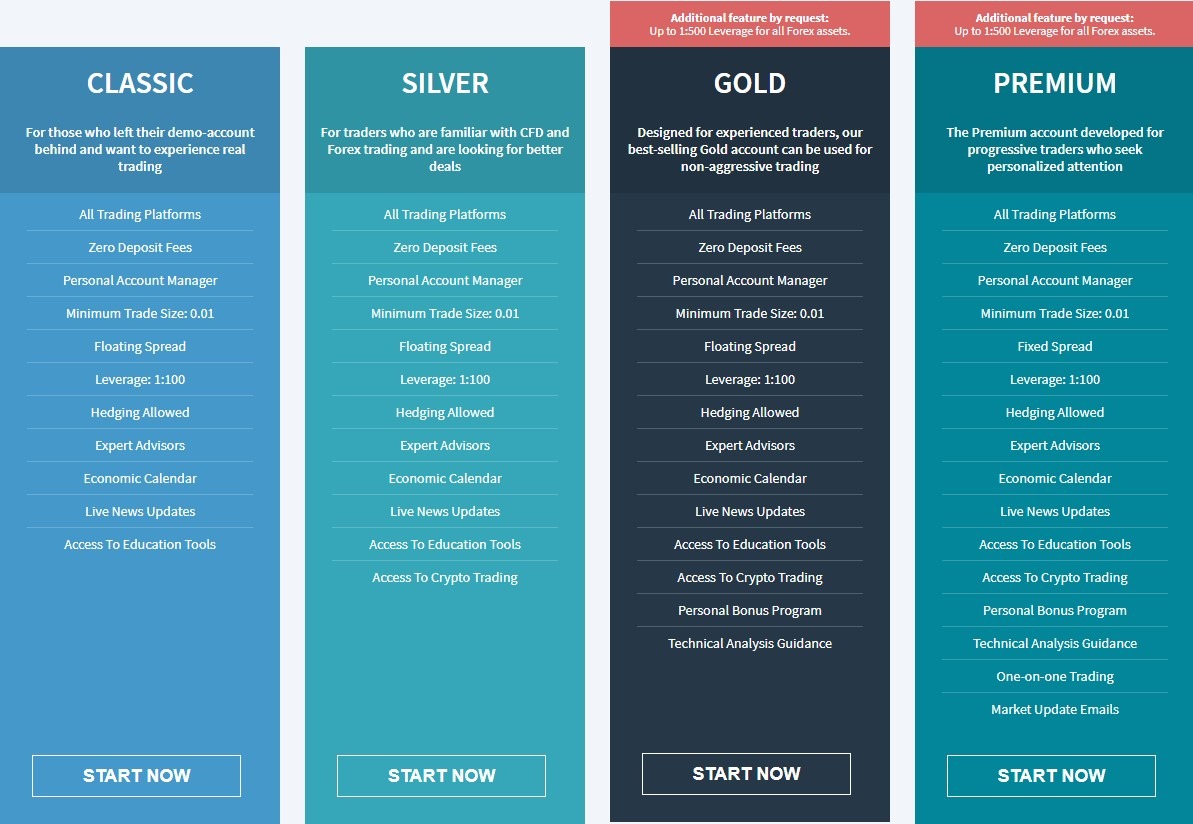 With the two cheapest, Classic and Silver accounts you will be eligible for floating spreads and a leverage of 1:100. However, the Gold and Premium accounts are able to offer additional perks. For example, you will have access to financial advisors and better news concerning the upcoming trades. The leverage is also increasable through request and can reach a height of 1:500 if you choose so. For the Premium account, the spread becomes fixed. Although this in most cases would indicate a UproFX fraud, the company was able to contain it through choice, meaning that you will not be pressured to use the high leverage, it will be available only if you have fully comprehended the risks associated with it.
Withdrawals & Deposits
The withdrawals and deposits vary between payment methods. For example, the minimum deposit is EUR 250 for credit/debit cards isn't necessarily the case for Wire transfer. For Wire transfer, the UproFX deposit and withdrawal policy sets the minimum deposit at EUR 500, which is a serious disadvantage for somebody forced to use Wire Transfer.
But no matter the deposits, withdrawals are the most important aspects of a Forex broker. So, can UproFX be trusted in this case? Can they provide a fluid withdrawal process? Yes, they can. All of their withdrawal processes are in accordance with the current trends, with Wire transfers taking the longest to process. However, despite the long waiting times, at least traders don't have to pay any fees when withdrawing funds.
Is UproFX legit?
A glance through what UproFX has to offer would immediately convince a beginner trader that they are trustworthy. However, once we look at it through an experienced eye, it leaves a very shady impression on us. For example, not having a regulation but posing enticing offers seems like a trap much like what we've seen with so many past experiences.
However, we are not necessarily calling this company fraudulent as there are enough traders who say they've had a smooth experience. Therefore, we'd simply not recommend this broker in the first place rather than brand it a scam.
The 1:100 leverage is simply not worth the risk for any trader regardless of how much experience they have.