Is Videforex too good to be true?

Founded in 2017, Videforex is a brokerage company that offers to trade in Forex and CFDs, they claim to have more than 100 tradable assets. It is an offshore company of Involva Corp and follows the Marshall Islands regulations. They offer three types of trading accounts (Bronze – Silver – Gold) with a minimum deposit of $250 and withdrawal processing time of 1-hour maximum. Moreover, they offer a maximum leverage of 1:100 for all traders, and they offer you to trade through their web trading platform, as well as via the mobile application on android and on iOS.
One needs to be looking for red flags that dictate if Videforex is legit, the brokerage company is registered in the Marshal Islands regulation, but never licensed though, needless to say, the Marshall Islands has become a hotspot for companies to offshore their forex trading activities due to the lack of regulations, add to the low requirements, and set up costs, lots of companies tend to outsource different activities to the Marshall Islands, especially when it comes to brokerage and international investments, which is usually heavily controlled in most of the countries around the world.
At first impression, someone might be impressed by the way the website looks like, the coloring of the backgrounds and the navigations bars, as well as the attempt to catch the viewer's eye with images of their agents in every slide and section. So, if you are considering trading with them, this Videforex review will definitely help any trader, because the last thing a trader would want, is to invest their money with a suspicious broker.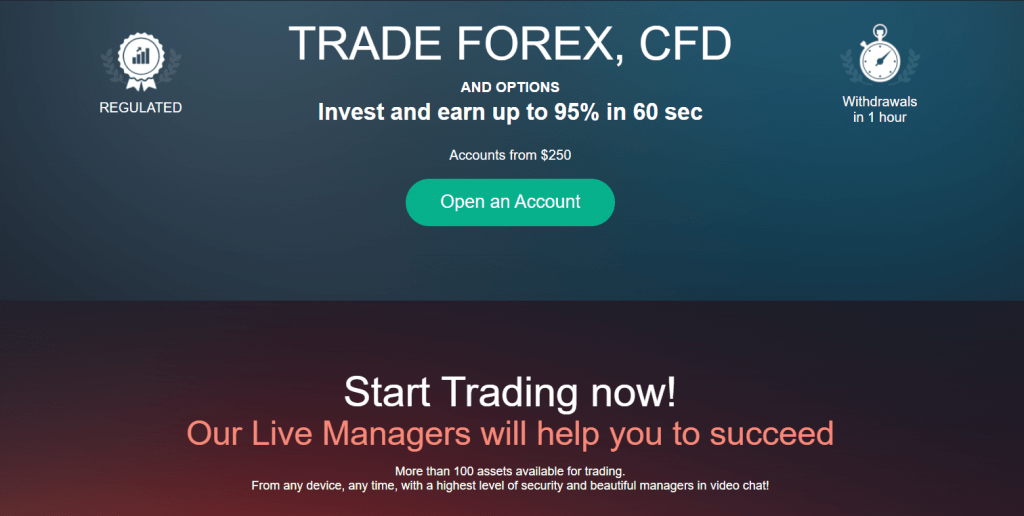 What does Videforex offer you
Far from the aesthetic looks that you see on the website, some services that the broker offers are presented on the website at the first glance, while some features you need to dig more to find out, here you can see accumulated all the services they provide, at what quality, and what do you need to know beforehand
Account Types
Videforex offers three types of trading accounts, bronze, silver, and gold, with each type holding a different bonus rate depends on the volume of the trade. They require a minimum deposit of $250 to receive a bonus of 20% under the bronze program, their silver account promises a 50% bonus but requires a first deposit of $1000, and ultimately the gold account requires at least a $3000 deposit to earn you a 100% bonus on the trading deposit. In addition, they are offering leverage for all traders of 1:100 maximum, which makes it hard to believe since they are operating in Europe and the maximum trading leverage allowed in the EU is 1:30, which brings up a red flag regarding the legitimacy of Videforex.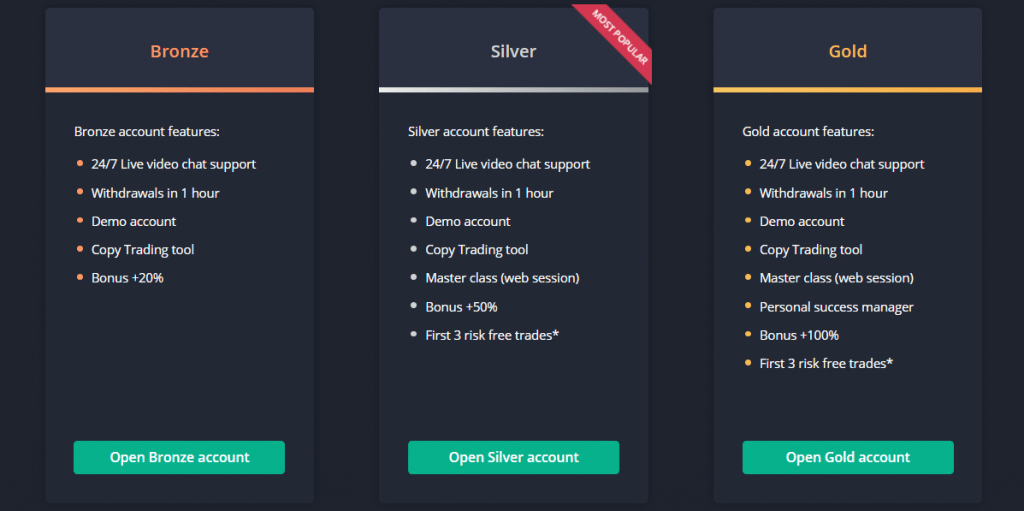 Traders can use the demo trading account that Videforex offers, however, they will require you to call them and make a special request for such a demo account, besides what makes someone suspect that Videforex is fraud, is that they request you to fund your account in order to start the demo account, which puts a question mark on why are your funds needed for opening a demo account.
Deposit & Withdrawals
As a trader, you will be allowed to fund your account through different funding methods, credit cards, crypto-wallets with an instant funding time, while -as they claim- the withdrawal time for your funds is up to 1 hour with a minimum withdrawal allowed is $50, which is too good to be true, because international transactions definitely take more than that, even some transactions conducted in the same country can take few hours to be processed.
Besides, they are offering contest prizes and awards, without any description of what are the details of the contest or what does the competition entails, which makes it quite hard to understand. As well as other Videforex promotions such as referral programs and giveaways that promise traders to win apple watch, iPhone, iPad, and iMac, for the exchange of probably the trader's money.
On their website, Videforex states that there are absolutely no registration or maintenance fees to keep your account running, which is suspicious because to start and maintain an open account, the broker is definitely paying to keep that account running on the platform, and we can rule out that any broker company will do it for free without hidden fees or charges.
Trading platforms
You can trade with more than 100 tradable assets as they mention on their website, however, they do not mention what are these assets exactly, the only statement is CFD and Forex trading. And to start off, you will only need access to their web trading platform which is full of exaggerated graphics with low consideration to functionality, no access to other high-end trading platforms such as MT4 or MT5, additionally you can trade using the mobile application, for which, they only mention the android Google Play Store link in this section.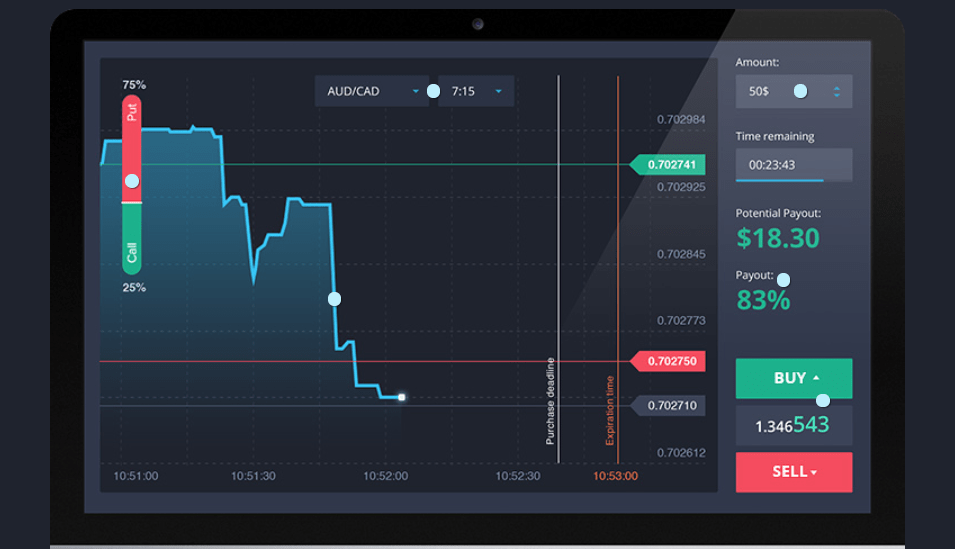 What are you really getting from trading with Videforex
As a trader, you are unsure if Videfore can be trusted, because the website does not mention anything about education or how are they going to use your money to trade, their education center is all about few FAQs that do not exceed the basic aspects of any trading broker, and if you get lucky enough to get hold of them, they will tell you that your request is registered and another specialist will give you a call, which never happens. So, basically, you will have no idea how was your money gained or most probably lost!
In regards to their customer support services, they claim that you can trade every day even over the weekends and a 24/7 live video chat with your support agent, which does not really makes sense because the global forex market closes on the weekends. Videforex seems to be highly enthusiastic about the aesthetics of their website, as they state that you can trade on more than 100 assets through a live video call with your "beautiful manager" which does not really add anything to the legitimacy of the broker
They are also available on some social media platforms such as Twitter and Instagram, and most of their posts are regarding their promo offers or news and update of their website, besides that, they have pinned their phone number on the top of the website, where they put on eternal hold with a valid response, makes it hard to reach out to them despite having customer service offices in 6 locations around the world, USA, Russia, China, Thailand, Singapore, and Australia.
In conclusion
Videforex works so much to promote the positive aspects that would be appealing for a novice trader, or someone that has never traded in their entire life, but for someone who has a sense of trading, they will definitely be questioning lots of points going on in this broker, the lack of drawbacks makes it really suspicious since any trade is associated with risk factor and commission fees, which seems absent in the description of this broker's website.
Spending your capital with this broker might not be the best idea, because you are not really getting anything in return, they are working their way to draw a beautiful image about their activities, but they do not provide you with any piece of education to keep you informed about your investments, and you can get hold of them if you really want to discuss anything or process any withdrawal, which take much more than the promoted maximum of 1 hour.