Winiford Review – Is It A Reliable Crypto Trading Platform?

Winiford General Information
Winiford is an online trading platform that provides customers from all around the world with access to the global cryptocurrency markets via an advanced trading solution. Motivated by the increased demand for crypto-related trading products, Winiford focuses 100% on cryptocurrency. The brand offers a diverse selection of trading assets, including Bitcoin, Ether, Dash, Litecoin, and many other promising altcoins.
As a digital broker focusing on digital assets, Winiford launched its own trading platform, which is mobile and web friendly, responsive, and specially designed for cryptocurrency trading. Winiford traders can stay on top of market trends, build their crypto portfolio, and execute their strategy with easy-to-use tools. It should be noted that you can trade easily from any type of device, whether it is your PC or smartphone.
Winiford Trading Account and Payment Options
While most other trading brokers have several account types with unique features designed to fit the trading requirements of each trader', Winiford offers only one single account type. This might be a disadvantage of the brand. However, the good thing is that any Winiford trader can enjoy the same benefits, without concern for the size of the deposit. Thanks to this big plus, traders, especially beginners, can start off with a small deposit in order to minimize their risk.
In terms of the Winiford registration process, it takes just a few minutes to sign up and verify an account, so that even those with no experience in the industry can do it easily. In order to become a fully registered member with Winiford, all you have to do is to fill in your personal details and contact information and then follow the standard KYC security measures to verify your account.
When it comes to deposits and withdrawals, the brand accepts different payment options, including debit/credit cards, e-wallet solutions, and bank wire transfers. However, keep in mind that you need to withdraw funds from your accounts with the same method used for depositing.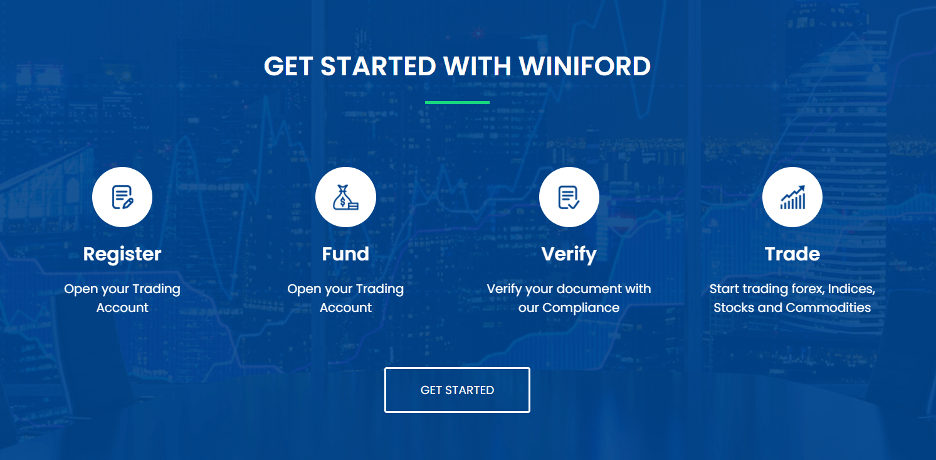 Source: https://winiford.com/
Customer Service
Since the crypto trading schedule is 24/7, Winiford commits to offering customer support available 24/7 to assist customers whenever they need. Customers can get in contact with the brand's representatives via multiple ways, including chat, email, and hotline. In addition, Winiford has created an FAQ section on its website to provide answer for any issue that could arise when customers use its services.
Moreover, customers' security is a top priority of Winiford, with the usage of some of the highest security standards in terms of processing transactions and trading platform as well.  It can be said that Winiford doesn't make any concessions in terms of its customer-centric approach.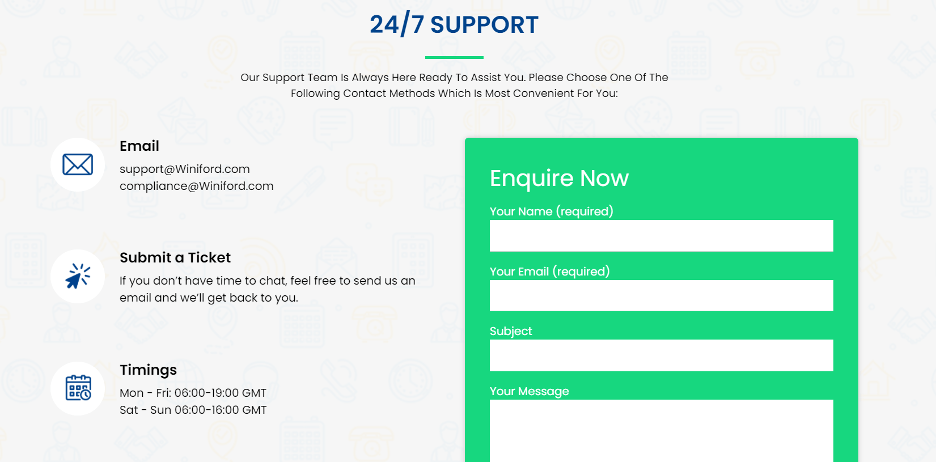 Source: https://winiford.com/
Conclusion
According to the above analysis, Winiford seems to be a premium trading platform with some of the most tradeable digital assets for traders to experience. With Winiford, customers can rely on a platform that offers a safe way to trade cryptocurrencies. It can be a good option for those who are looking for a trading site focused on crypto trading. For more important points about this brand, it's worth checking its website and learning more about how it works.