ForexNewsNow – Plus500 is a leading CFDs provider that mostly focuses on the forex trading market while allowing clients to trade on other assets such as indices and shares as well. The company was founded in 2008 and since then it developed various new tools and features that enhance trading experience and increase revenues for traders.
Assets Available
Plus500 offers traders the possibility to trade on over 50 cfds on different forex currency pairs. Besides the most popular currency pairs traders have the opportunity to trade on more exotic and regional currency pairs as well. The great advantage of Plus500's forex asset portfolio is the fact that it covers a lot of local and regional markets.
However, the largest asset portfolio is those of shares. Plus500's shares portfolio is so large that it was necessary to divide it into subcategories represented by various countries. Traders have the opportunity to trade CFD's on the shares of multiple dozens of companies in 19 different countries.
The commodities index is equally impressive offering the possibility to trade on various natural resources such as oil, gold, silver, platinum, coffee, cotton and even soybeans. The broker also provides a total of 18 FCD's on indices including USA 30, Europe 59, Hong Kong 45 and more.
Platform and Usability

The Plus500 Windows Trader allows traders to install an application on their computers that will allow them to access the services offered by the broker. As an alternative, traders may as well use the WebTrader that does not require download and installing and can be accessed from any computer virtually in the matter of seconds.
Mobile enthusiasts have the option to download the iPhone, iPad or Android Apps offered by the broker. This way traders can access the services offered by Plus500 with the help of their mobile devices from any place with a stable Wi-Fi connection. All versions of the software are stable and offer a seamless trading experience.
Commissions and Fees
Plus500 does not charge any commissions on trades executed by clients. Instead the broker functions on a fixed spread model meaning that traders will always know how much they will be charged on every single trade they execute. Generally, spreads are fairly low at Plus500 but they can be a little bit higher when it involves trades with rare assets.
Regulation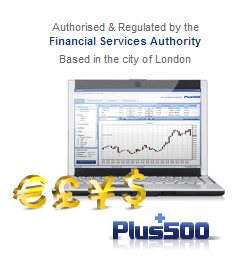 Recently Plus500 became licensed and regulated by the Australian Security and Investments Commission (ASIC). This means that the company is legally allowed to offer CFD trading services. In order to acquire this license the company had to prove that it offers a safe and fair trading environment as well as provides legitimate services.
This license also protects traders located outside of Australia. The rules imposed by the ASIC have to be followed by Plus500 regardless if it involves traders located in Australia or any other country on the globe. For this reason Plus500 is recommended for clients regardless of country of origin.