Donald Trump's shock victory to clinch the U.S. presidency has caused fears in the hearts of most Asian investors. The economy of Asia is largely driven by international trades and China, for instance, counts U.S. among its largest export markets. But Trump seems to be coming in with a protectionist mindset, which some analysts have said could rattle major Asian economies that rely on trade with the U.S.
However, Trump presidency could also be a blessing for Asian online investors. Trump's victory has already fired up the dollar and bond yields. The yield on the U.S. 10-year Treasury bond has risen nearly 0.45% since Trump won the election. The reason for the jump in Treasury yields is that investors are speculating Trump would implement expansionary fiscal policies.
Moreover, expectations have also increased that the U.S. Federal Reserve would be swifter in raising interest rate benchmark under Trump presidency than it would have been if Hillary Clinton won the election and the Democrats retained the White House.
Trading U.S. assets from Asia
Economists have said that rising bond yields and interest rates would trigger capital outflow from Asia as investors jostle for more lucrative U.S. investment products. While capital inflow could deprive Asian economies of the funds they need to grow, Asian investors could still use online platforms to trade U.S. assets and create wealth.
Online trading sites allow investors to trade a wide range of financial products from equities to bonds to forex. Using these platforms, you can trade assets anywhere. Online trading, especially a subset of it called social trading, is quickly gaining popularity in Asia. Social trading sites allow investors to access a range of investment products and learn from experts how to trade the assets profitability. For a fee or no fee, these social trading platforms allow you to copy the trade strategies of accomplished investors, thus reducing investing risks and maximizing returns.
Rising personal wealth in Asia
Given the growing personal wealth in Asia, the uptake of social trading services is not only on the rise, but more Asian investors can use these platforms to invest in high-yielding U.S. assets.
Private wealth in Asia-Pacific is expected to rise to $55 trillion by 2019, significantly up $33 trillion in 2014. With the increase in private wealth, the region is expected to account for 26% of the world's financial wealth by 2019, an improvement from 21% in 2014. Perhaps the growth could slow as the region grapples with potentially inflammatory trade policies in the U.S., but the improving Asian personal wealth also points to growing ability of Asian investors to take up non-traditional investment products.
A variety of safe haven assets
While many investors have tended to run to gold as a safe store of value when economic conditions are not favorable, alternative safe haven assets have emerged online. Cryptocurrencies such as Bitcoin (BTC), Peercoin (PPC) and Litecoin (LTC) are quickly finding favor among risk-averse investors. Bitcoin, for instance, made significant gains against the dollar as U.S. presidential election results started streaming and Trump appeared to be leading the race to the White House.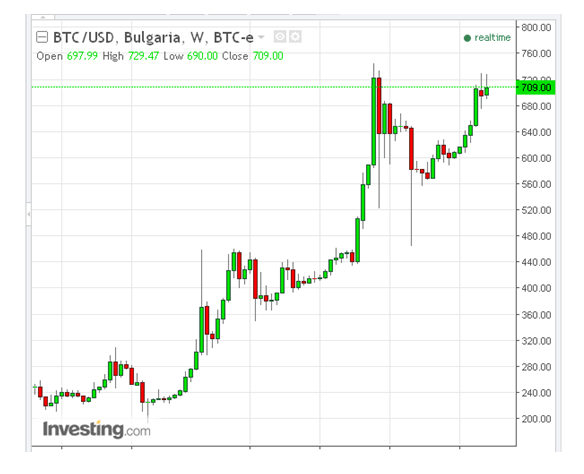 Therefore, for Asian investors, other than being able to trade U.S. assets online to take advantage of the rising yields and interest rates, internet trading also expands access to a variety of alternative investment opportunities to beat economic pressure that could befall the region under Trump presidency.