The U.S. presidential election outcome that has overturned late poll predictions is giving wings to cryptocurrencies, or altcoins. Several altcoins have made gains against the U.S. dollar as investors and traders hedge for an uncertain global economic future.
Stock markets plunged across Asia as it became apparent that Republican's Donald Trump was winning the election against Democrat's Hillary Clinton. But most opinion polls showed Clinton was favored to win what some analysts had already labeled the most divisive and fiercely fought U.S. presidential election in modern memory.
Investors escaping the fallout in stocks and bonds markets because of the shock election outcome are picking up less mainstream assets: virtual currencies. Gold has also seen a spike in interest as it is considered a safe haven asset.
BTC/USD jumps 4%
Bitcoin, the mother of cryptocurrencies, was gaining ground against the greenback, hitting a day's high of more than $735 in morning trading in Asia and Europe on Tuesday. But investors had started building positions in Bitcoin ahead of the election that seemed unpredictable. Forex markets worried that a Trump win would weaken the dollar because of the politician's tough stance of key economic policies including the trade agreement between the U.S. and Europe under the Trans-Atlantic Trade and Investment Partnership (TTIP).
Some analysts predicted Bitcoin price could explode in 2017.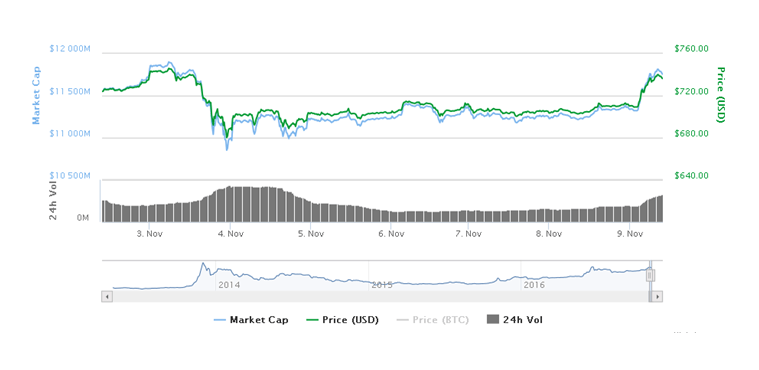 The reaction of Bitcoin to the U.S. presidential election outcome is in sharp contrast to its reaction to the Brexit vote in June. The stunning outcome of the referendum on whether or not the U.K. should remain in the European Union economic bloc wiped more than 10% of the digital currency's value. Now Bitcoin is more than recouping the losses.
Other cryptocurrencies getting boost from Trump victory
Litecoin (LTC), another popular virtual currency, was gaining more than 2% against the greenback in morning trading in Europe and Asia, putting the LTC/USD pair at $3.91. But BTC/LTC pair was trending down more than 2.3%, indicating the strength of Bitcoin in the stunning U.S. election.
Peercoin (PPC) was also seen gaining ground against the dollar, with PPC/USD trading up 0.86%. PPC/BTC was down more than 3.5%.
Ripple (XRP), another successful altcoin, could be seen falling victim to Bitcoin's robust performance. XRP/USD was going up more than 0.26, while XRP/BTC was falling more than 4%.
Alternative investment
Though gold has typically been the safe haven asset for many investors, cryptocurrencies can be seeing vying for the title as well. Some investors are favoring virtual currencies such as Bitcoin and Litecoin over gold and commodities because they don't require physical storage. Furthermore, some investors are just discovering that there exist alternatives to gold in an unstable market.
Forex brokers hedge for uncertainty
Ahead of the U.S. presidential election, several forex brokerage firms tried to protect clients from huge losses by making it difficult to trade certain currencies that where likely to be rattled the most by an unexpected outcome of the election. Some of the currencies that brokers tried to tighten their trade included Mexican peso (MXN), the U.K.'s pound (GBP) and Russian ruble (RUB).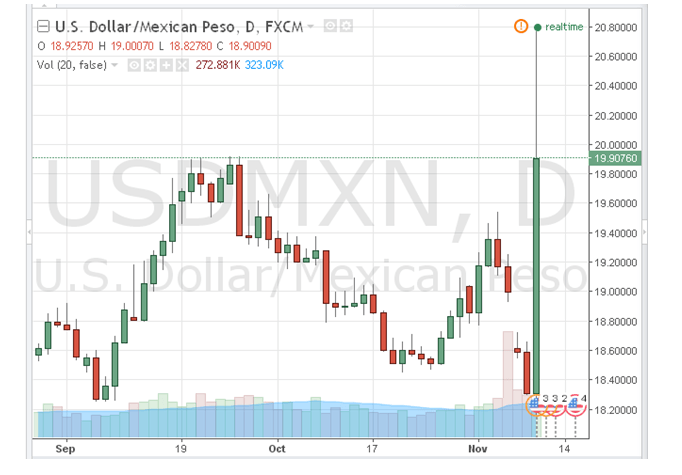 The dollar made significant gain against peso with USD/MXN seen up nearly 10% in morning action.