Forex brokers are girding for a volatile market as Americans go to the polls to elect the next president. In what seems to be efforts to protect traders from heavy losses because of market volatility triggered by the November 8 U.S. presidential elections, several retail forex brokers have lowered the leverage available to clients. They have done this by raising margin requirements or cost of trading currencies on their platforms.
While some brokerages are raising margin requirements for all currency pairs available on their platforms, others are only adjusting margins for select currencies that they believe will be more volatile. In the wake of increased regulatory scrutiny of providers of retail financial products, the move by forex brokerages to protect clients from massive losses can be seen as a measure to reduce complaints and protect platform reputation.
Here are some of the forex brokerages that have adjusted their margin requirements and what the changes they have made:
FXCM boosts required margin on USD/MXN
FXCM has decided to increase the margin required to trade the U.S. dollar versus Mexican peso. Given Republic presidential candidate Donald Trump's tough stance on illegal immigrants pouring into the U.S. from Mexico and other Latino regions, USD/MXN has become a popular bet on Trump's victory odds.
To protect its clients from heavy losses in trading the USD/MXN currency pair, FXCM has cut the leverage available on the pair. Starting November 7, FXCM is boosting margin required for USD/MXN trading to 10%. Normally the margin requirement for USD/MXN on FXCM platform is between 4% and 6%.
Other than USD/MXN pair, FXCM has also ratcheted up the margin required for trading GBP/USD and EUR/USD. The margin for these two currency pairs has been raised to 2% from 1%.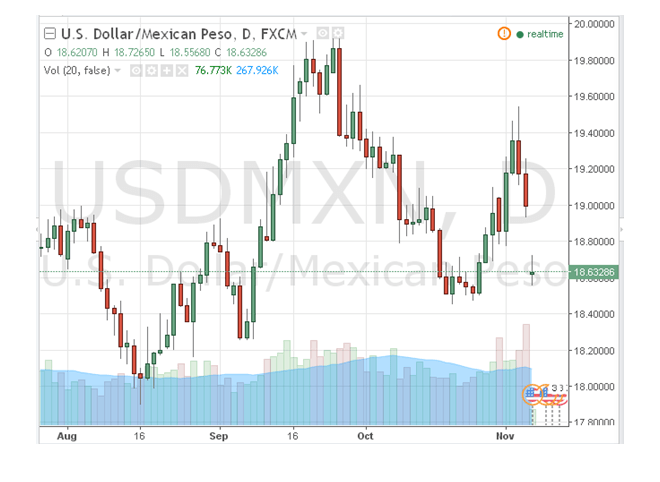 But these margin hikes are only temporary measures and leverages will revert to their normal levels after the election.
OANDA hikes margins on currency pairs involving GBP
Forex brokerage Oanda has also temporarily boosted its margin requirements ahead of the U.S. presidential election on November 8. In particular, the platform has capped maximum leverage on British pound pairs to 20:1. The margin required for GBP/USD has been boosted to 5% from the normal 2%, thus limiting leverage to 20:1. The same case applies to GBP/CAD, EUR/GBP and GBP/NZD.
Saxo Bank raises required margins on RUB and MXN
Saxo Bank has raised the margin required on most of its currency pairs. For instance, margins on currency pairs involving Russian ruble (RUB) and Mexican peso (MXN) have been significantly boosted to 10% and 15%, respectively, up from 2% and 3% normally. Russia's aggressive foreign policies in the recent years have been a concern for many investors. The platform will resume its normal margin requirements after the election as the hike of margins is only designed to take care of the anticipated market volatility.
XM.com caps leverage at 100:1
XM.com has temporarily boosted margin required for all currency pairs traded on the platform starting on the morning of November 8. The margin on all currencies has been increased to 1%, thus capping leverage at 100:1. The margin adjustment also affects trading in commodities such as gold and silver, but the new required margins will be waived after on November 9 after the election.
ACM Group PLC (Alpha)
London-based forex broker ACM Group PLC (Alpha) has also hiked margins on select currencies. The new margin requirements came into effect from close of business November 4 and will remain in effect until after the election on November 9.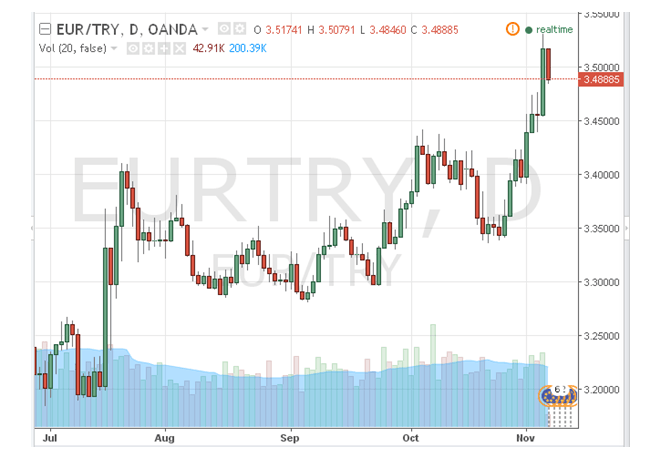 For instance, the margins on USD/MXN, EUR/MXN and EUR/TRY have been raised to 5%.