It appears that 99.9% of cryptocurrency, cloud mining companies are scams. I would like to tell you my story in hopes that I can save others from falling prey to these scammers.
First let me tell you that Instagram is infested with scammers hawking these bitcoin mining investments. They will also refer to it as Binary and Forex trading. I've never been contacted by so many mostly fake people trying to sell me on investing. So, my first piece of advice is to not even talk to these people. I now just refuse all message requests from anyone that is not already in my Instagram network.
Here is my story specifically regarding dbexminer.com scam, a cloud mining company. I was contacted by a person by the name of Mark Wesley on Instagram (mwesleybtc). He referred people to this investment and supposedly made a % on whatever they invested. He would provide a photo of his "dashboard" showing what he had invested and what his profit was. Very impressive. I finally after some time decided to give it a try. They have various membership levels in which you can invest. Basic Miner ($50 Minimum Deposit and $5,000 Maximum Deposit), Bronze Miner, Silver Miner and Gold Miner. Gold Miner is stated as their top platform on their website with investments listed as $2,000 for the Minimum Deposit and Unlimited Maximum Deposit.
DBEXMiner.com scam: The beginning
My plan was to startnwith dbexminer scam with the smallest amount possible. My first deposit was at the Basic level and I deposited the smallest amount allowed, $50. After 24 hours $62 was deposited back into my account. I did the same again, deposited $50 and after 24 hours $62 was put into my account. My next deposit I put in $100 and after 24 hours I got back $124. I had transferred more money into my wallet, but it took over a week to get deposited. Mark (my referrer) advised me to wait until my larger money deposited and move to the Gold plan because all his referrals were Gold and it pays a better rate of return. First red flag. Why would one not continue to invest small amounts making small profit while waiting. That made no sense to me. All during this time Mark is telling me how he has invested even more and is making all this money. He sent more photos of his dashboard.
Once the money was deposited into my wallet I deposited $2000, the minimum you could deposit at the Gold Miner. This is where everything changed, and nothing happened as it had before.
I was messaging with Mark on the day I was to be paid from my $2,000 deposit. He mentioned that he made even more money because mining was extra good last night, and they were paying out a bonus. He said he had to send them taxes on the bonus before he got paid. This was odd as I had specifically asked him about taxes when I first started talking to him. I never would have thought that such scams operate in a similar way to Forex scams.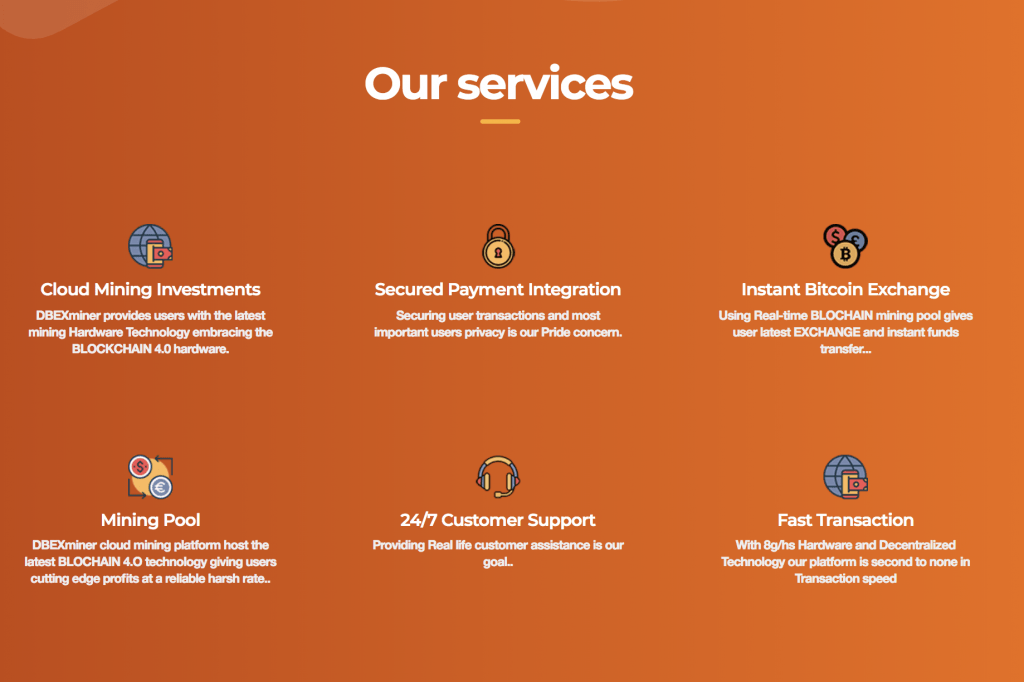 Dbexminer.com customer support scams
Since I hadn't been paid like I had before he told me to contact admin. Keep in mind the only way to contact these people is via chat on their website. Another red flag for DBEX Miner scam. I contact them and sure enough they said they made extra profit and I was getting a bonus. They told me I had to send them payment for taxes and then my funds will be released. When I asked how much they said I needed to send $2400 for taxes. I said no way. I told them just to keep the bonus and pay me the regular that was due me. They would not do that and insisted I send the $2,400. Mark, the referrer, said just pay it and your funds will be released. He was 100% sure as he had to do the same thing and was paid. I refused for days to do this. Mark kept saying I was the only one causing so many problems. Everyone one else just did what they were told, and they were all making money. I finally made the $2,400 payment only to be told I had to send it to a special address not the normal one where the deposits had gone. Now my $2400 was in the mining part again I was told.
They assured me as soon as I sent in the $2,400 my funds would be released. I send another $2400 to the correct address and was assured I would get my funds after 3 hours. 3 hours past and still nothing. I contacted them again via the web chat. Now I'm told there was an issue with the S9 Antminer and that in order for my funds to be released I had to upgrade my membership and send in $3,000 to do that and you guessed it my funds would be released. I thought Gold was the top plan according to their web site. I again and said I would not pay it. At this point I was livid. I created a web site that told my story and said this was scam company. I also filled out a report on Ripoff Report stating they were a scam. I was going to put the information out any where I could that they were a scam. I let my referrer know what I was doing. I thought it might force them to give me my money back.
The owner of the dbexminer scam
After fighting with the people in the web chat of the DBEXMiner.com I told them I wanted to talk to the owner. I was given a phone number and told to go to WhatsApp to talk to the owner there. He tried to play nice and worked to get me to take down the negative scam comments I had done. I did not immediately do that. He assured me that if I would do the $3,000 upgrade my funds would be released. I waited days again before doing that. I finally sent in the $3,000. The owner tried to say they didn't get it when I had evidence from blockchain that it did. I fought with the "owner" over this and he finally said it arrived, but he still wouldn't release my funds. At this point I thought he was withholding my funds as ransom until he could get me to remove the negative publicity I had done to the company. He said I had to fix all the negative things I did in order to get my funds and he would send them in 2 weeks and promised to send even more since he had held up my money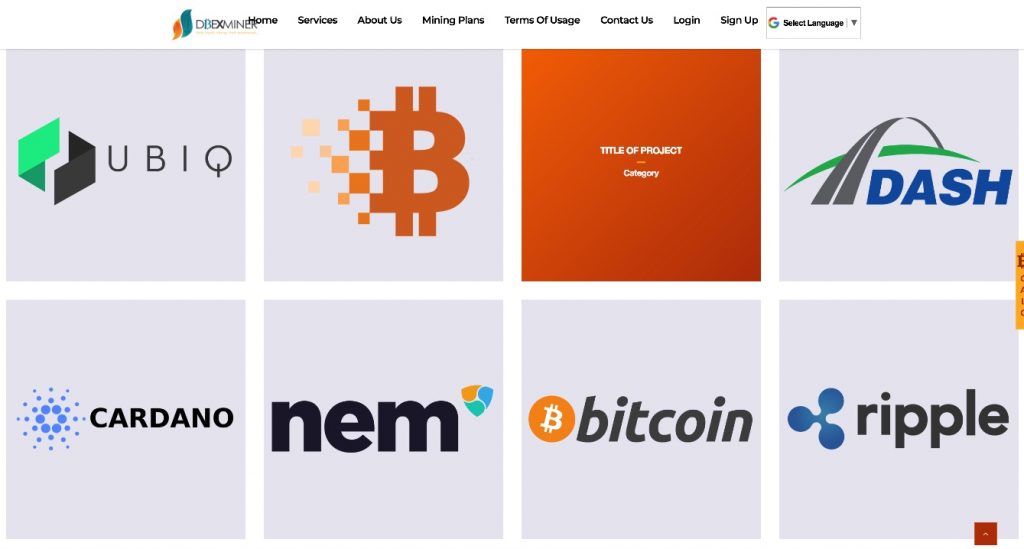 I forwarded the web site to another site that just said under construction. I could not remove my statement from rippedoff.com so he told me to respond with a new statement saying they were legitimate and that I had been paid.
He kept saying he would release on the fund on Wednesday, October 3, 2018. When that day came he set up a blockchain wallet account and then had me give him all the information for it, so he could get in and deposit the money. Another red flag. You should NEVER give anyone your wallet information, but I gave it to him as there was nothing in there. And here we go again. He said I needed to upgrade my wallet as the amount he was trying to deposit was too much and he couldn't do it. I needed to upgrade my wallet. He then said I needed to put $2,000 in the wallet. I checked with Blockchain.com, there is no requirement to have any amount in your wallet to receive any amount into it. Another lie. I also know he has access to just go in and take anything I put into it, so I said no. If it wasn't apparent before it most definitely is apparent now that this is a total scam with them trying to get as much money as they can out of you.
DBEXMiner.com scam conclusion
During this time Mark, the referrer of the DBEXMiner scams keeps stating to just do what they ask and he's 100% sure they will release the funds. I decided to finally test him on what he was saying. I messaged him the following on Instagram:
I have a proposition for you. If you are 100% certain this is not s scam and I will get paid out here is the wallet address and password for what he gave me to send the $2000.
(Provided wallet ID and password here)
Put your money where your mouth is and let's see if you're right. If you are you have nothing to lose. I'll give you $2,000 back. If you're wrong you lose the $2,000, which is like $2.00 to you, if you're making what you say you are.
Talk is cheap and so far, you've been wrong 100% of the time. Put your money where your mouth is! Let's see?
His response as follows:
…and I still get paid? Including all my referrals except you?
You should probably give it a rethink
My take is that he is in on the whole thing. To me this just proved it.
As a side note there is another site I was told about and looked at which is diosminer.com. Very similar to dbexminer.com. They run the exact same way.
Bottom line don't invest in any of these scams that look or sound like DBEXMiner.com scam. You will lose your money. Also, beware of all the people on Instagram trying to get you to invest with them.