Yearly lows on Bitcoin, well, how about that? We anticipated that in our previous pieces and we warned our readers about the negative sentiment on this instrument. If You listened, great. If not…well, time to take our analysis seriously. For example, the last one, from the 11th of October, when we wrote this:
"Outcome is the same though – a drop. With today's candle, there should be no discussion. That sets the general consensus as the bearish one and sets the aim on the long-term yellow horizontal support. Price getting there will be a moment of truth for the BTC Hodlers and I tell you…better for the cryptomaniacs that this level will hold! "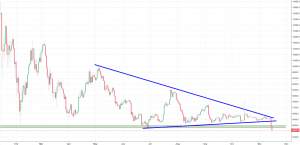 That support from the previous analysis was the area around the 6000 USD. That was attacked yesterday and definitively broken today. Oh boy, BTC is in a big trouble right now. Potential target is much lower, our eyes go as low as on the levels around the 3000 USD. Watch out for the false breakout though! I bet that there are many knife catchers out there, who were just waiting for new yearly lows. A small upswing is more or less expected but it should not break the upper blue line, at least of we want to keep the sell signal alive.