Elon Musk, the World famous CEO of SpaceX and Tesla discussed cryptocurrencies on the latest episode of Ark Invest's podcast FYI hosted by Cathie Wood. Most of the 30-minute interview consisted of discussing Tesla, it's future and automation processes. Musk said that the company would have the technology to make their cars fully functioning without drivers by the end of the year. However, Elon Musk's conversation with the financial advisory and investment company touched on a wide number of topics, including crypto. When asked if there was a possibility of Tesla investing in cryptocurrency, the CEO denied it. Musk said he didn't think it was the way to go for the company, and that they had other plans for Tesla. While the investor may not have plans to involve Tesla in crypto related endeavours, he mentioned that a number of his friends were boldly involved with cryptocurrencies.
"I'm not sure if it would be a good use of Tesla resources to get involved in crypto. We're just really trying to accelerate the advance of sustainable energy."
Future of cryptocurrency
The visionary CEO shared his thoughts about the future of cryptocurrency and blockchain. Musk agreed with the opinion expressed by the show's hosts that crypto had the potential to revolutionize financial transactions around the World and in Africa specifically. Hosts then elaborated on this statement by saying that business-to-business transactions in Africa were prohibitively expensive. The reason for that being the difficulty of exchanging one African currency to another.
Musk shared more of his thoughts on cryptocurrency. He praised Bitcoin as "brilliant" and complimented Ethereum as well.  The South African born businessman mentioned that crypto bypasses currency controls and is well on its way to succeeding in replacing traditional currencies around the World. However, he also touched on some of the negatives, highlighting that creating incremental Bitcoins was already very energy consuming at this point in time. Musk also mentioned that certain constraints need to exist around crypto. All in all, Musk views crypto as a potentially revolutionary invention that has its pros and cons.
"Paper money is going away, and crypto is a far better way to transfer value than pieces of paper, that's for sure."
Elon Musk's history with crypto
Musk has had the Internet excited about his link to Bitcoin before. Twitter has become a major discussion and influence platform on Forex and cryptocurrency investment topics. Last year the website was busy speculating if Elon Musk was going to join the Cryptocurrency epidemic. This happened after October 23 saw Musk tweet a picture that had his account temporarily suspended. He later explained that the whole thing was just a tongue-in-cheek joke.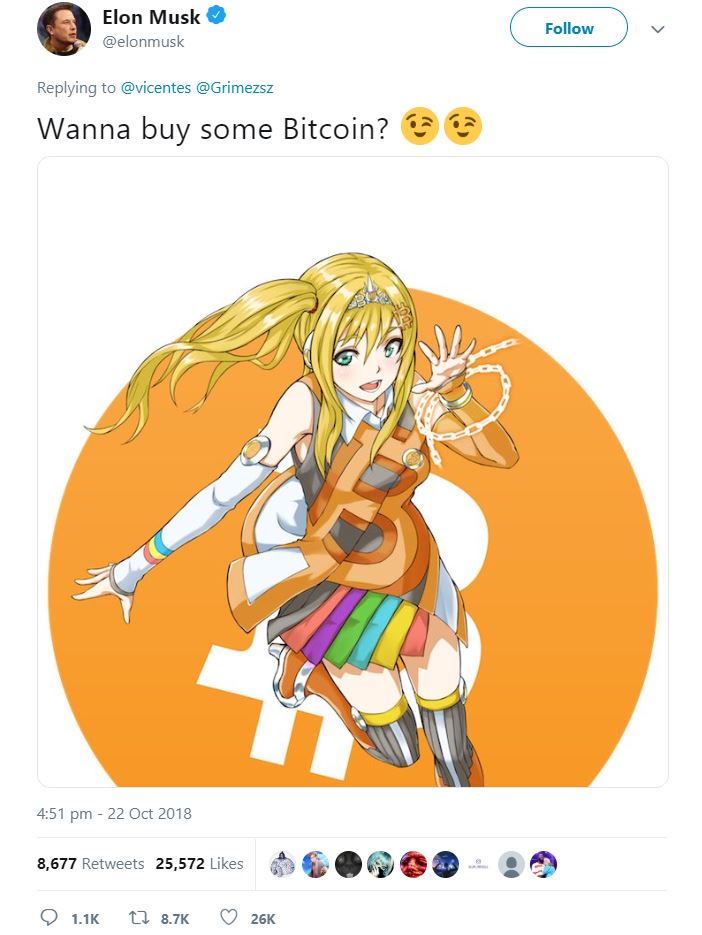 Elon Musk is also no stranger to controversies surrounding cryptocurrency. Last year's rise of Crypto related scams and frauds saw Tesla's CEO being impersonated by a number of scammers. The fake "crypto giveaway" schemes generated so much publicity, Musk had to comment on it. When asked about the reasons for all of this, The businessman responded:
"Not sure. I let @jack (Twitter CEO Jack Dorsey) know, but it's still going. I literally own zero cryptocurrency, apart from .25 BTC that a friend sent me many years ago."