Monday on the crypto market is mixed. Most of the coins are going up but the volatility is rather low and there is no momentum, so the direction can be changed fairly easy. One of the biggest gainers among the major cryptocurrencies is the Ethereum Classic, which is enjoying the 5% ride up north. Previously, this coin was mentioned on the 16th of August and our short term sentiment was positive. In the same time we were negative about the long-term future of this instrument.
"Another bullish factor here is the false breakout below the green support. Potential target for this correction is the lower line of the flag formation (red), which was present on the chart in June and July. Negative scenario in the long-term is actual, as long as the price stays below the yellow resistance. The short-term outlook is positive. "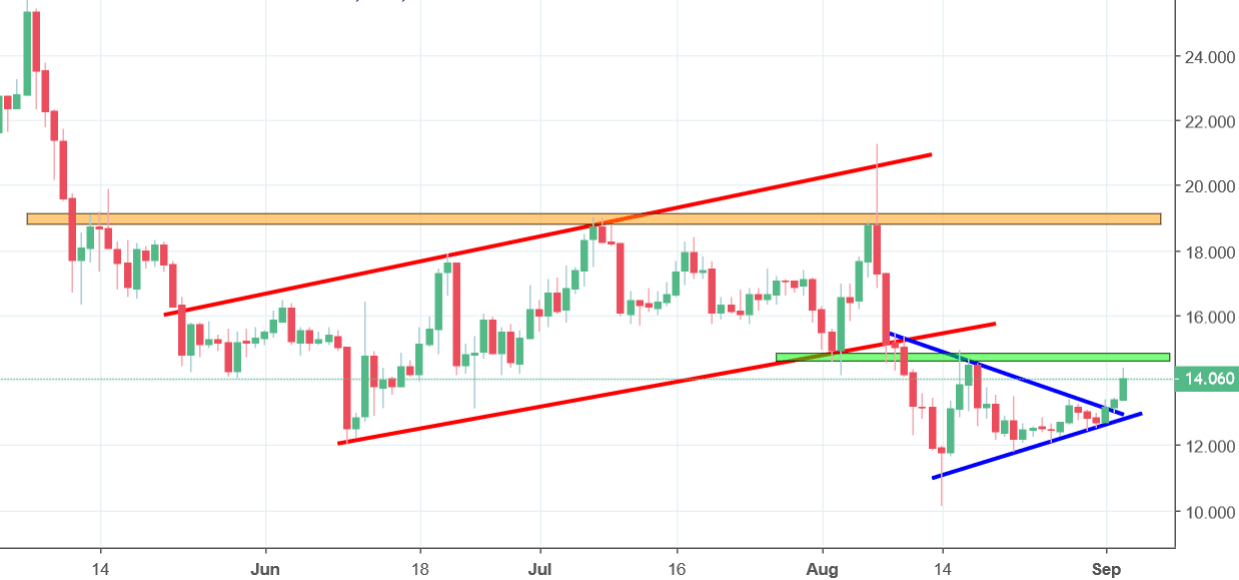 That was perfect, short-term signal was indeed positive. From 13.9 USD, in the next two days, the price managed to climb to the 15 USD. That was it, we met the green resistance there and the price went lower, forming the pennant pattern (blue). Last three days are positive, which helped to break the upper line of this formation. Quite unexpectedly as this formation is a trend continuation pattern and should result in the downswing. That does not change too much though. As long, as we stay below the green area, the sentiment is negative and we should experience a further drop.