Monday will start for us with the deeper look on the crypto market, where we will analyze 3 very interesting instruments. First one will be the Waves, which was previously mentioned on our portal on the 10th of July, when the price was on the 2.7 USD. Back in that day, we were bearish. The title of that analysis had it all: 'Target o the 2,4 USD' . This is how we concluded that analysis:
"Most recently, WAVES broke the short-term line connecting recent higher lows (red). That gives us a new sell signal and opens us a way towards the lows on the 2,4 USD (black). Sentiment is negative and the price should continue to decline. "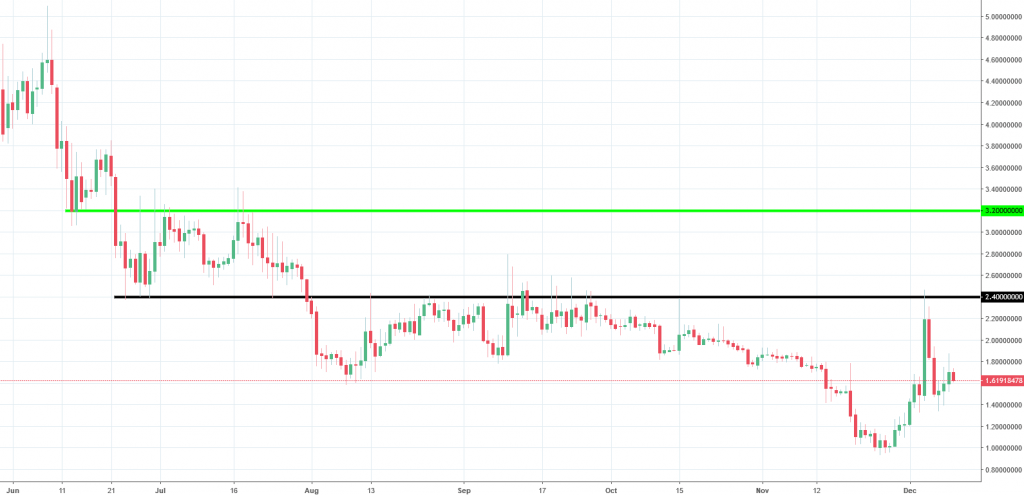 Indeed a great call, 2,4 USD was reached at the end of July. What is great here is that this line was broken and later, many times used as a crucial resistance. We can say that 2,4USD is definitely the most important price for this crypto in the history. Most recently, at the beginning of December, buyers tried a rapid reversal but they were defeated in no other place than 2,4 USD again! As for now we are on the 1.6 USD and the chances for a further drop are much greater than for an upswing. At least as long as we stay below the black line.