The Euro continues to decline. Yesterday the EUR/USD pair attempted to go higher after the release of weak data on retail sales in the US. However, by the end of the day, the rate fell from 1.1224 to 1.1165. European data showed that exports from 19 countries grew by 3.1% and imports by 6.0%, which led to a decrease in the trade balance. According to data released on Thursday, the EU trade surplus with the United States has decreased, but its deficit with China has increased.
Another reason for concerns about European parliamentary elections next week, while the US Dollar was supported by continuing trade tensions in the United States and China. Italian Deputy Prime Minister Matteo Salvini said that the rules of the European Union are detrimental to the country and he will change the rules that stifle Italy if his party gets good results in the elections. The US Dollar, on the other hand, won as a safe haven currency, even though the United States and China remain involved in a trade dispute.
EUR/USD technical analysis
The Euro struggled to clear the 1.2220 and 1.1225 resistance levels against the US Dollar. As a result, the EUR/USD pair declined recently and broke the 1.1200 support area to move into a bearish zone.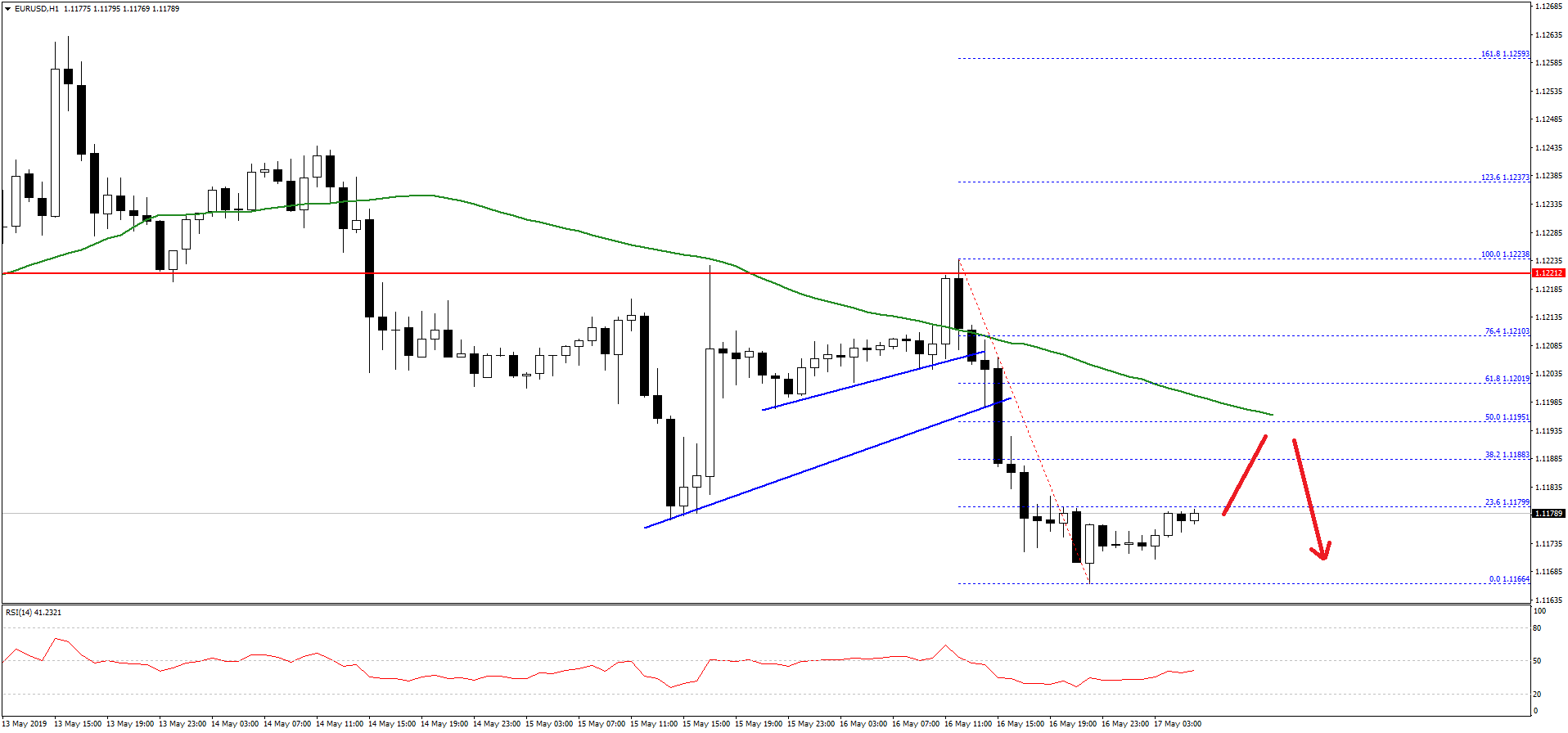 The pair even traded below the 1.1185 support level and settled below the 50 hourly simple moving average. It traded as low as 1.1166 and is currently correcting higher. An initial resistance is near 1.1180 and the 23.6% Fib retracement level of the drop from 1.2223 to 1.1166.
On the upside, there is a strong resistance forming near the 1.1195 level, the 50 hourly SMA, and the 50% Fib retracement level of the drop from 1.2223 to 1.1166.
Therefore, if the pair corrects higher, it is likely to find a strong resistance near the 1.1195 and 1.1200 levels. On the downside, the main supports are near the 1.1170 and 1.1150 levels.