The British Pound on Wednesday morning remains under pressure against the US dollar. A sharp strengthening of the US dollar last night counted against the Pound. In general, the entire Tuesday session turned out to be too volatile for the British currency. At first, the GBP rose on a ground of good statistics and neutral news on Brexit, but then sellers entered the market.
The US President Donald Trump said on Tuesday in his Twitter about the possibility of introducing new import duties on China, if the 90-day truce in the trade opposition is not used very effectively. Trump wants a "real" agreement and is sure that eventually, it will appear. This, however, does not prevent the political leader to excite the market with sharp statements.
The threat to intensify the "trade war" in the neutral period of negotiations scared the foreign exchange market, forcing investors to move away from risks in "safe" assets, and the US dollar in the first place. For the volatile pound, this was an additional reason for the "failure".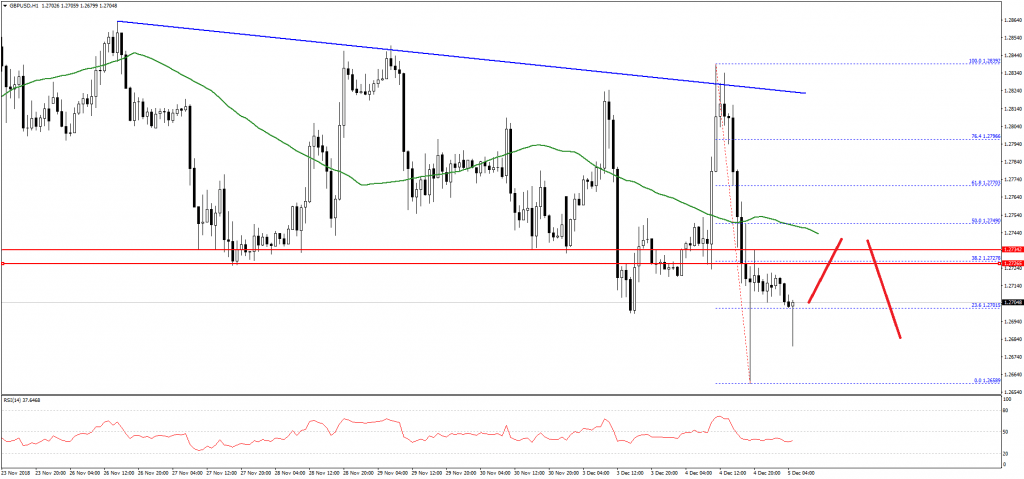 The British Pound failed to break the 1.2835-40 resistance zone recently and declined sharply against the US Dollar. The GBP/USD pair broke the 1.2770 and 1.2725 supports to enter a bearish zone.
The pair even traded below the 1.2700 level and the 50 hourly simple moving average. A low was formed near 1.2660 and later the pair bounced back above 1.2680 and 1.2690.
The pair is currently consolidating near the 1.2700 resistance area. On the upside, there is a major resistance formed near the 1.2735 level, the 50 hourly SMA, and the 38.2% fib retracement level of the last decline from the 1.2839 high to 1.2659 low.
Therefore, if the pair corrects higher from the current levels, it could face a strong resistance near the 1.2725, 1.2735 and 1.2740 levels in the near term.