Third instrument on Thursday is the currency pair – GBPCHF. Not a major one but still the one, which is perfectly showing us the current sentiment for the GBP, associated with the Brexit. Most recently, the climate around the Brexit negotiations is not good and that can be clearly seen on the charts. Especially, that the current drop allows us to create a very interesting and reliable bearish pattern.
This pattern is an evening star, which can be seen on the weekly chart (green). Evening star is bouncing from the orange resistance (important since July 2016) and from the 38,2% Fibonacci. Such a strong trading pattern, present on such important resistances can be perceived as a proper trading signal. Especially that we are talking here about the weekly chart.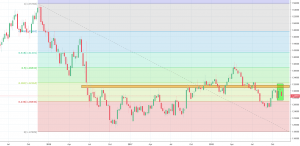 Our view is negative. Or will be negative if we will close this week somewhere close to current levels or lower. The sell signal, will be cancelled, when the price will come back above the orange area, which as for now, is less likely to happen.