The New Zealand Dollar dropped on Wednesday following the release of the U.S. Fed interest rate and monetary policy decisions. The Fed raised its benchmark rate 25-basis points as expected while lowering its median rate forecast to two hikes from three next year. However, the central bank also stated that the market saw as more aggressive than expected, in terms of future rate hikes, and this is what worried Kiwi investors.
What really gave a fright to NZD traders was that Fed Chairman Jerome Powell said the Fed was satisfied with its program to reduce the balance sheet and there is no plan to change it. Kiwi traders see that as another brick wall since the Fed is reducing the balance sheet by making fewer purchases as Treasury and mortgage securities it holds mature.
Kiwi traders were expecting for a very positive Fed and they were mistaken. While investors were looking for the Fed to take alter its monetary policy statement substantially, it left in the phase that it would see further gradual rate hikes.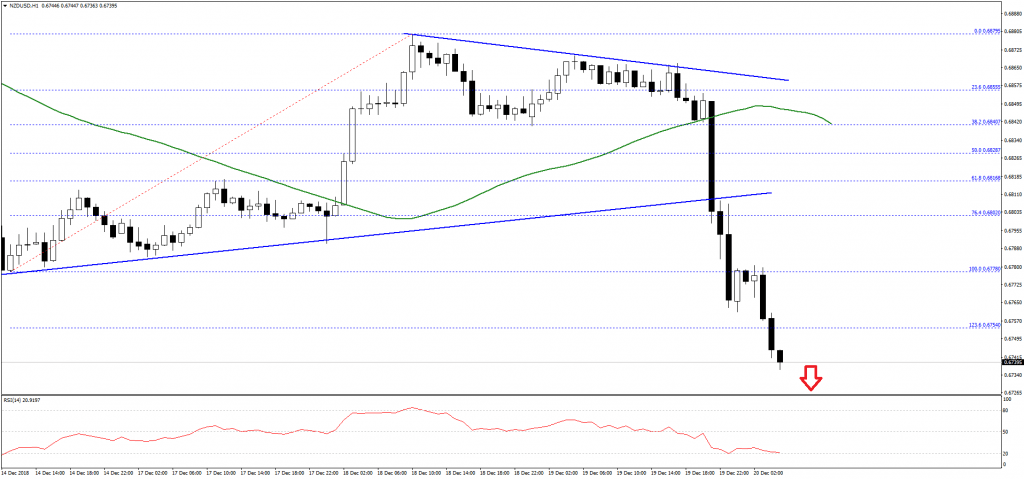 The New Zealand failed to move past the 0.6880-0.6900 resistance area and declined heavily against the US Dollar. The NZD/USD pair traded below the 0.6800 support level and settled below the 50 hourly simple moving average.
During the drop, there was a break below a major bullish trend line with support at 0.6815 on the hourly chart. The pair even broke the 1.236 Fib extension level of the last correction from the 0.6778 low to 0.6878 high.
The hourly chart suggests that the price is at a major risk of more losses below the 0.6740 support. The next stop could be the 0.6700 support or the 1.618 Fib extension level of the last correction.
On the other hand, if there is an upside correction, NZD/USD is likely to face sellers near the 0.6765 or 0.6780 resistance levels in the near term.