A full Analysis of the Equiity Forex broker – Detailed Review

Equiity Forex broker is a regulated company offering its clients a multitude of trading instruments in popular trading assets such as Forex pairs, indices, commodities, stocks, and cryptos. It has to be mentioned that all these assets are provided in the form of CFDs or contracts for differences.
Equity broker is registered and regulated in Mauritius by the local Financial Securities Commission and follows its rules and guidelines. While the FSC of Mauritius is not a strict regulatory body, the broker more than makes up for this as it has moderate leverage limits and several other security measures in place.
All clients are protected by segregated bank accounts, which prevent broker's employees from touching client funds. All trading accounts are protected by negative balance protection, ensuring clients can not lose more than their trading account.
Equity is also a member of the investor compensation fund, meaning eligible investors will get refunded if the broker suddenly becomes insolvent.
The company is also registered in Cyprus as a licensed payments provider, which increases its legitimacy as a serious business entity with offices in several countries.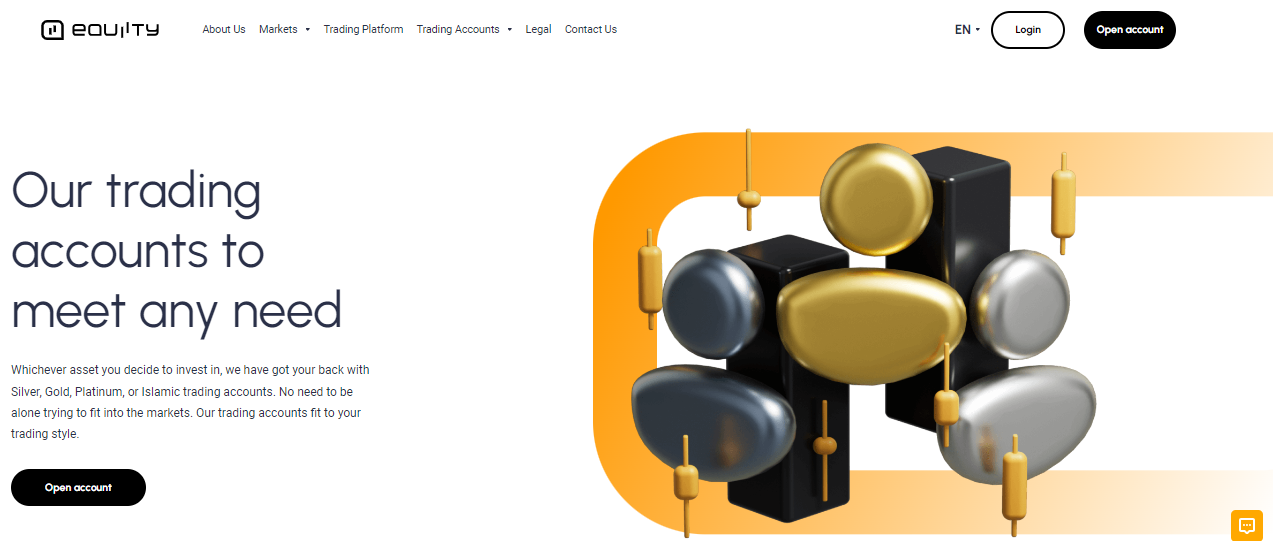 What is an Equiity broker?
Equity broker besides their regulations and security measures offers decent trading conditions with a multitude of tradable instruments. The trading costs are also acceptable and sometimes very attractive, especially for commodities trading, where some spreads on commodities such as crude oil are on par with Forex pairs. With these spreads, it is possible to trade commission-free and speculate markets using CFDs. CFDs from Equiity are flexible and offer instant execution speeds on all assets. The exact description of specific assets provided by the Equiity Forex broker is explained below.
Forex – There are plenty of currency pairs available for trading, starting with majors and ending with a multitude of exotics. In total, more than 50 pairs are provided with various spreads depending on the trading account selected. All are supported by responsive customer support 24/5 enabling traders to solve any issue at a moment's notice.
Stock CFDs – All popular stocks are available for competitive spreads including Amazon, Apple, Google, Facebook, Tesla, Netflix, BMW, and many more. With CFDs, it is possible to make many in both directions by instantly selling or buying the preferred stock within milliseconds.
Precious Metals – Precious metals are also known as hard commodities, but there is a reason why Equiity mentions them specifically. The leverage is 1:200 for metals, which is higher than other commodities.
Commodities – Besides precious metals, other commodities are also available for trading, including oil, which has one of the lowest spreads on the market. With the leverage of up to 1:50, it is possible to trade with greater flexibility and with a lower budget, as the minimum lot size starts from 0.01.
Equity Indices – Indices are a popular asset class, enabling traders to speculate on the performance of entire industries and sectors. With flexible leverage and minimum lot size similar to commodities indices, trading on Equiity is also very attractive and trade execution speeds are lightning fast because of CFDs.
Cryptocurrencies – Cryptos are gaining immense popularity lately, and Equiity also offers them in the form of CFDs. Crypto CFDs are much more flexible than their underlying counterparts as they allow instantaneous execution because of CFDs and offer traders with unique ability to profit from quick and violent movements for which crypto markets are known. The maximum leverage for cryptos is capped at 1:5 which is also higher than the industry average of 1:2 making it even more appealing on Equiity.
Equiity Demo Account
The Demo account is one of the important account types for both newbies and pros alike, Newbies use it to test and practice their trading skills and pros test their strategies. Equity offers a demo account for free and with more than enough virtual funds to test any trading approach traders may have.
The registration process is easy and traders can select their preferred account type.
Equiity Real Account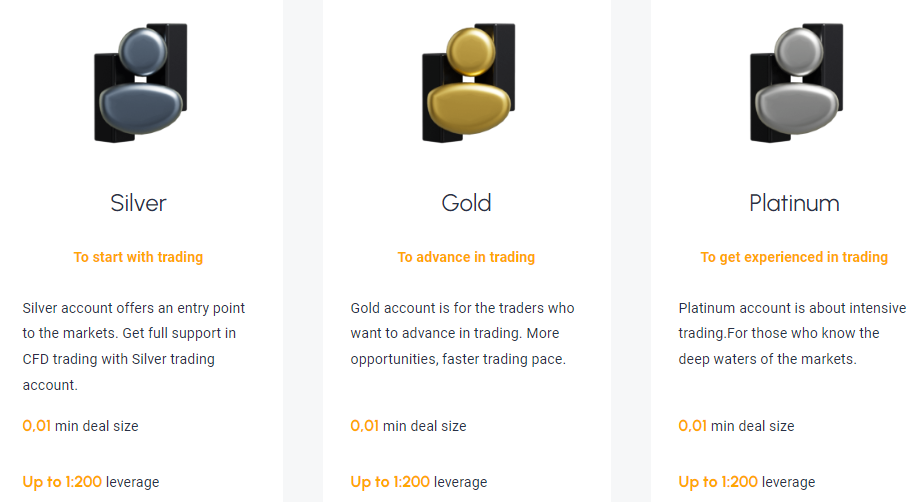 When it comes to live accounts, Equiity offers three trading accounts with increasingly appealing offers. The spreads are becoming lower as the trading account tier increases and there are also bonus services helping traders to always be ahead of the curve.
The minimum deposit starts from 250 USD or EUR depending on the trading account base currency which traders can select during registration. The minimum lot size is 0.01 lots for all trading accounts, and the leverage system is very reasonably defined. Maximum leverage for Forex pairs and precious metals is defined at 1:200, for commodities other than metals and indices it is at 1:50, for stock CFDs the maximum leverage is capped at 1:10, and finally, cryptos can be traded at 1:5.
Over 350 instruments can be traded on all accounts.
Silver Account – is an entry-level account offering all the basic features needed for trading. Spreads are a bit expensive, but there are no commissions or hidden fees charged on trading volume.
Spreads on major pairs of EURUSD, GBPUSD, and USDJPY start from 2.6 pips. The same spreads are offered on Crude Oil, and gold can be traded with 7.4 pips. For gold trading, other trading accounts offer lower spreads, but for oil silver is sufficient.
Hedging is allowed and dedicated support is available for all silver account holders.
Gold Account – The account comes with much more services including dedicated support, a dedicated account manager, webinars & video tutorials, 25% swap discounts, and hedging.
Spreads are also lower for all gold accounts. Major currency pairs and Crude Oil start from 2 pips, minors from 2.8 pips, and gold from 5.6 pips.
Platinum Account – The best spreads and most services can be enjoyed on the platinum accounts. Major pairs and crude oil start from 1.4 pips, minors from 1.8 pips, and gold can be traded from 3.8 pips. For gold traders, the platinum account offers a value that can not be underestimated.
As for services together with a dedicated account manager, dedicated support, webinars, video tutorials, and hedging, traders can enjoy up to 50% discount on swaps and the News Alert feature.
Equiity Sign up
The registration process is straightforward on the Equiity website. Traders need to enter basic personal information including the phone number, country of origin, email address, and name. Users must also agree they are more than 18 years of age.
The verification process is also a must in this case, to be able to freely withdraw profits from the trading account. It takes 1 hour usually for the account to get verified after the required documents are provided. These documents include proof of address and proof of identity.
What is the minimum deposit for Equiity?
The smallest amount of money possible to deposit in the trading account is 250 USD or EUR for Equiity clients. This is a moderate trading budget from the Forex trading perspective, but pretty small if a trader plans to make a living out of trading.
Deposits and withdrawals can be made through several payment methods. Visa, MasterCard, Skrill, and Neteller can be used for both deposits and withdrawals. There are no cryptos supported at this moment, but both electronic payment methods are known for their speeds.
How long does it take to withdraw from Equiity?
Withdrawals using bank cards will take between 1-2 working days, while the online methods will require up to 12 hours. Since verification is required for withdrawals, it is better to get verified during the account setup process to ensure there are no issues.
Equiity Indicators and Tools
There are no additional tools and indicators provided by the broker. But the trading platform comes with several useful built-in indicators and with modern design it can be used to analyze markets.
Equiity Additional Features
Additional services are provided depending on the trading account. In this regard, the gold account offers a middle ground between silver and platinum accounts. Services accessible to Equiity clients include News Alerts, a dedicated account manager, dedicated support, webinars, and videos to name a few.
Additionally, there are discounts on swap rates for gold and platinum account holders.
Equiity Mobile Integration
The trading platform offered by Equiityt is a proprietary customer web-based platform that can be accessed from all devices. As a result, it's a mobile-friendly platform but is not available to directly download on a mobile device. Rather, traders can access it through mobile browsers.
Equiity Education and Training Resources
Educational videos and webinars are only accessible through the gold and platinum accounts and are not freely available to the general audience. Webinars are among the best educational materials available as they allow beginners to ask questions and get answers from experienced lecturers, while videos will show how to do certain things.
Jurisdiction, Languages, and Countries
Equiity covers the world with its phone support network. The countries include UAE, Switzerland, Bahrain, Qatar, Saudi Arabia, Kuwait, and Oman. The support is available 24/5 in three languages: English, German, and Arabic.
Support channels include hotline support, live chat, email support, and an online form to send a message to the broker. Live chat and hotline are the fastest and most convenient ways of connecting with the broker representatives directly.
Equity is not available in the USA, Canada, North Korea, Iran, Iraq, and similar countries.