Recently we have taken a look at TechFinancials financial results and it does seem like the company adapts to the current regulations by substituting its binary services with the crypto. Considering that TechFinancials used to be one of the largest software providers for the binary trading industry, and the possible ban on the binary options could easily wipe out its business, the changes obviously had to be made.
Next to providing a vast number of binary options companies with the software, TechFinancials used to operate a CySEC regulated brokerage Optionfair. However, TechFinancials had to give it license back as it became nearly impossible to operate in the binary industry.
Is it all about binaries?
No, not really. TechFinancials was also operating a Liquidity Provider called MarketFinancials. However, considering that it had quite a few unregulated clients in its portfolio, the client count of MarketFinancials has drastically declined due to the recent regulatory updates within the retail FX sector as it was no longer able to support the needs of its Forex brokers clients. This is why TechFinancial was looking into selling its LP business, yet the potential buyer could not proceed with the transaction as it hasn't been granted the CySEC regulation.
Is there a light at the end of the tunnel?
Considering that TechFinancials has lost a large share of its business, the things were not looking positive for the company.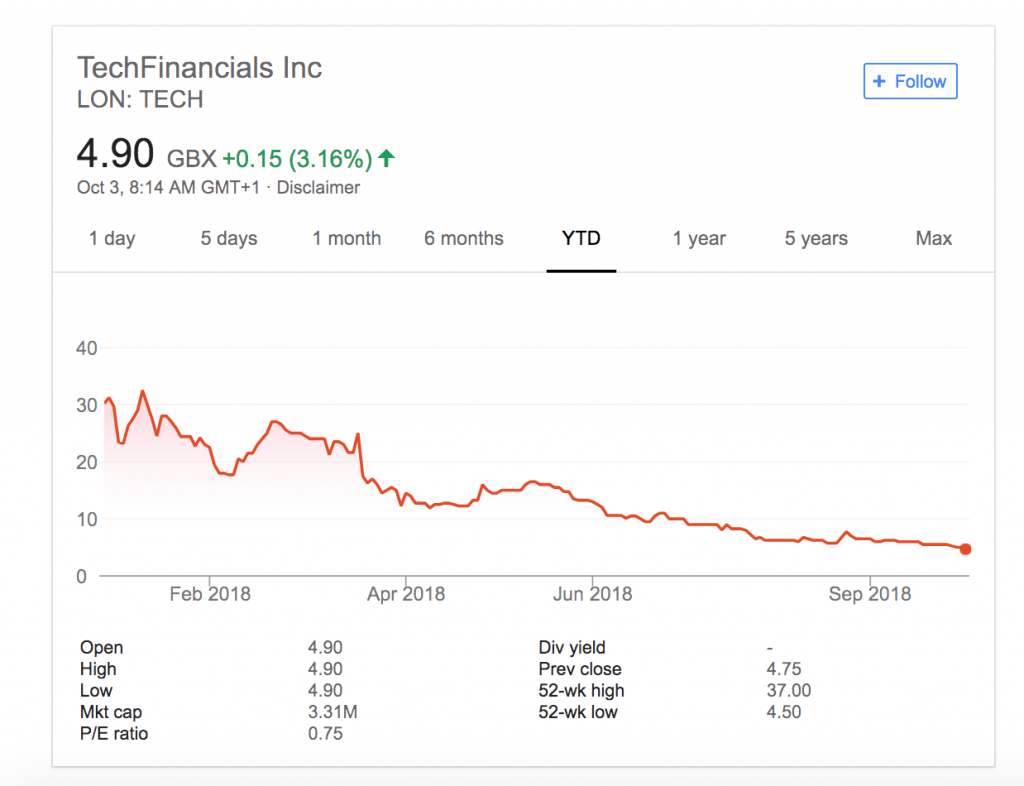 This was certainly reflected at the company's stock price – it had decreased from around 30 GBX per share to about 5 GBX. Yet it might be just the right to get some of the TechFinancils shares in your portfolio – things seem to be getting better.
According to the company's financial result for the first half of 2018, it has established a new steam of revenues. And yes, it comes from the crypto and blockchain services. TechFinancilas has invested heavily in its R&D in the crypto space during 2017, and it does seem like this efforts are paying out. The first quarters of the year 2018 have seen the revenue of $3.78 million, and $1.23 million came from a single source – an online diamond trading company called CEDEX. TechFinancials owns 2% of the company, with a possible option to acquire of up to 90%.
Financial results summary
Even though the company was able to achieve $3.78 million in revenues, it is still in the red with an operating loss of $850,000. Considering that its YtoY revenues are 46% lower, it certainly does not look optimistic. However, considering that the company incurred heavy R&D expenditure last year and that CEDEX is already believed to be valued at almost $10 million, it does seem like the things for TechFinancials are improving.