Forex brokers always strive towards making their platform as attractive to the clients as possible. This includes offering lucrative leverage ratios and spreads, convenient and secure payment platforms, and streamlined trading software.
But this also includes having various bonus promotions that work for enriching the trading experience. They say you shouldn't be critical about the gift you receive but with Forex broker promotions, we still need to make sure everything clicks in nicely.
This is the reason why we're making this Atirox Welcome Bonus review today. In this review, we'll take a look at the main conditions for getting the bonus, as well as what it really offers and how you can use it in your trading endeavors.
What do you get with the Atirox Welcome Bonus?
The first thing to note here is that Atirox doesn't offer only this bonus to its clients; there are various promotions, as well as trading contests that give traders additional trading funds. With this Welcome Bonus, here's what Atirox clients are getting: a $60 bonus once you fund your account.
But when we actually examined the conditions for getting the Atirox Welcome Bonus, there were quite a few uncertain terms and requirements. For example, while the name of the bonus implies that it should apply to the new clients of Atirox, the broker claims that the promo actually works for all users, both new and existing.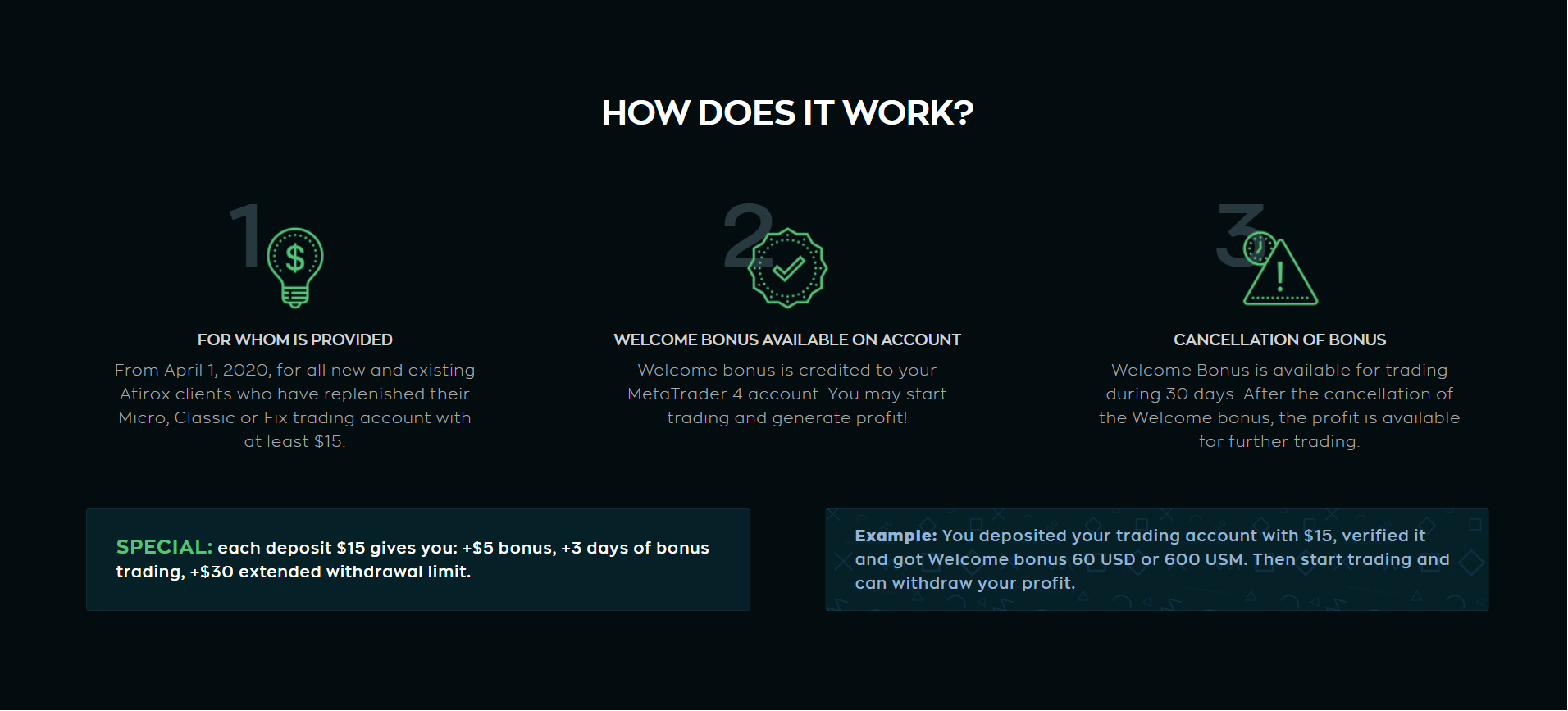 But that's the least misleading aspect we found about this bonus. When it comes to actually getting the bonus, an Atirox client has to fund their Micro, Classic or Fix trading account with at least $15. After that, you would think you'd get a $60 bonus, right? Wrong, that's not how this promotion works apparently.
When you replenish your trading account with $15, you're only getting a +$5 bonus, +3 days of using those bonus funds in trading, and +$30 of an additional limit to your bonus payout withdrawals. According to these conditions, in order to get a full $60 promo reward, you need to deposit $180 to your Atirox account, which is far more than what the broker claims. We've certainly seen far better bonuses offered by Forex brokers such as XM and many more and the Atirox Welcome Bonus is hardly one of them.
Using Welcome Bonus funds in real life
Moving on, let's talk about how you can use the money you received under the Atirox Welcome Bonus. Unfortunately, we're getting in another dead end here: unlike other brokers, Atirox doesn't allow you to immediately withdraw that $60 you got from the bonus. In fact, you cannot withdraw that money at all.
The only way you can use it is in trading and the only way you can withdraw bonus funds is through generated payouts. But there's another caveat here: you cannot withdraw even those profits before the 30-day limit is expired. Besides, the maximum withdrawable amount is capped at just $120.
Is Atirox Welcome Bonus any good?
As we noted earlier, one shouldn't be critical about the received gift, however, the gift should at least be usable at some level. With regards to the Atirox Welcome Bonus, we can hardly say that. The conditions of getting and using the bonus are blurry and even the withdrawal limits are really shallow. Therefore, we're not impressed with the Atirox Welcome Bonus.