The dollar's rally of recent weeks reversed Friday amid profit-taking by investors. The greenback also opened week on Monday, although many markets remaining shut for Christmas holidays.
On Friday, the dollar edged with the ICE Dollar Index that compares the U.S. currency against six rivals falling 0.1% to 103. The greenback mainly lost ground against the euro and yen on that day.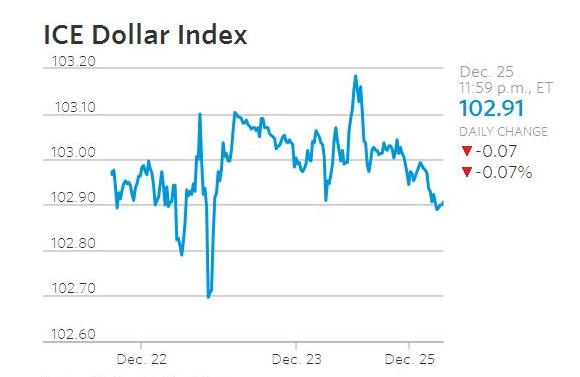 The dollar has been seen sliding against euro and yen as investors take profits.
Source: WSJ.
The dollar was also under pressure from euro and yen on Monday. The USDJPY was last seen down 0.25% at 117.05, while EURUSD was almost steady at 1.0451.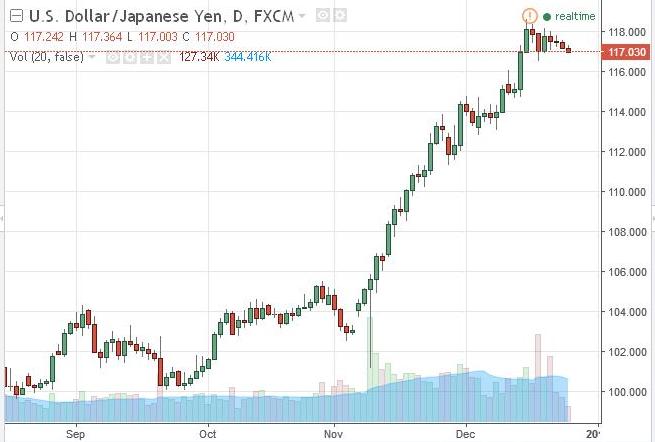 USDJPY has been sliding amid profit-taking in the currency market after dollar recently touched record highs.
Source: Tradingview.
Soaring demand for U.S. assets
The dollar recently hit a 14-year-high as soaring yields on U.S. bonds triggered new capital inflow into the U.S., causing dollar shortage oversees and lifting the price of the currency.  The yields on the 10-year U.S. government bond have recently hit new peaks. The rising yields and surging dollar have been linked to investors betting on fiscal stimulus under the Trump presidency.
The US President-elect Donald Trump promised during the campaigns that he would expand government spending on infrastructure development as part of his economic stimulus. The markets anticipate such fiscal expansion would lead to inflation, causing the Federal Reserve to increase interest rates more frequently. Higher interest rates boost returns for investors in yield-bearing assets such as bonds. That explains why investors hoping to profit from Trump's expanded government spending have been moving to invest in U.S. yield assets in advance, driving demand for the dollar and causing the currency to surge since Trump won the White House early last month.
Record capital outflow from Europe
The jostling for U.S. assets has left many foreign markets, especially China and European economies, grappling with massive capital outflow. It recently emerged that investors have this year pulled a record amount of investment from Eurozone assets than they have done any other time in the past.
As dollar rallied on hopes for economic prosperity in the U.S., investors who got into dollar investment early and believe their investments have appreciated can be seen moving book profits. That has resulted in the dollar pulling back on Friday and the continued weakness in the currency seen during Asian trading Monday.
Questions begin to rise over Trump keeping his stimulus promise
Some analysts have also pointed to the dollar drawdown as caused by investors beginning to question Trump's ability to keep his fiscal stimulus promise. The concern is that fiscal conservative lawmakers could block Trump's aggressive fiscal policies, making it difficult for the administration to increase spending on infrastructure as it may have wanted.
If it proves difficult for Trump to get Congress to pass a large infrastructure budget, analysts say the dollar and yields on U.S. bonds could crash. As such, the existence of this risk has caused some investors to try to reduce their exposure to the greenback as Trump nears inauguration.
Trump's feud with Beijing is also causing risk-averse investors to rebalance their dollar portfolios given that China is a crucial market for many U.S. multinationals, especially technology giants like Apple (AAPL) and Intel (INTC). Trump has not only criticized China's yuan manipulation practice, but also rattled authorities in Beijing when he broke established diplomatic protocol and spoke directly with Taiwan's president. China considers Taiwan a territory, not a republic.