Being an attractive broker means not only having the best trading platform on the market but also to offer your clients exciting promotions every once in a while. This ensures that while traders enjoy the platform for regular endeavors, they're also bound to it by new bonuses and rewards.
XM is a broker that manages to tick both of these boxes. On the one hand, it's a brokerage that offers some of the most lucrative trading terms and conditions anyone can get. On the other hand, it also offers promotions that make regular trading so much better.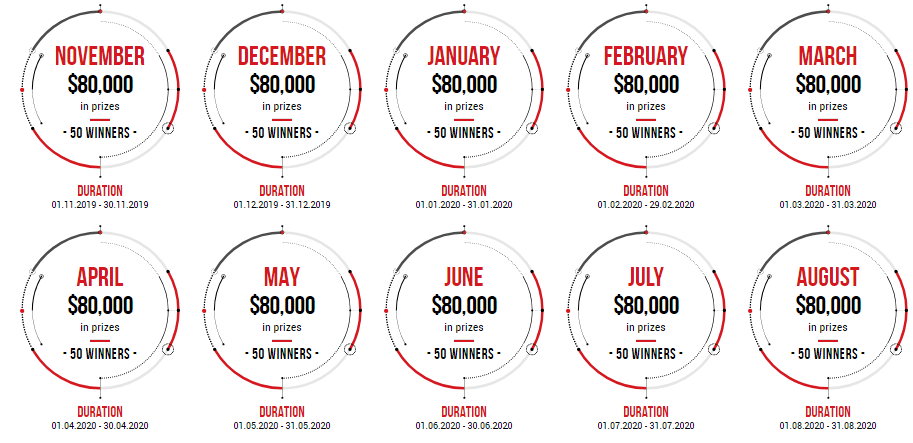 One such promotion jam-packed with hefty prizes is XM's 10th anniversary bonus. That's right, XM has turned 10 years old in 2019 and to make this date as special as possible, the broker decided to throw an exciting bonus party.
What will you get in this bonus?
Are you interested already? Good, because the things we're going to talk about will draw you in even more. The total prize pool of the bonus is a mind-staggering 1,000,000 US dollar! That's right: 500 lucky winners will be able to share this sum with one another.
The 10th anniversary bonus is separated into two sections: the regular (as if something about it is regular) promo and grand gala. The regular bonus has a prize pool of $800,000, which will eventually be split between 500 users.
Yet the promotion isn't one singular event; it is stretched to ten months from November 2019 all the way to August 2020. Every month, 50 people have a chance of getting at least 500 bucks, whereas the first prize is $10,000 with the total prize pool of 80,00o US dollars. And that happens every single month. At the time of writing this review, four sub-promotions are already over, leaving six more to go.
Enroll in the XM 10th anniversary promo now!
But we also have the second, more elite promotion – grand gala. The grand gala has a prize pool of $200,000 and will ultimately be split between just 10 lucky users. The first place offers either a luxury car or $100,000 on the real trading account on XM; the second and third places – a slightly less-luxurious car or $30,000 on the account. The list goes on until the last two places with a $2,500 prize.
How to sign up for the bonus?
Signing up for the 10th anniversary promotion is as easy as it can get. If you follow this link, you'll be redirected straight to the broker's promotion page. From there, if you're not an XM user, you'll have to first create your account and then enroll for the bonus. This is most definitely not a difficult task: you only need to enter your phone number and email address to create an account.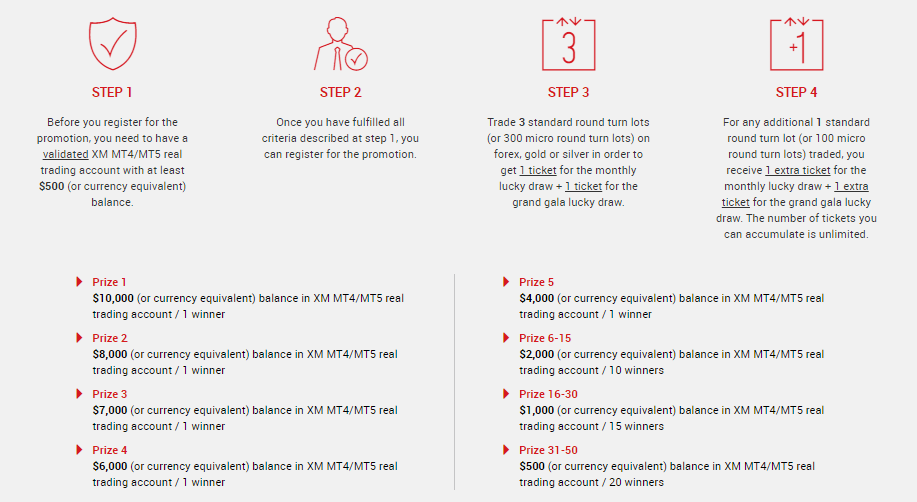 The next step is to fund your account with at least 500 US dollars (or other equivalent currency). After that, you need to make at least three round turn lots (100,000 currency units) or 300 micro-lots (1,000 currency units). This will give you one regular and one grand gala ticket. The more tickets you have, the higher your chances of winning a better prize.
So, after you've completed everything, you're pretty much good to go and ready to win some exciting rewards!