Best performing commodities of 2017 and their forecasts for 2018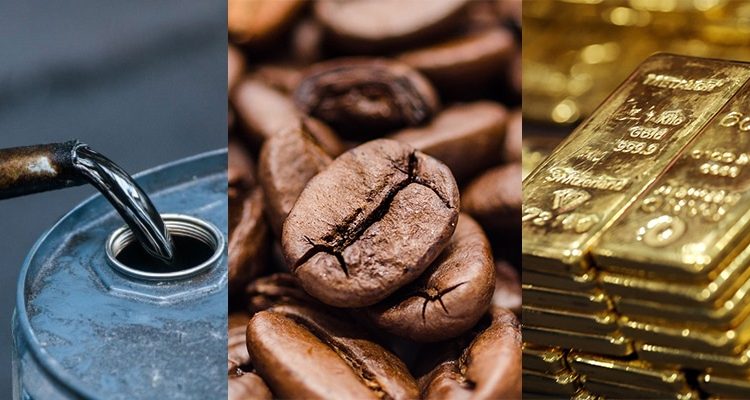 There may have been too much attention put on cryptocurrencies, that we forgot to mention some significant growth in the commodities market. Here, too, we have seen double-digit growth rates, but only among a few well-performing commodities. Generally, though, the commodities market has been on a downtrend, especially in the first half of the year. Nevertheless, it's more important to focus on these 3 best-performing commodities and how they will fare in 2018.

Gold
Given the current strength of the US stock market, it may be a bit surprising that gold too has managed to keep up and even beat the former. From the start of the year, gold has seen a 9.7% rise in value from $1,151 to the current market price of $1,263 per ounce. In fact, it had even reached $1,350 in September, which would have been a 17% gain. Meanwhile, the S&P index has also had a 17% gain at today's market prices.
Several strategists have attributed the simultaneous rise of gold and stocks to market uncertainty. The rise in the stock market may be because of a strong US economy, but tensions on the political front have kept gold afloat. Investors are hedging risk, using gold while still taking advantage of the stock rally. Today, there are fears that the stock market may go on a correction due to uncertainty in politics, and that could be good news for gold.
However, for 2018, the experts are urging investors to buy more gold due to political instability. In this case, we can expect gold to keep rising in 2018, at least for the first half, and maintain its status among the best performing commodities.

Palladium
Whereas gold may be on the up-and-up, palladium has had a romp in 2017. It is simply the at the top of the best-performing commodities list. Since the start of the year, an ounce of palladium has risen in value from about $680 and nearly doubled to $1,028. This rise of palladium has been attributed to both increasing demand and dwindling supply. A strong global economy has led to more demand for palladium, especially in the auto industry where the commodity is used to turn pollutants to less harmful emissions. Meanwhile, global mining investment has reduced, leading to a deficit.
According to Johnson Matthey, an industry leader, the supply deficit is likely to widen even further in 2018 even as demand increases. Therefore, I expect that the value of palladium will keep rising all through 2018 unless there is a change in global economics.

Copper
After recording enormous growth through most of the year, copper is finally taking a hit on doubts of global economic growth. Since the start of the year, copper had seen a 30% growth up to a 3-year high. However, since the commodity is US dollar dominated, hopes of a tax reform bill going through have caused it to drop in value recently. In 2018, the value of copper may stabilize upon demand from China after the ban of scrap metals. The law will come into effect in 2018, and that may cause copper to resume its current uptrend.
By Martin
More content by Martin