Monday starts for us with the analysis of DAX. The new week started with a nice bullish gap. Which was obviously caused by an agreement made between Trump and Xi. Trade Wars eased, so the risk mode is ON. Thanks to this, stocks are higher and safe heaven assets lower (apart from Gold but we will cover that in another piece). Previously, we wrote about DAX on the 9th of November and we were bearish, saying this:
"Failure to break the neckline can be a signal to do the opposite – Sell. In my opinion, as long as we are below the pink resistance (long-term neckline, mentioned in the first paragraph), the sentiment is negative and we should see a further slide. "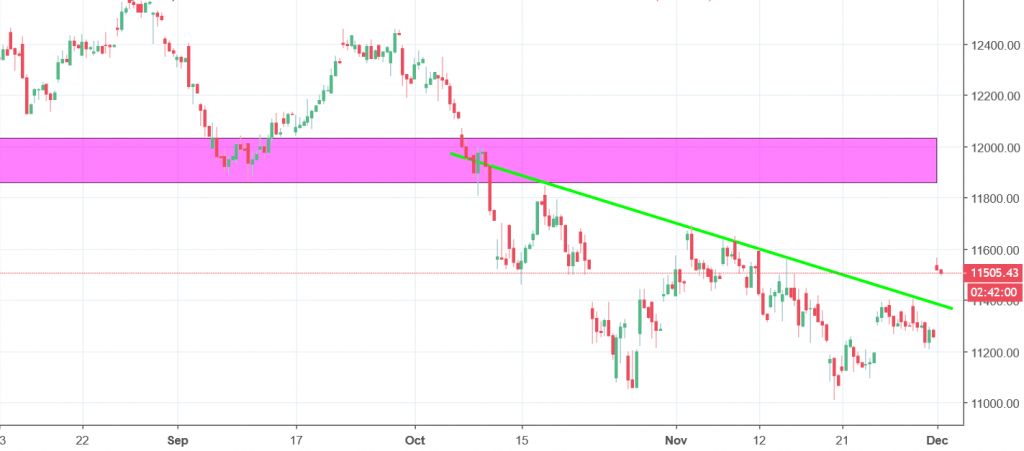 Despite the fact that today we are higher, that was a great call. The price was declining sharply, till the 20th of November, when the DAX established new long-term lows. After setting them, the price reversed and the chart drawn a triple bottom formation. Weekend gap came a little bit unexpected. In the meantime, the price broke the neckline of our new reversal formation (previously a neckline of the iH&S). That breakout is a signal to buy.
Do not forget that gaps love to be closed. Thanks to this, we expect a short-term drop aiming the daily close from Friday. After the gap will be closed, we should see a further upswing, at least that what an important principle of the price action is telling us.