OK,so over the weekend we had this US- China dinner and apparently it went much better than expected. It was longer, they had a family photo afterwards and some people heard an applaud, which apparently concluded this event. Fine, safe heaven assets went lower (CHF,JPY for example) and risky assets (stocks, EM currencies) went higher. In this environment, Gold, usually should go down. Not today. What is more, in the past few months, movements on gold are quite bizarre. At least to me. Gold seems disconnected from the usual correlations.
Previously, we analyzed this instrument on the 13th of November, when the price was slightly above the psychological barrier of 1200 USD/oz. Back in that day, we were bearish saying this:
"In overall, the price is now creating a flag (black), which is a trend continuation pattern, so according to this, we should continue the downswing. Another negative factor here is the strength of the USD. The breakout of the lower line of the flag will give us a fresh sell signal and this scenario is currently more likely to happen. "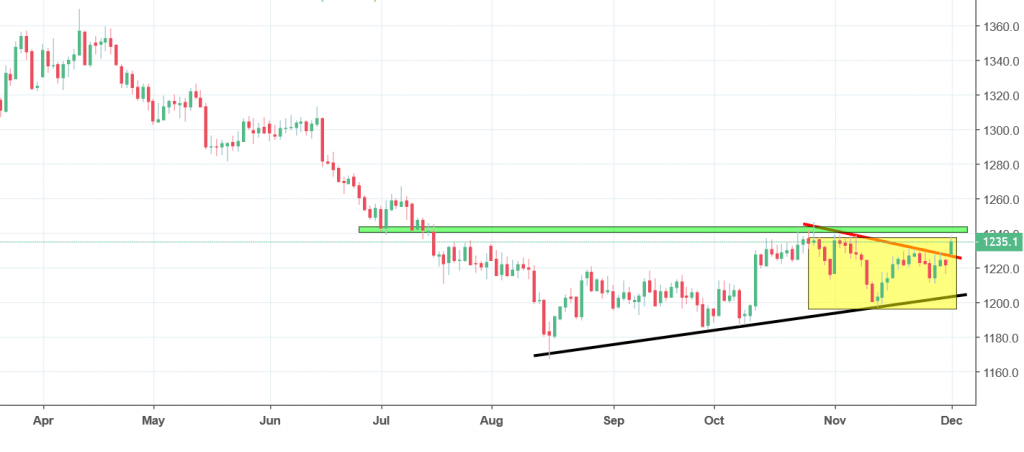 We were wrong. Actually maybe not. I said that the sell signal will be triggered, when the price will break the dynamic support. That did not happen, so there was no trading signal..Well, it was close. Instead of the breakout, we got a bounce. What we have now on the chart is the inverse head and shoulders formation (yellow). Interestingly, we already broke the neckline, which is a legitimate buy signal. Only in the short-term though. For the one in the long-term, we need to see the breakout of the green long-term resistance first. Price closing a day above, will be a proper signal to go long.