Last instrument in the technical part will be the Silver, which was previously analysed here on the 1st of November. Back in that day, we were obviously bearish cause that what the main trend was but in the same time, we saw a chance for a bullish correction:
"Current scenario says that we should test the orange area as a closest resistance and after this we should continue the decline. Chances for that are quite high especially with a strong USD. "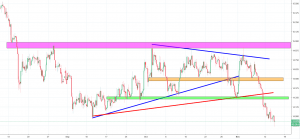 In general, the analysis was spot on. We saw an upswing first and then the price dropped, great. The thing is that the initial upswing was a little bit bigger than expected. Instead of stopping on the orange area, Silver went as high as to the upper line of the triangle. That was it though – the last test of the resistance with the definite rejection as an outcome. On the 9th of November, Silver managed to break the lower line of the triangle (red) and than the horizontal support on the 14.25 USD/oz (green). That allowed the price to set the new long-term lows. Silver is in a much worse situation than Gold. Here, the direction is already set. Gold is till fighting on the last support – lower line of the flag.