Time for a small update about the SP500, which was previously mentioned on our portal on the 15th of November. Back in that day, buyers tried to initiate a bullish reversal but we warned our traders that it is still to early to go long and the chances for that were rather limited. That was a great piece of work but look yourself:
"We have to mention that the price dropped below the long-term up trendline (green), which can be perceived as a negative factor. To sum up, the sell signal is on. Only hope here comes only from the fact that we can have an iH&S formation. 'Can have' is still far from a legitimate signal, so traders should not get too optimistic. "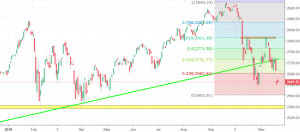 After those words were written, the price went lower. That decline canceled any local bullish sentiment and opened us a way towards new lows. We expected that not only in the most recent analysis but in the previous ones too. History just loves to repeat itself, so no surprise that in this case we follow the path from the beginning of the year. In my opinion, the scenario of the SP500 reaching the yellow horizontal support is still on the table.