Time to update the situation on Oil as yesterday's session was terrible (one of the worst recently), so we need to tell You what does it mean for the future price of the black gold. Before we will move there, let me show you our previous work about this commodity. It was written on the 13th of November and You can see that we were definitely bearish:
"After that tweet, the price went significantly down. Apart from the fact that we do have support, there are no other positive factors here. Stronger USD is also not helping. The long-term sell signal remains intact. "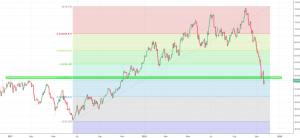 That support was 61.8% and indeed was respected but just for some time. Sellers literally destroyed that level yesterday and the price dropped like a rock. The green area was the last important support in the mid-term, so there is not much hope left here. Today, buyers try a reversal but chances for a bigger rise are limited, at least as long as we stay below the green area. With this kind of a price action, our eyes goes to the lows from June. Maybe we will even get there this year.