Usually we start with the analysis of the concurrency but this time, we will end in this way. On our radar we do have Ark, which at the beginning of the European session is almost 10% higher. That is pretty surprising if we consider the situation on the Bitcoin and on the crypto market in overall. Previously we mentioned this instrument on the 13th of July, when the price was around 1.24 USD. We were bearish and we were expecting the drop towards the 0.8USD:
"All of those elements are negative and are supporting a further drop. The current target is on the 0.8 USD, so on the lows from the beginning of August and chances that we will get there are pretty high."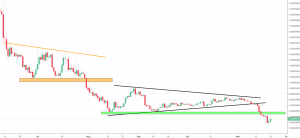 Pretty straightforward huh? The analysis was spot on. The price reached our target in August. What is going to happen next? In our opinion we should experience a further drop. The decline is supported by the big symmetric triangle pattern (black) and the fact that we broke its lower line, which in theory gives us a sell signal. It seems that the current upswing is just a correction of the recent decline. Correction should not go above the green resistance. Our mid-term sentiment here remains negative.