First victim on Wednesday is the Bitcoin, which suffers a lot in the second half of the November. We signaled the weakness of the BTC on the 15th of November, when we were straight after the breakout of the crucial support around the 6000 USD. We knew that it was a decisive moment for this crypto. This is what we wrote in our previous piece:
"Oh boy, BTC is in a big trouble right now. Potential target is much lower, our eyes go as low as on the levels around the 3000 USD "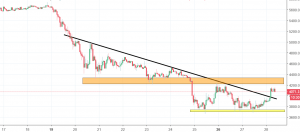 3 on front was already reached. Price was testing the 3700 USD support (yellow) since Sunday. At some point, we had a descending triangle pattern, which was promoting a further drop. It did not happen and traders chose the other solution – to go north. In the long-term that does not change anything. Thee sentiment towards the BTC is still negative and the current movement is just a correction. Most probably, BTC will test the orange resistance soon. Possible breakout will not be significant though. As long as we stay below the 6000 USD there is only one direction here and its to the downside.