A key figure in the mainstream financial services sector is backing Bitcoin, a move that is now seen as another crucial seal of approval for the cryptocurrency world.  Antony Jenkins, a former CEO of Barclays (BCS), has joined the board of Blockchain, a startup that provides bitcoin and digital currency technologies.
The startup, based in London, is named after the core technology on which bitcoin and most other digital currencies are built. Blockchain's services and solutions are used by cryptocurrency exchanges such as Coinbase. Investors can also use Blockchain's native mobile app and website to trade digital currencies. The startup is further working on a number of other technologies, some revolving around identity tracking.
Blockchain is betting on widespread adoption of cryptocurrencies, especially as they are now seen as an alternative to traditional safe-haven assets such as gold. Uptake of Bitcoin and other digital currencies soared in the lead up to and after the U.S. presidential election last month. Investors worried about the outcome of the election and its potential implication on global economies given that the Republican candidate Donald Trump's inflammatory remarks on the campaign trails. In Mexico, demand for Bitcoin has spiked since the surprise election of Trump as the next president of the U.S.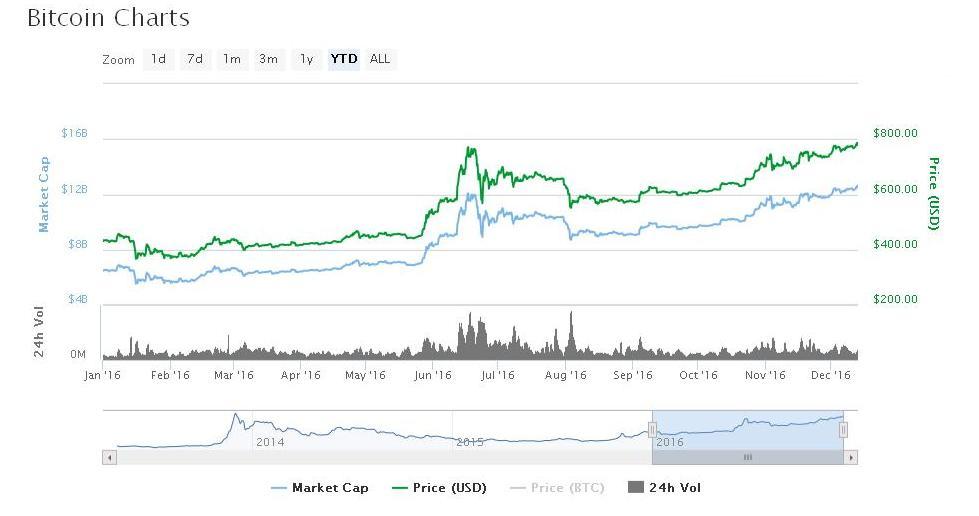 Bitcoin prices and market capitalization have soared in the recent times amid a strong demand for digital currencies.
Source: Coinmarketcap.
Monetary regulators studying cryptocurrencies
Besides growing acceptance of Bitcoin and other cryptocurrencies or altcoins by consumers, central banks are also taking notice of the digital currency phenomenon. Some monetary regulators have even expressed interesting in minting their own digital currencies to replace the legacy banknotes and coins. Central banks in Sweden, the U.K., China, and Russia are some of the monetary agencies studying blockchain technology in what could pave the way to the modernization of monetary systems in these economies.
The central bank in Sweden, for instance, may move quickly to introduce digital currency given a sharp drop in hard cash transactions in the country.
A storm brewing for banks
As for Jenkins who has taken up a seat on the board of Blockchain, he believes a major storm is brewing for traditional banking industry amid a rise of fintech firms. He compares the disruption the banks would face to the shakeup Uber is causing in the taxi services industry.
A signal of growing adoption of cryptocurrencies, Blockchain's co-founder Peter Smith recently said the startup is on track to do transactions worth $50 billion this year. The startup is particularly seeing strong demand for its services from institutions, which it expects to contribute a third of its transaction value.
Blockchain's initial fundraiser netted $30 million in 2014. The startup is backed by several investors, including Lightspeed Venture Partners' Jeremy Liew. On the board of Blockchain, Jenkins joins Liew and the startup's cofounders Nick Cary and Peter Smith among others.
Besides Blockchain, Jenkins is also associated with several other fintech startups including 10X Future Technologies and Currencies Direct.
Bankers bent on upending businesses that built them
Jenkins becomes the latest of former major bank leaders to join startups working on shaking the foundations of traditional banks – their earlier employers. Anshu Jain, a former CEO of Deutsche Bank, is joining Social Finance, an online lending firm, and John Mack, a former executive of Morgan Stanley, joined LendingClub.
Banks see opportunities and threat in the rise of cryptocurrencies.  The opportunities include tapping on blockchain technology to simply transactions and cut operating. But banks are worried they could lose their middleman role in money distribution if regulators adopt a system that allows citizens to open accounts with the central directly.