The largest Canadian based cryptocurrency startup just acquired Stellar blockchain based decentralized, zero-fee exchange platform StellarX.
Operation cost reduction
The decision came mere weeks after Coinsquare laid off 27% of its workforce hence letting some 40 employees go. They attributed the move to the extremely volatile situation in the crypto markets. The company evaluated the move as a cost-cutting measure in order to stay afloat in a market in flux. The purging event did not spare even the top management of the organization. CFO Ken Tsang and COO Robert Mueller were among the people Coinsquare discarded.
Refocusing the company capital
The Canadian based company indicated its intent to channel funds more carefully and be more frugal. Certainly in hopes of making a lasting impact and staying afloat. The company has long-lasting ambitions that will be a challenge to achieve. Therefore it follows that they conducted the acquisition of StellarX exchange as part of that new course.  The financial details of the deal are not public, therefore limiting judgment.
Future prospects and leadership changes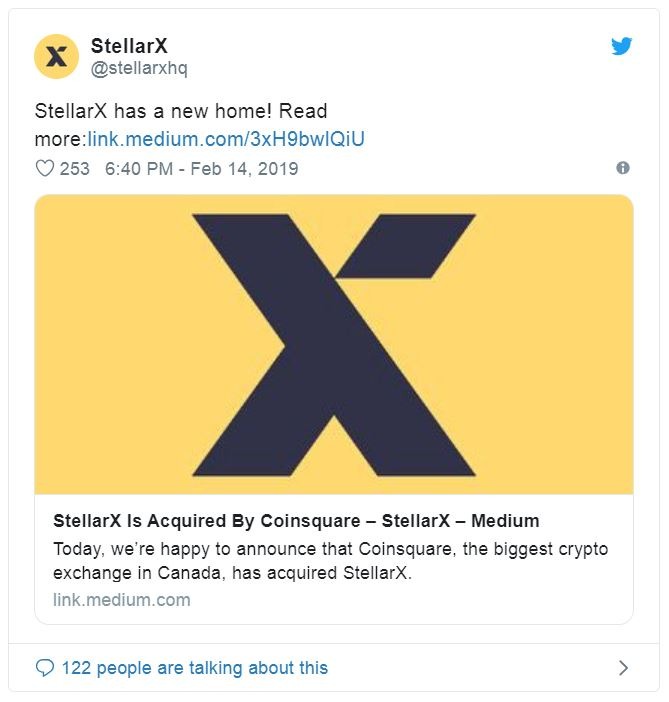 The StellarX team published a blogpost announcing the acquisition.  According to the post, the decentralized exchange will continue on track with the plans they announced last September.
Coinsquare will strengthen the project by bringing in some of the best programmers and designers in the World. Coinsquare plans to make significant changes in order to help both companies achieve their goals.
The parent company's good standing with US and European regulators will also be an asset. The new features and guidance will likely strengthen the XLM token. Coinsquare plans to add fiat-pegged and security tokens to the list of exchangeable tokens for XLM, strengthening the brand.
Coinsquare also acquired BlockEQ, and Megha Bambra, one its founders, will now take charge of the future of StellarX. It appears the shifts in management were not limited to just Coinsquare itself. Further changes in leadership might become known in the near future.
To fulfill its potential, StellarX needs a home with regulatory experience and with a full-scope plan to build around the app.
Considering the dire situation the cryptocurrency market is in right now, this new alliance is an important one. The partnership could prove extremely beneficial to all three companies involved.
The StellarX team seems excited about the new prospects for sure. They've announced their eagerness to work on new products and to further improve the developer experience.
With the new changes and reinvigorated management, StellarX seems to finally be out of the limbo. The XLM brand that has been exciting investors and users since 2014 is on a track of surviving the cryptocurrency ice age and becoming a household name.