I follow many many crypto groups on the internet (boards, forums, portals, instagram, Facebook etc.). In the last few days, we had a real festival of happiness there! Crypto fans were popping champaign bottles and praising the HODLers. Last few hours shows us that this approach was a little bit premature and Hodlers will be tested again soon.
First, we will start with the Bitcoin, which experienced the 2000 USD reversal, from 7200 to 9200. That ray of hope was exactly what crypto fans needed to claim the victory. Yes, it was premature but on this emotions-driven market, it is not a surprise. Technically, that movement was just a correction. If we ignore the swings from Saturday and Sunday (rectangle), we will receive a perfect bearish flag (second in a row), which precisely shows us that the recent price action was rather a dead cat bounce than the legitimate reversal. The target does not change – 6000 USD is still on the radar.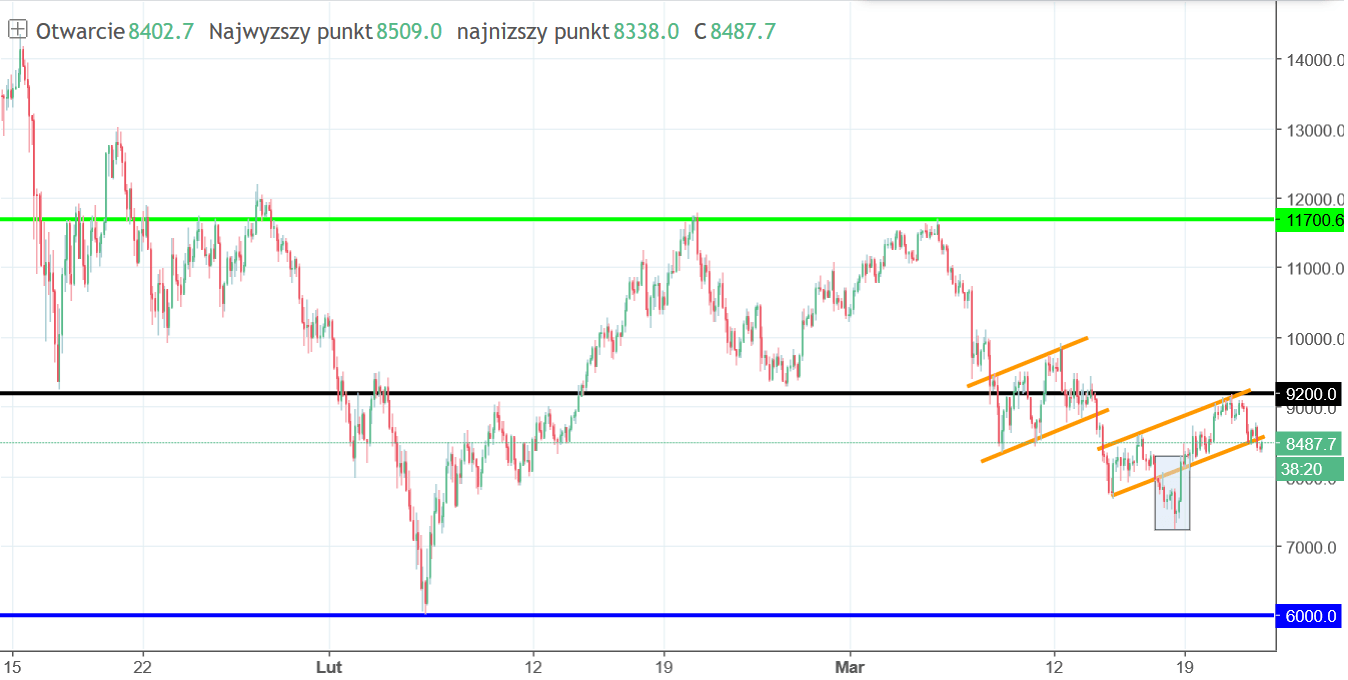 The next altcoin is Ethereum. In our report from the 19th of March, we wrote this:
"This is where Ethereum created a hammer – the same type of candle as Ripple mentioned above. That crates a chance for a bullish correction here too.  "
After this hammer, the correction did happen. Money-wise, it was very small but it did last three days. After that we all know what happened (looking at the global sentiment towards cryptos). The current situation promotes the further drop and most probably – another test of the 500 USD support(green). This time it may be much harder for the buyers to defend this area. Test of the 390 USD (black) seems more and more likely.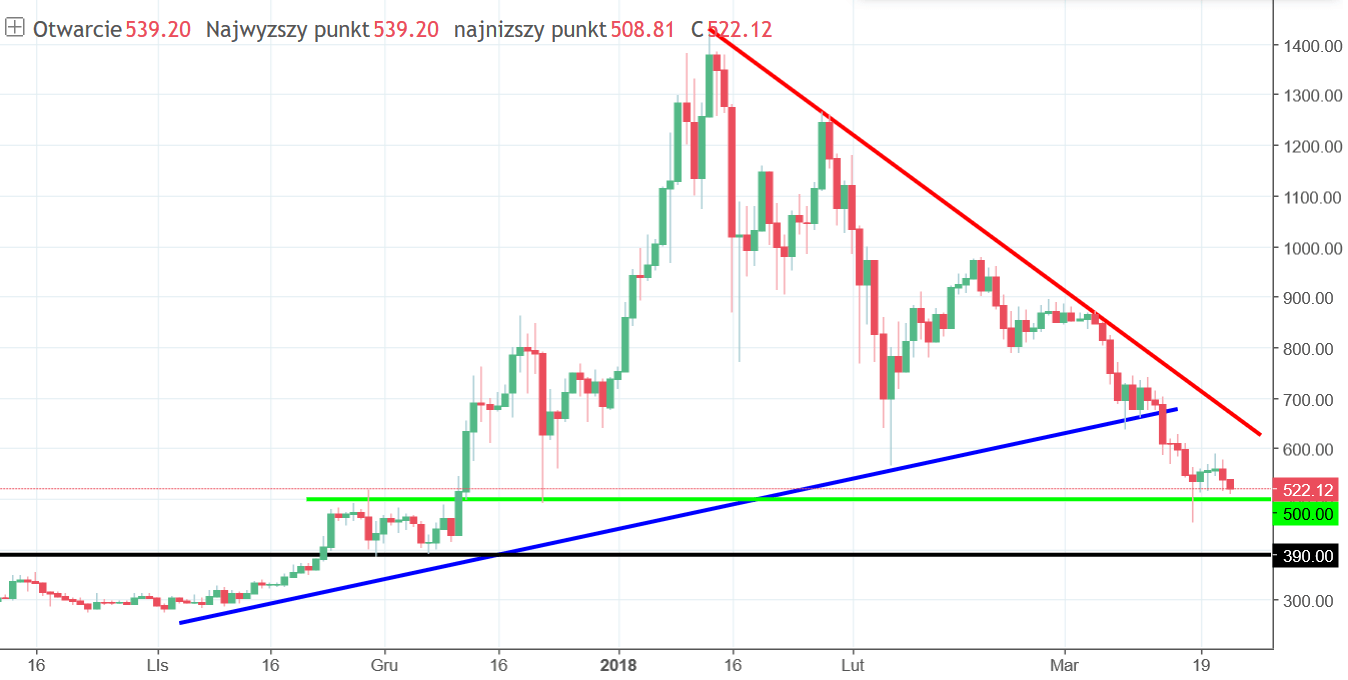 The last one will be NEO also mentioned by us in the report from the 19th of March. We said the following:
"As long as we stay below the 81 USD (green), which is a strong resistance, the sentiment stays negative and the chances that we will test the 43 USD are much higher. Comeback above the 81 USD will be a very positive sign and can bring us a trend reversal but chances for that are now limited. "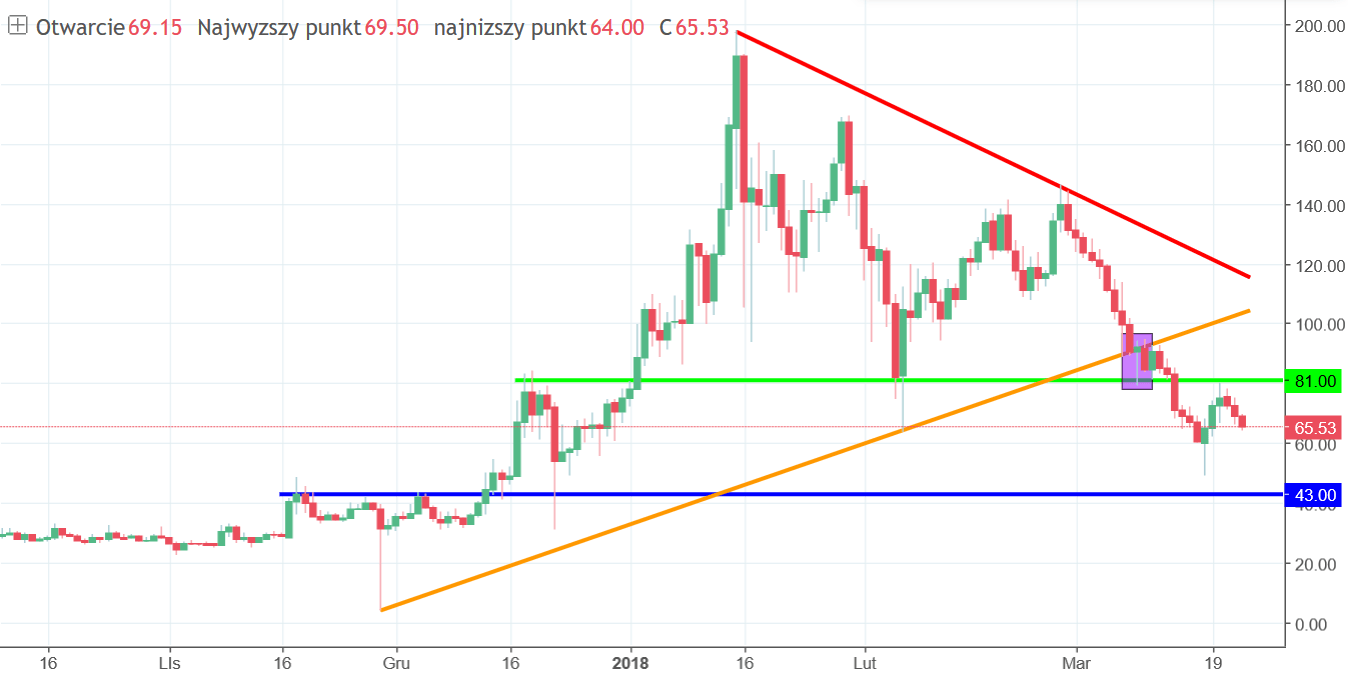 81 USD was indeed very strong. So strong, that the bullish correction initiated by the daily hammer, ended exactly there! After the bounce from that level, we received the three bearish days in a row. Currently, the price is in the middle between the 81 USD resistance and the 43 USD support. Our view remains untouched – 43 USD should be tested again soon.
To sum up, it does not look too good for the buyers. Seems like the optimism was premature and the negative sentiment is coming back to the market. I cannot wait to see if the most recent buyers will panic and get rid of the new assets straight away or they will join the stubborn hodlers camp.