During the weekend, cryptos experienced a bit of optimism. Vast majority of coins were climbing higher creating a good mood among crypto maniacs. On Monday, this approach was verified by the market and so far it does not look good. When scrolling through the list of all altcoins, it is rare thing to see a green daily % change. Some of the cryptos loose even more than 10% in one day.
Interesting situation can be spotted on the Ethereum. In our last analysis on the 4th of April, we were bearish, even though that the price was on the green side of the market:
"As for now, we are seeing a bounce, so in theory, the price should aim the 500 USD resistance. Why we are not convinced about that though? Well, the rise is really miserable. The price is still putting a heavy pressure on the 390 USD support. In my opinion, this area got defended only thanks to the external bounce of the cryptos leaded by the BTC. "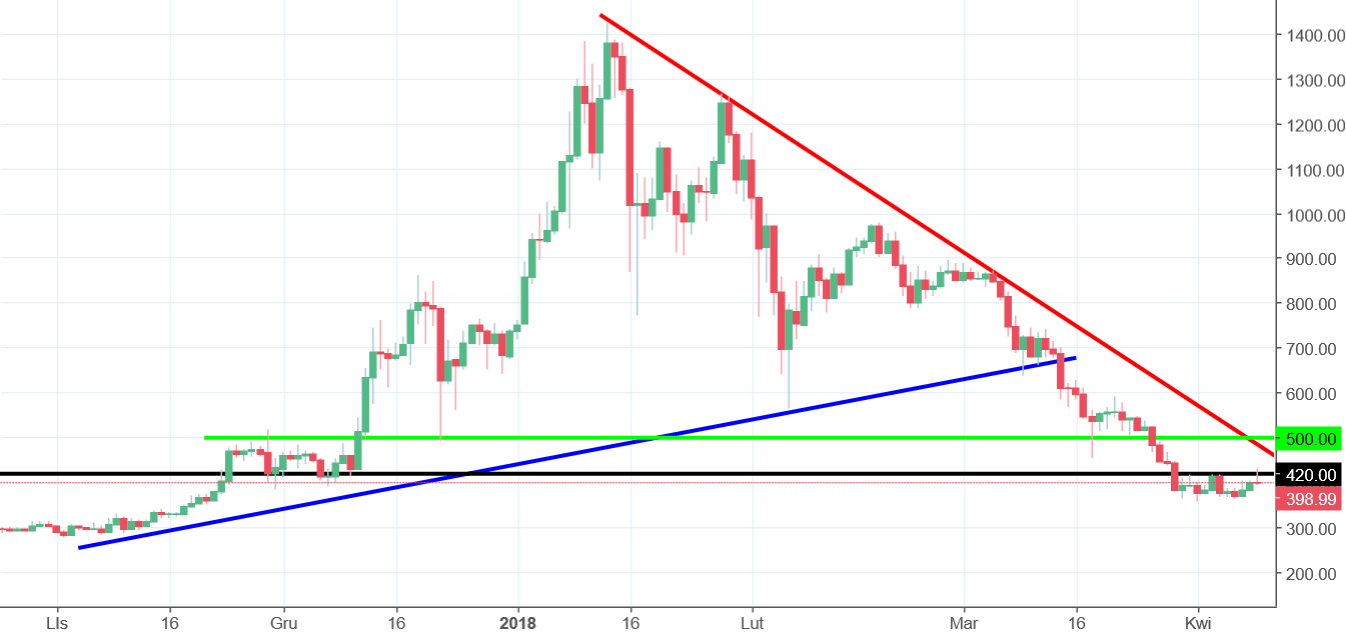 Back in that day, ETH was trading around 404 USD. Now we are below the 400 USD mark. Our view stays negative but there is one thing that changed since the last Wednesday. That is a place of the crucial support. Previously it was marked on the 390 USD. Recent price movements changed that into 420 the USD. I think this price corresponds a bit better with the current situation on the chart.
So far, the daily candlestick on Monday is a shooting star with the head on the resistance. According to the all price action rules known to the man kind, this is a sell signal. That can be a huge problem for the buyers as we do not see any good supports underneath the current price. That opens us a way for a huge drop in value of the ETH.